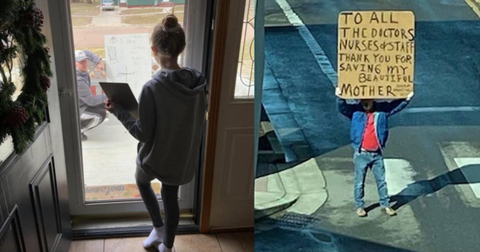 25 Wholesome Pics From the Quarantine That Will Restore Your Faith in Humanity
By Robin Zlotnick

Updated
It's not an exaggeration to say that the world is in crisis. We're facing a dangerous global pandemic, and it's easy to get depressed about the state of things. But if you're lucky enough to be safe and healthy right now, that's no small thing.
Article continues below advertisement
And there are people out there working so hard to make sure we stay that way, from healthcare workers to grocery store employees to delivery drivers. There are also stories coming out left and right of humans stepping up to help each other through this dark time. These pictures will remind you that humanity is not lost, there are still reasons to smile, and that we have each other.