"Why Is Iron Bear Tiny?!" 'Borderlands 3' Players Freak Out
Why is your Iron Bear tiny? 'Borderlands 3' players were met with a size-defying surprise when they logged in to play on April Fools' Day.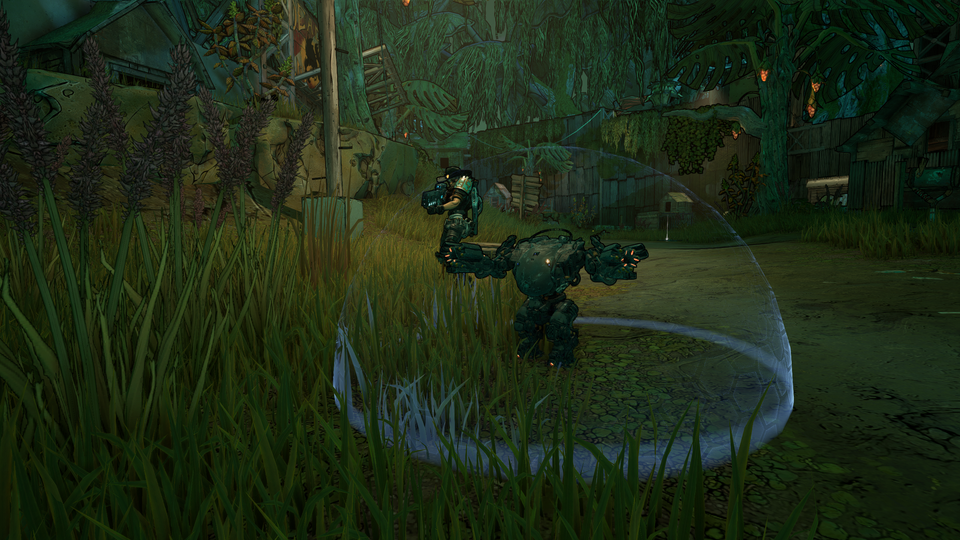 Borderlands 3 players were in for a big... well... tiny surprise when it came to the Gunner's Mech and the Beastmaster's pets on April Fools' Day. You probably didn't even have to log in to hear about the little gag that Gearbox devs pulled on gamers. If you logged on to Twitter, you probably saw tons of messages from fans asking, "Why is my Iron Bear tiny?!"
Article continues below advertisement
'Borderlands 3' April Fools' gag for iron bear had players laughing.
And the small text tweet from the official Borderlands 3 account wasn't exactly subtle either, "Who's having fun out in the Borderlands today?" the account asked. Gearbox shared a miniscule text message of their own online, urging players to log online and play the game.
And when gamers finally did, they were treated with bite-sized sprites, and the tiny mechs were what really had people cackling with delight.
Probably because although the mechs were all of a sudden super teeny and itty bitty, the firepower they were packing was still huge. Which meant that they dealt the same damage as they did when they were giant sized. You can imagine how funny it was to see a little Iron Bear traveling all over the in-game map just laying waste to anyone and everyone in its path.
Article continues below advertisement
Article continues below advertisement
'Borderlands 3' Hotfixes in April:
April 2 saw not only hotfixes for the title, but some limited in-game extra, like Slot Machine mania and the Trials Take-All mini events. Not to mention the following Moze adjustments:
Reduced the cooldown time for Iron Bear
Increased the amount of fuel for Iron Bear
Increased the bonus on "Behind the Iron Curtain" skill
Increased the bonus on "Experimental Munitions" skill
You can see the entire list of recent Hotfixes and extras here.
Borderlands 3 players are loving this April Fools' prank much more than last year's. DualShockers made this cheeky comment: "This amusing visual change is a massive improvement from last April when Gearbox pranked games around the world by making Borderlands 3 a six-month Epic Store exclusive on PC."
Article continues below advertisement
Article continues below advertisement
There's nothing that grinds gamers' gears more than when developers limit just how players can access their favorite titles. Just ask Doom Eternal players about the Denuvo DRM software that shipped with the title.
While piracy of games is a big issue, ingenious hackers have always found a way around it. Players' biggest gripe with Denuvo, however, wasn't that it prevented people from "stealing" the game.
PC gaming revenue was pretty darn good in 2019, and there's no indication that the industry's slowing down at all. In fact, more people than ever are paying for video games. What consumers don't like about DRM programs like Denuvo is that they use system resources and adversely affect game performance, which means that if you paid for a game, you're getting a worse product than someone who's rocking a copy of Doom without Denuvo. Not cool.
Article continues below advertisement
So you can only imagine just how happy gamers were to discover that Bethesda accidentally left a "Denuvo-free.exe" file in the game's program files. All users have to do is take that file and overwrite the Denuvo.exe file with it and voila, no more DRM on your copy of Doom. While this means that cracking the game is pretty easy, it also means that players don't have to worry about any lag of performance issues while playing it.
Article continues below advertisement
While there haven't been any reports of April Fools' pranks going on in the newest Doom title, other publishers have gotten in on the fun. PUBG has a Fantasy-themed Battle Royale mode, and GTA Online and Red Dead Online made it snow on April 1.