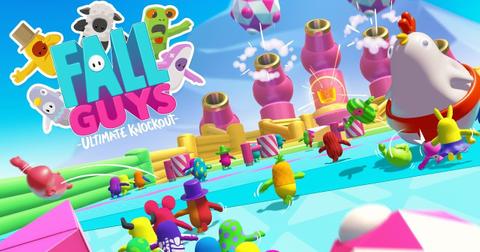 Will 'Fall Guys' Be Coming to Xbox or Nintendo Switch?
By Sara Belcher

Updated
Move over Fortnite, there's a new (and funnier) battle royale game coming through. While there have been many takes on the battle royale gameplay, with Apex Legends and Warzone offering different and fun takes, Fall Guys gives the gameplay an adorable makeover.
With colorful, blob-like characters to run around as and obstacle courses that are just as hard to navigate as any first-person shooter map, Fall Guys was released on the PlayStation 4 to immense success.
It's popularity, while a good thing, also means that some players are feeling left out if they don't have a PlayStation to join in on the fun. Will Fall Guys come out for the Xbox any time soon, and does the game support cross-platform gameplay?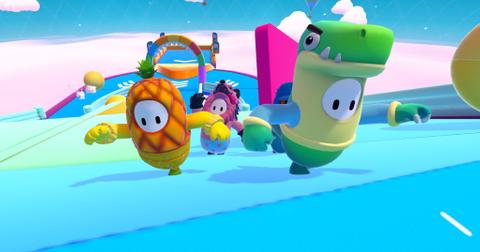 Will 'Fall Guys' be released on Xbox One or Nintendo Switch?
Fall Guys initial release was only for the PlayStation 4 and Steam, leaving out the Xbox One and Nintendo Switch players. At this time, it doesn't look like there's an upcoming release date for the game for either of these consoles, though it's possible it may come in the future.
On the game's support page, Mediatonic and Devolver Digital reveal that they would like to bring the game to new platforms, though the release will be focused solely on the PlayStation and PC versions of the game.
"To start with, Fall Guys will only be available on PS4 and Steam," the developers write. "We'd love to bring the game to other platforms further down the line."
Since the game's launch, it's already earned over 10 million downloads across the two platforms, making it clear there's a demand for the game. The developers have requested that anyone who wishes to see the game expand platforms reach out to them via their Discord or Twitter pages.
Some fans are also wondering if the game will be released for the next-generation consoles, as the PlayStation 5 and the Xbox Series X are set to release this holiday season. At this time, there is no public comment from the Fall Guys developers, so it is unclear if there are plans for compatibility for the new consoles.
According to EuroGamer, Sony has mandated that all games released for the PlayStation 4 must also be compatible with the next-gen console if they're released after July 13, as the PlayStation 5 is currently expected to be released during the holidays.
As Fall Guys developers have not confirmed the game's next-gen compatibility, players will have to wait for more news.
Does 'Fall Guys' support cross-platform gameplay?
While other battle royale games, like Warzone, support cross-platform gameplay, this is not the case for Fall Guys at this time. That being said, this is again something the developers have said they would like to make happen if fans request it.
"At launch, we won't have cross-play. It's something we really want to do in the future, let us know on Discord if its (sic) something you are super excited about so we can prioritize what we work on next!" the developers write.