Woman Frustrated With Dating Says She's Now Picking Suitors Based on Blood Type
A man's Twitter thread went viral after he screencapped a text conversation with his sister where she said she will follow strange new dating protocols.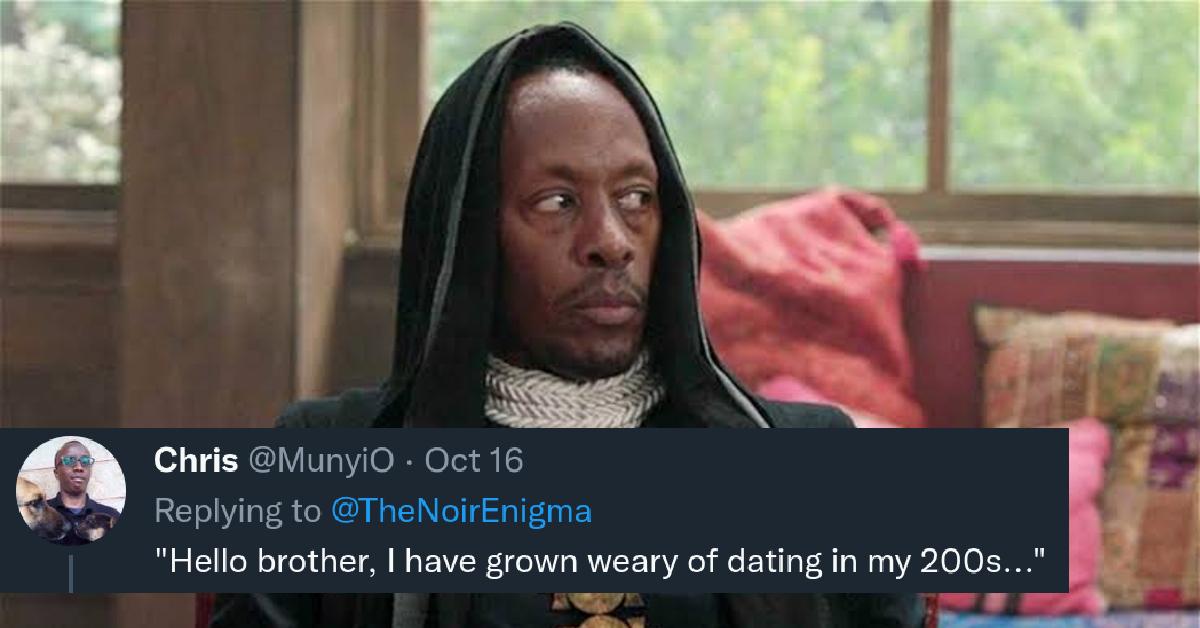 Few things get folks into more of an emotional wreck than romantic relationships. Especially living in a culture obsessed with rom coms, we often hope our partners will fulfill that "dream" we've built up in our hearts for years, whether subconsciously or consciously.
Article continues below advertisement
When relationships repeatedly don't work out, or we experience difficulty finding that "spark," people can get a little desperate for something, anything that works..
Social media Influencer user @TheNoirEnigma's sister seems to have come up with an odd strategy to find an "appropriate" partner, before she becomes a "spinster."
He posted a viral Twitter thread of a text conversation he had with his sibling where she writes: "Hello brother, I have grown weary of dating in my 20s, please use your audience of nerds to find me a spouse. I will be 24 soon, I am almost a spinster."
Article continues below advertisement
He responded: "You can't just be texting me this kinda stuff lol."
She was unfazed by his reply, responding with: "It's my birthday month I can do whatever I want. Be grateful today I ask for a spouse and not your kidney."
Article continues below advertisement
He pointed out that her comparison wasn't very kind and a manipulation tactic: "This is bullying...lol"
"Dude I am reading self insert Red Hood fanfic I am down ATROCIOUS I am clearly at rock bottom here help a black man out."
Article continues below advertisement
The Influencer warned his sister that she should be careful what she wishes for, stating: "Keep messing around and I'll tweet this convo and you'll have stories trying to get at you."
And this is when her new requirements for a potential boyfriend came out, and it kept in line with her earlier mention of organ donation.
Article continues below advertisement
"Dude someone in your audience has gotta be single and have an O- blood type, this could be the meet cute of the century," she wrote.
"Why is blood type type important...Actually never mind I don't want to know," he replied.
Even though he told his sister he wasn't interested in knowing more about her new dating stipulation, she continued nonetheless.
Article continues below advertisement
"No you get to know. What if I'm in an accident and I need a blood transfusion but we're too far from the hospital to get me the blood I need? My partner should be a universal donor so that's never a concern. My own personal blood bag."
While it's evident that she is most likely joking, she did provide justification for her new grounds for dating.
Article continues below advertisement
"I dated for sentiment once and that person was unhinged," she wrote. "I'm in my Bruce Wayne era where instead of coping like a normal person now I pull a 180 and do wild s--t like don a batsuit or date based on blood type and ability to predict stock market trends."
It was at this point that @TheNoirEnigma decided his sister's messages were too good not to post.
Article continues below advertisement
When he informed her that this snippet of their conversation would go public, she was confident she'd receive the internet's support: "The masses will side with me on this."
A number of people threw their name into the hat as potential dates for the Influencer's sister.
Article continues below advertisement
Other Twitter users expressed their own frustrations with dating, but admitted that, given the gnarly state of the dating scene in their current lives, fielding folks based on blood type was just a good strategy as any.
What "ridiculous" standard would you consider implementing in your own quest for love?