Woman Holds Back Laughter While Quitting Her Friend's Job on Their Behalf
A woman's friend wanted to quit their job but was too scared to do so. The woman agreed to pretend to be them during one awkward phone call.
Everyone needs a "ride-or-die" friend. This means a friend who will be by your side when it's time to make tough decisions about life circumstances, including but not limited to a tragedy, relationship advice, or a career change.
Article continues below advertisement
On TikTok, one friend proved she would go above and beyond if anyone needed her support in the latter instance. In September 2023, the woman agreed to pretend to be one of her pals while quitting their job on their behalf.
Keep scrolling to see one of the best examples of true ride-or-die behavior.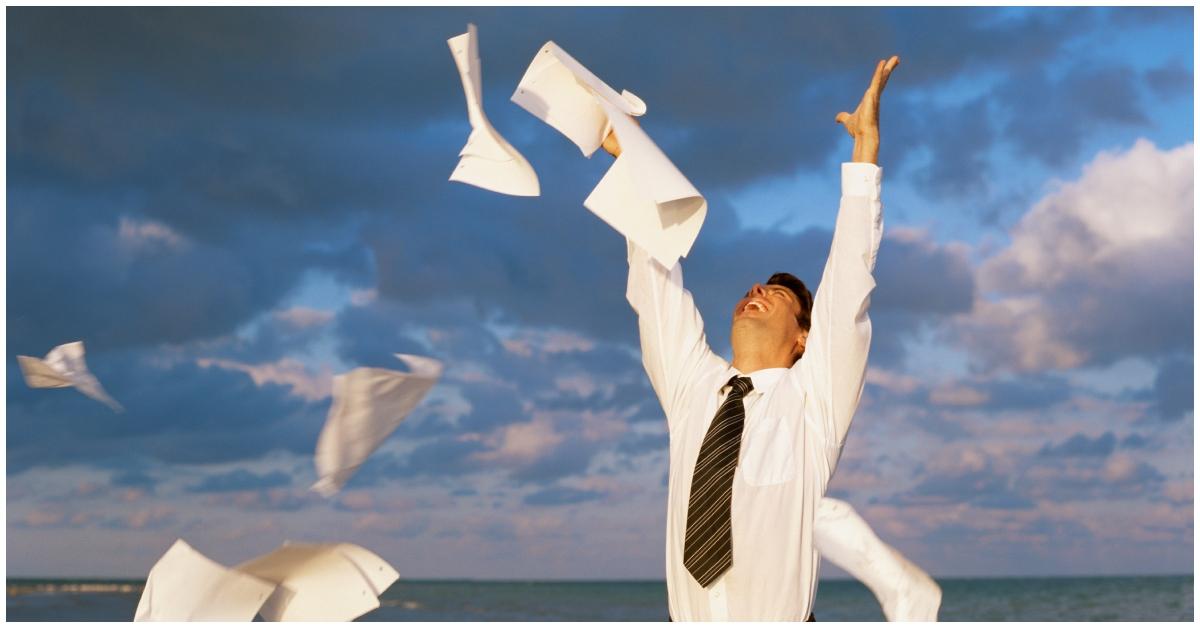 Article continues below advertisement
A woman quit her friend's job for them in a hilarious phone call.
Few things are more satisfying than quitting a job that no longer serves you. Whether you're leaving your employment for something new or just need to get out of dodge, many of us feel relieved once those resignation letters are signed, sealed, and delivered.
While most folks don't mind telling our employers we quit to their faces, some need a little nudge to express their needs. On Sept. 30, 2023, a woman on TikTok named Tatum (@artdecotatum) posted herself supporting a friend who couldn't face their boss's presumed wrath.
Article continues below advertisement
During the TikTok, Tatum put her phone on speaker mode as the words "quitting my friend's job for them because they were too scared to do it themselves" displayed at the top of the video. As the video plays, Tatum is on the phone as she tells one of her friend's supervisors, "I'm gonna have to quit."
"I just want you guys to know that I can't come in for any more shifts, and I'm gonna have to quit," Tatum says to the supervisor.
Article continues below advertisement
After dropping the bombshell, Tatum covered her mouth, trying to hold back laughter as the higher-up asked, "So you're not going to make it to your shift tonight, I'm guessing?" Tatum then confirmed her friend wouldn't be at their now former job that night and said she was "sorry for the inconvenience."
Following the surprisingly smooth conversation, Tatum gave her viewers an update when the employer called her friend back. During the second phone call, Tatum reiterated she was "quitting for good," and the manager seemingly couldn't have cared less. Instead, the manager said it the employee quitting was "no big deal" and confirmed she needed to "clarify" that she was quitting since the previous manager wasn't sure if she was trying to quit.
Article continues below advertisement
"If any of you are scared to quit your job, LMK and my jobless self will do it for you," Tatum captioned the TikTok.
Article continues below advertisement
The TikTok user received several comments from users who had other quitting methods.
Although we've never needed assistance quitting a job on our behalf, we can appreciate Tatum's generous choice to leave her friend's job for them.
Article continues below advertisement
The TikToker's commenters also appreciated her actions toward her friend. Many commenters were surprised at them taking the quitting phone call "so well," which Tatum admitted shocked her too. Other users shared their preferred methods of quitting a more brutal job than what Tatum and her friend crafted.
"I quit through text, lol," one user admitted.
Article continues below advertisement
"Even telling them is too much work 😭 I just stop going," another shared.
"When I got my first job fresh outta high school, I made my dad call and quit for me 💀💀," stated a third user
Whichever quitting method works for you, it's essential to understand when it's time to move on from a place that doesn't value you in the way you deserve. And if you can't do it, it's nice to know most employers seemingly don't care who does the quitting for you!