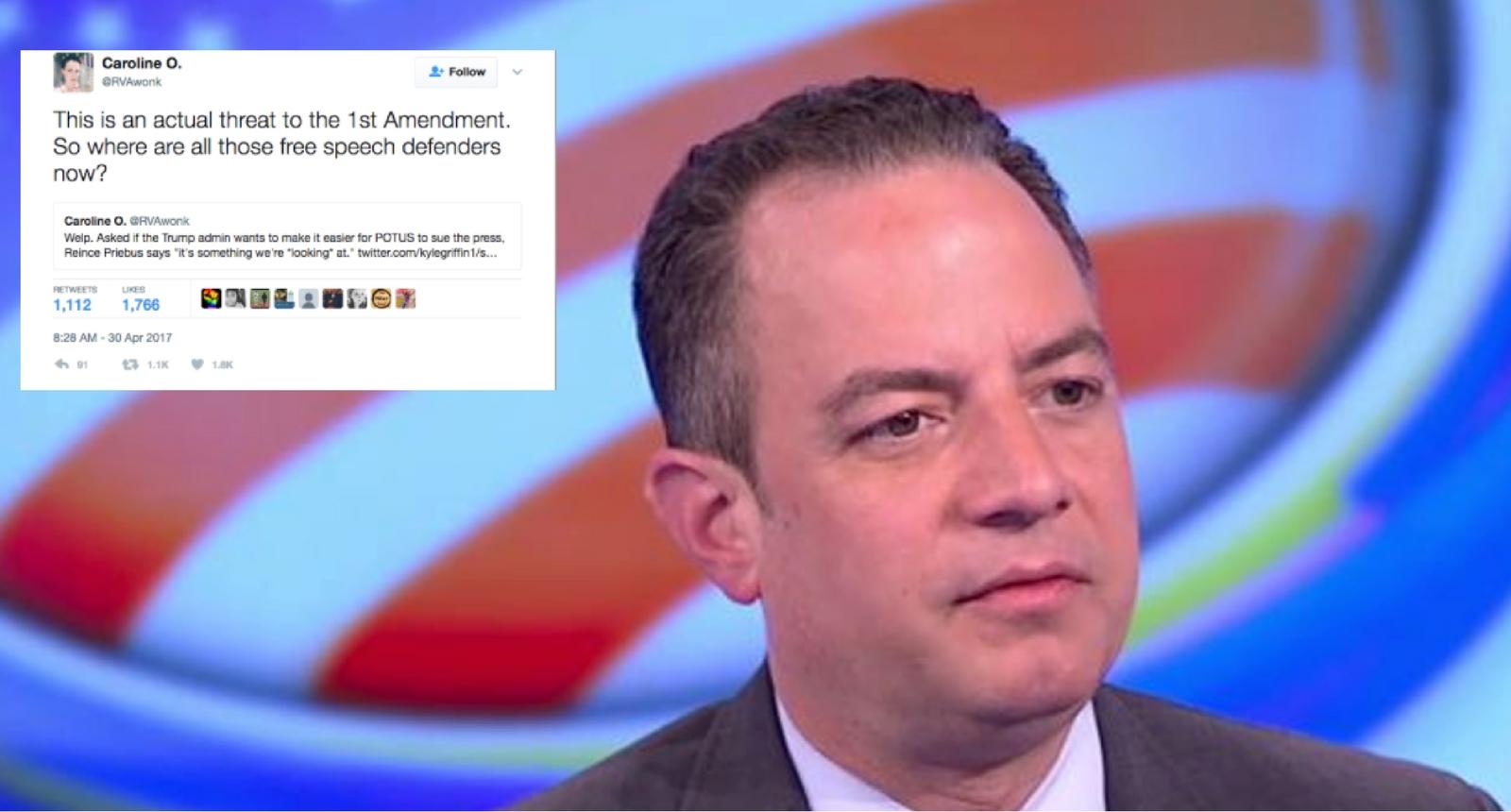 We Now Have Official Proof That President Trump Is Going After Our Free Press
By Justin Luke
Media beware: Reince Priebus just confirmed that the President is considering changing press laws.
During an interview with ABC's This Week on Sunday about the President's first 100 days in office, the White House chief of staff remarked that "newspapers and news agencies need to be more responsible with how they report the news."
When asked whether the Trump administration wants to change laws to allow the President to sue the press, Priebus responded: "I think it's something that we've looked at."
Twitter was quick to freak out:
This Twitter user saw it coming:
Many assume that the administration has to take whatever the President publicly states, even via a tweet, as policy.
So whether Priebus actually agrees with the President or believes that the laws can or should be changed is unknown.
David Frum, Senior Editor of The Atlantic, summed it up well:
Donald John Trump is the 45th and current President of the United States. Before taking office on January 20, 2017, having beat opponent Hillary Clinton in the electoral college but not the popular vote, Trump was a real estate mogul, and a former reality TV star. Born in Queens, New York, in 1971 Trump became involved in large, profitable building projects in Manhattan, under the guidance of his father, real estate developer Fred Trump. In 1980, Donald Trump opened the Grand Hyatt New York, making him the city's best-known developer. In 2004, Trump began starring in The Apprentice, a hit NBC reality series, and later in a spin-off series, The Celebrity Apprentice. In 2015, Trump announced his candidacy for president of the United States running as a Republican. Trump win a majority of the primaries and caucuses, becoming the official Republican candidate for president on July 19, 2016. That same November, Trump was elected the 45th President of the United States, after defeating Democratic candidate Hillary Clinton.