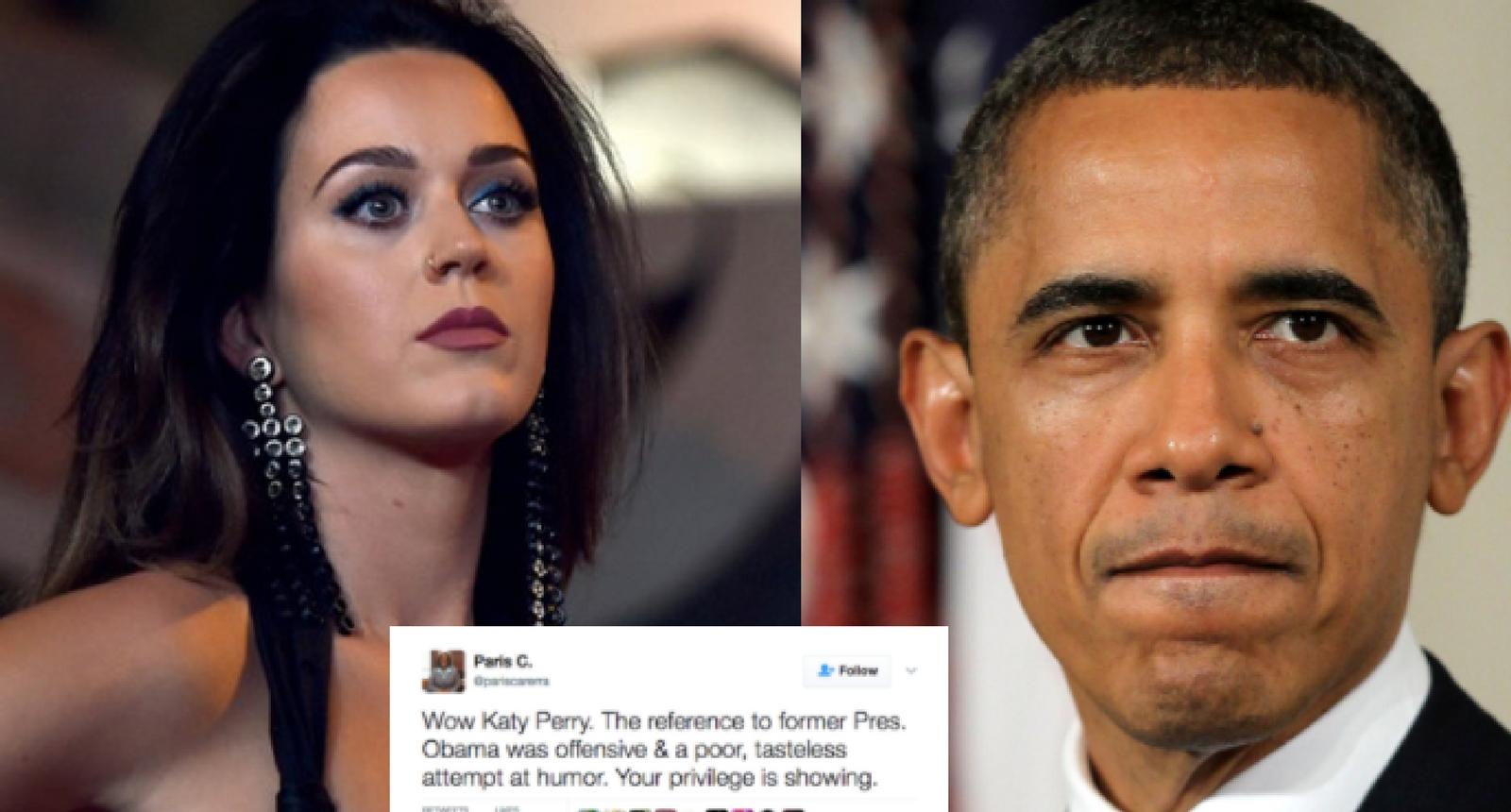 Katy Perry Made An Offensive Comment About President Obama, And Twitter Is Letting Her Have It
By Justin Luke

Updated
Social media can easily get its feelings hurt.
Katy Perry is finding this out the hard way, after making an insensitive comment during and Instagram live session.
In the video, Perry, who has a new haircut that many are finding unappealing, says in an annoyed voice, "Ohhh, someone says 'I miss your old black hair'," before quipping "Oh, do you miss Barack Obama as well? Okay, times change. Bye."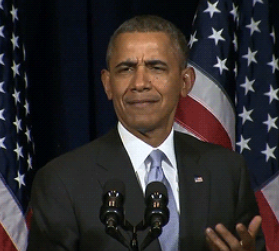 While Perry probably meant the dig as a joke, seeing as she was a staunch supporter of both Barack Obama and Hillary Clinton, she should know that social media doesn't really respond well to nuance.
The backlash on Twitter was immediate:
Wow Katy Perry. The reference to former Pres. Obama was offensive & a poor, tasteless attempt at humor. Your privilege is showing.

— Paris C. (@pariscarerra) April 30, 2017
People were quick to point out that, yes, they DO miss Obama:
@kamerontyler @katyperry Ew...ew ew...I was already disappointed/disgusted when she performed in geisha attire bc I like her songs..but gross. I DO miss Obama, bitch

— pamcake (@dopaminequeen11) April 30, 2017
And, also, that the "joke" had racial undertones:
people are not reaching with this Katy Perry /Obama "joke" ,it wasn't outwardly racist but it was a microagression with racial undertones

— Kadevin. (@SupaastarJones) April 30, 2017
Others didn't know quite what to say:
Or were simply disgusted:
And she does THAT laugh that whites do when they KNOW exactly what they're saying. @katyperry you disgust me.

— elizabeth (@bettersavor) April 30, 2017
But karma does seem to have a way of working things out.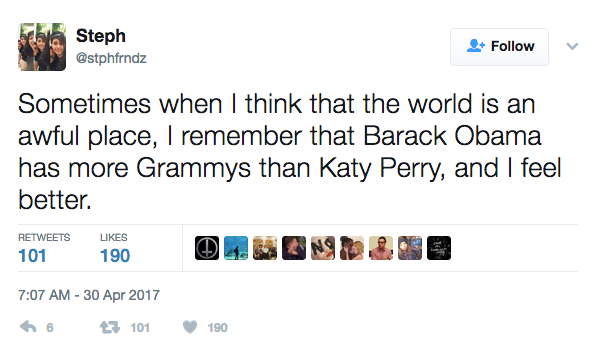 Katheryn Elizabeth Hudson, born October 25, 1984, and known professionally as Katy Perry, is a singer, songwriter, and television personality. Perry sang in church during her childhood, she pursued a career in gospel music as a teenager. In 2001, Perry signed with Red Hill Records and released her debut studio album Katy Hudson, which was commercially unsuccessful. A year later, she moved to Los Angeles  to venture into secular music after Red Hill ceased operations and she subsequently began working with producers Glen Ballard, Dr. Luke, and Max Martin. Being dropped by The Island Def Jam Music Group and Columbia Records, she signed a recording contract with Capitol Records in April 2007.
Perry rose to fame in 2008 with the release of her second album, a pop rock record titled One of the Boys, and its singles "I Kissed a Girl" and "Hot n Cold".