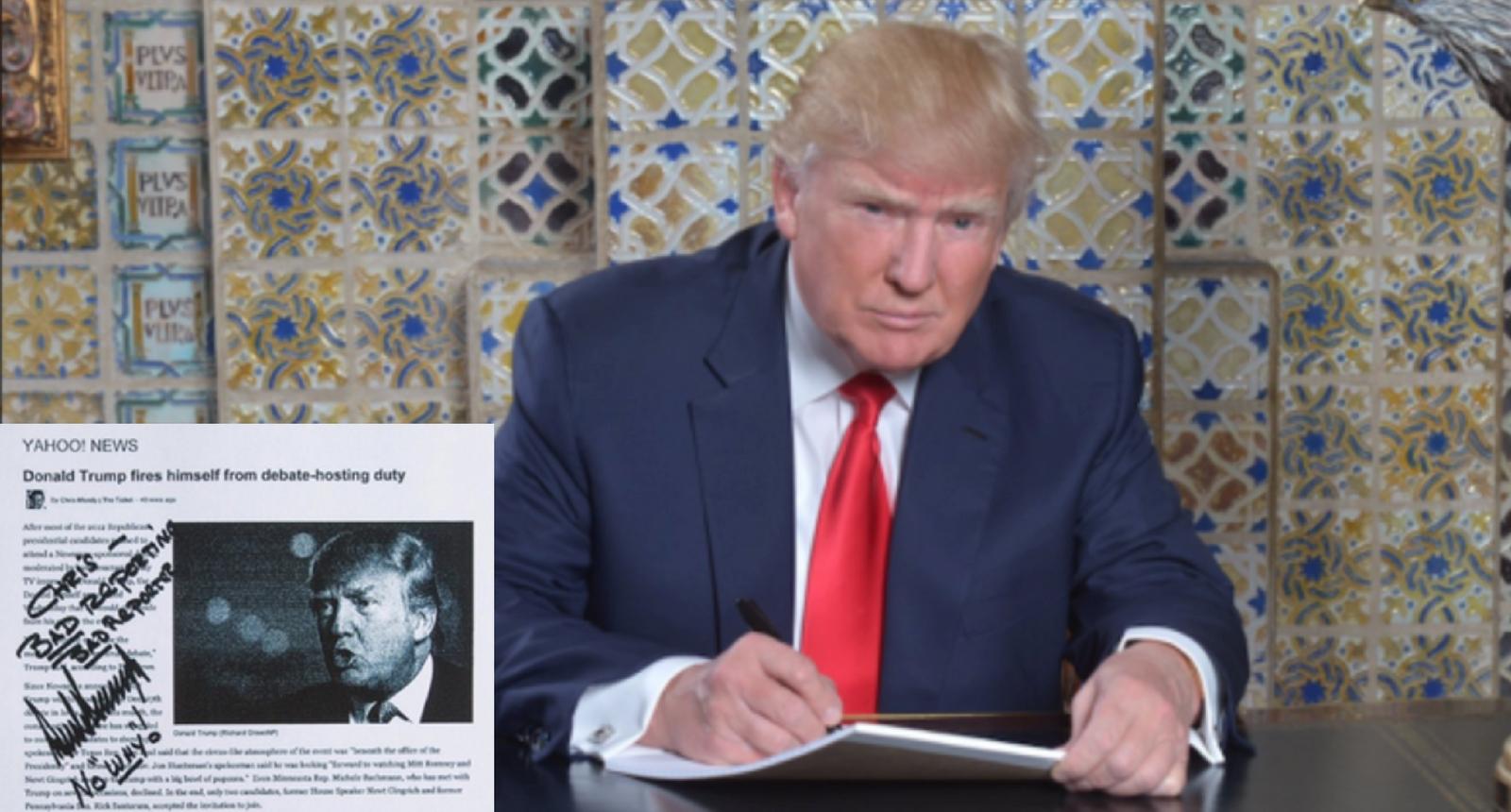 Reporters Just Released The Childish Notes President Trump Has Actually Sent Them
The most recent lesson is one that confirms that the thin-skinned President has been so for a long time; long before Twitter became his platform of choice to air his grievances.
Article continues below advertisement
It turns out that Trump used to send handwritten notes to journalists whose articles he didn't care for, a practice which made him a sort of inside joke among top journalists.
But now that Trump has assumed the highest office in the nation, the notes serve as a critical reminder of just how fragile the psyche of this egomaniac really is.
Article continues below advertisement
Politico released images of several handwritten notes on Monday, all of which had been written on articles and sent to the writers or editors who published them.
Article continues below advertisement
Trump sent this in response to Justin Elliot's Salon article that predicted, accurately, that Trump would be able to hide his financial earnings in the chance he ran for president.

"Justin—I have no problem—I would, in fact, file early—You will be very surprised—Best Wishes
Then there's this note from 2011, after Yahoo! writer Chris Moody reported that a debate that was due to be moderated by Trump had been cancelled because no candidate agreed to attend:
Article continues below advertisement
There's also this note that Trump to sent to The Daily Beast's Olivia Nuzzi, after she reported that he had been on his "best behavior" at a gala for the Republican elite:
Article continues below advertisement
Here Trump quips, perhaps sarcastically:
"Olivia—Thank you—So Nice!
Trump is in true form in the 2005 letter to the New York Times, after a positive review of Mark Singer's Character Studies, which painted Trump in a negative light.

The negative press from Trump actually increased book sales, and Singer sent a tongue-in-cheek letter to Trump, with a royalty check enclosed no less, and Trump sent it back with some "harsh words" that we've all become accustomed to:
Article continues below advertisement
This time Trump remarked:
"Mark—

You are a total loser—and your book (and writings) sucks!

Best Wishes

Donald

P.S. And I hear it is selling badly

D"

And yes, Trump cashed the check.
Trump went even further with this note to Vanity Fair in 2012, going straight to the editor after a piece by Juli Weiner that mocked Trump for his relentless tease of running for president, complete with annotations:
Article continues below advertisement
This one is full of typical Trump grandstanding, stating:
"Graydon—

I know far more about you than you know about me—you never got the "Trump Thing." As one of your writers recently said, "Graydon doesn't like you."
I've never talked about how "Spy' went bust—it didn't outlast my countdown.
Here are the annotations:
Bad writer! [pointing to Wiener's name]
Bad picture (no surprise) [Pointing to a photo of himself]
Tell that to the crowds. See ratings + polls. [Referring to a description of himself as "tiresome"]
Thanks for the advice [Pointing to "March 2011 is not really the time for mudslinging"]
Not allowed! [Pointing to "It's time to hire a better ersatz exploratory committee"]
Oh really! [Pointing to idea that he is "pretending to be" interested in appealing to a diverse electorate]
And who is Ben Smith? [Pointing to politico's Ben Smith]
And plenty of wholes— [Pointing to to assertion that he "owns parts of" real estate investments]"
So if you've ever wondered what came first, the Donald or the Twitter, you now have a solid answer.