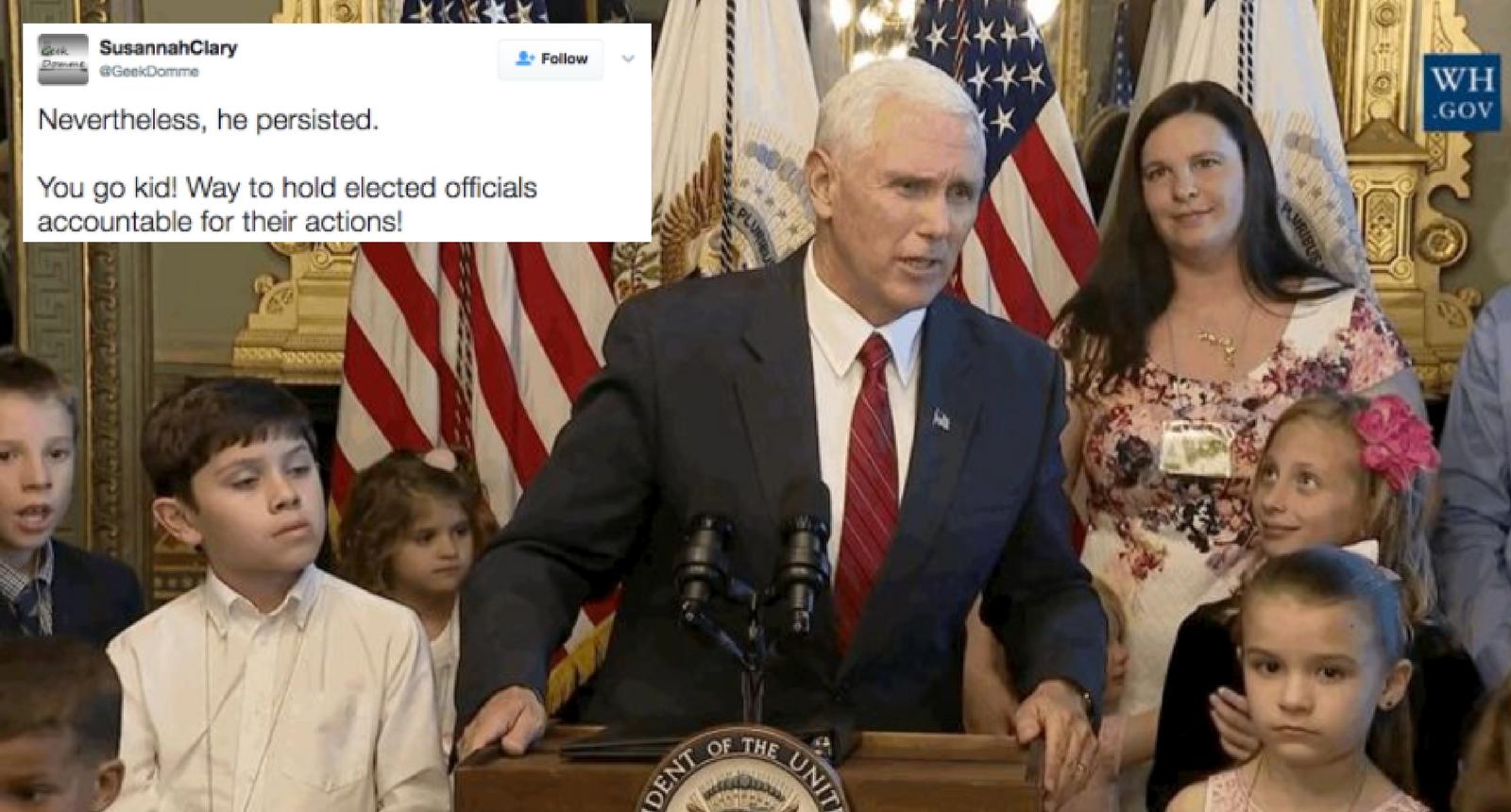 Kid Becomes Internet Hero Because Of How He Reacted To Mike Pence Elbowing Him In The Face
Kids are pretty resislent. We don't seem to give them enough credit for that sometimes. I mean they can take a bruising falling off a bike and have no reaction. Granted, not all kids are like this but it's funny how cuts and bruises sometimes don't phase them but finding out you can't watch TV will send them spiraling. Well have we got a tale for you guys on the true kindred spirit of being a kid...
One heroic child is showing us what it means to hold our elected officials accountable.
The vice president was hosting military families for National Military Spouse Appreciation Day on Tuesday at the White House. It contained many kids most of which were seated directly behind the Vice President. Of course they had to get them there for the photo op with the family man Pence.
While thanking the kids for showing up to the event, he accidentally smacked one in the face. Fairly solid connection too. Watch this kid take it in stride:
Article continues below advertisement
While most kids, and adults for that matter, would have just let the incident go, this brave soul did not. He demanded straight justice and he wasn't going to stop until he got it from the Vice President.
He was due an apology from Pence, and he wasn't going to stop until he got one. Good for him.
Article continues below advertisement
Article continues below advertisement
The Huffington Post edited together a video of the boy's persistent request, and it is kind of adorable. This kid is the new superstar for us all to gaze at:
Article continues below advertisement
Twitter was quick to praise the kid for seeking out the apology he deserved:
Article continues below advertisement
And while we're happy for the kid, we can't help but wonder when OUR apology is coming:
Article continues below advertisement