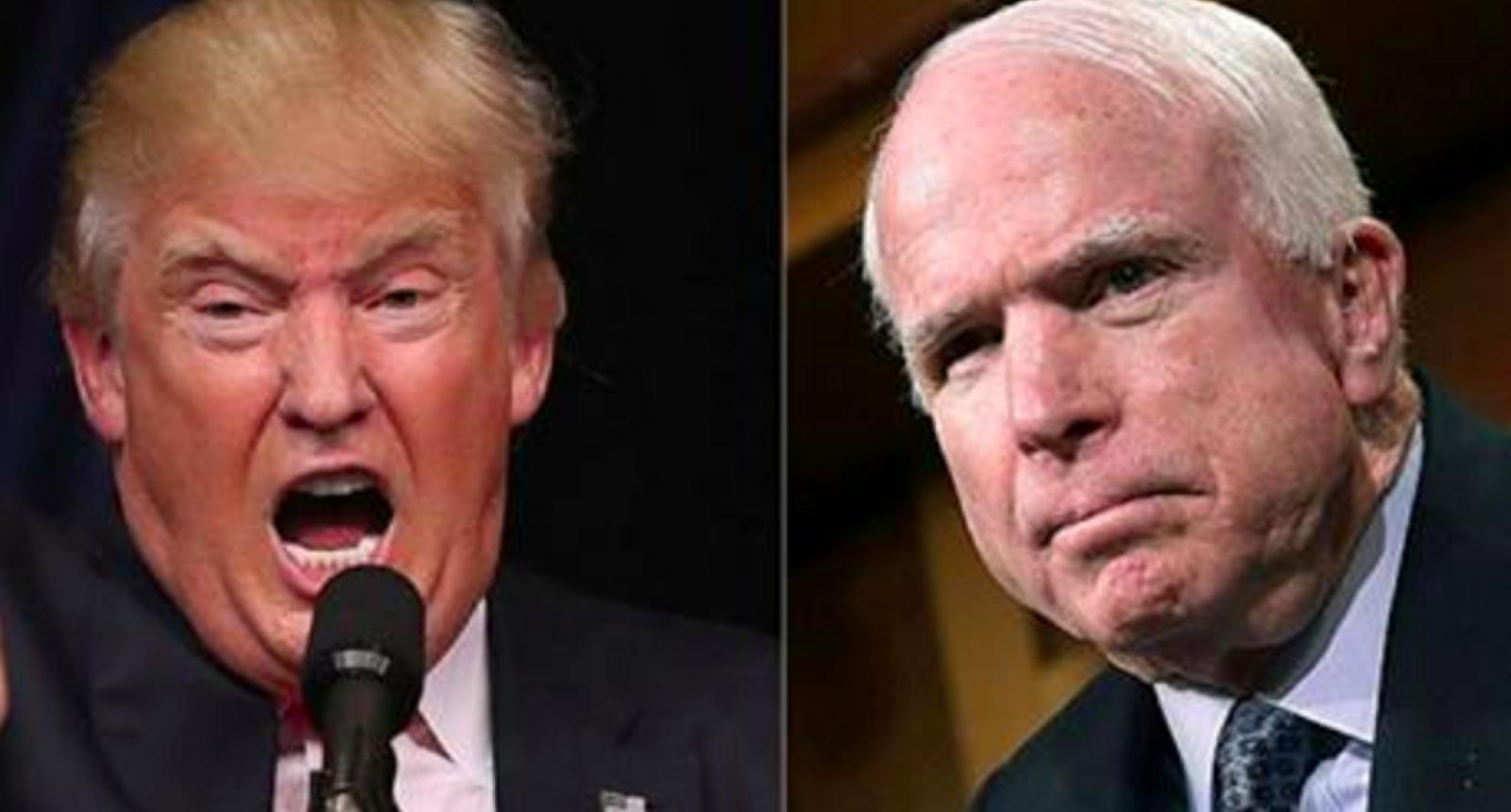 John McCain Just Slammed President Trump, And Conservatives Are Furious
By Justin Luke

Nov. 18 2019, Updated 2:26 p.m. ET
Senator John McCain (R-AZ) speaks out.
McCain compared President Donald Trump's many scandals to the Watergate scandal which eventually culminated in the resignation of former President Richard Nixon.
Article continues below advertisement
"I think we've seen this movie before. I think it appears at a point where it's of Watergate size and scale… the shoes continue to drop, and every couple days there's a new aspect," McCain told Bob Schieffer, the retired former host of CBS' Face the Nation.
Trump would be better equipped to handle the controversies, McCain said, if he followed the advice Schieffer gave Nixon, "which he didn't do… get it all out… it's not going to be over until every aspect of it is thoroughly examined and the American people make a judgment. And the longer you delay, the longer it's going to last."
Article continues below advertisement
McCain was responding to a which revealed that Trump asked former FBI Director James Comey to halt the criminal investigation into ex-national security adviser Michael Flynn, who about his communications with the Russian government.
Article continues below advertisement
"I hope you can see your way clear to letting this go, to letting Flynn go," Trump told Comey, according to a memo Comey wrote immediately after the meeting, which took place the day after Flynn resigned. "He is a good guy. I hope you can let this go."
Comey wrote the memo detailing his conversation with Trump as part of a paper trail documenting the president's "improper" efforts to impede the continuing investigation, which is part of a larger probe into whether Trump and his associates colluded with Russian operatives to win last year's presidential election.
Article continues below advertisement
The news has rocked Trump's Republican supporters in Congress, who, in the wake of the report, have broken away from him and issued calls for the memos.
House Oversight and Government Reform Committee Chairman Jason Chaffetz (R-UT) demanded that FBI officials turn over "memoranda, notes, summaries and recordings" of discussions between Trump and Comey. Chaffetz's letter to the bureau requests for all records to be turned over to his panel by May 24. These documents, Chaffetz wrote, would "raise questions as to whether the president attempted to influence or impede" the FBI's investigation.
Article continues below advertisement
McCain's words prompted various responses online.
The second John McCain seems to be taking a principled stand against Trump, you can bet a walk-back is coming down the pike. https://t.co/Nvj3PzWZO9

— Ken Tremendous (@KenTremendous) May 17, 2017
Article continues below advertisement
Serious pt: no more reporting on "concern" from McCain, Graham, et al unless they're willing to *vote* for investigation / subpoena https://t.co/0Lp3K1W1ew

— James Fallows (@JamesFallows) May 17, 2017
McCain's "Watergate" comment gave voice to what many Congress GOPers are quietly fearing. But most GOPers are desperate for a middle ground

— Chuck Todd (@chucktodd) May 17, 2017
Article continues below advertisement
Are there any bigger frauds in talking big/doing nothing about Trump than McCain & Lindsey Graham? At least McConnell & Ryan don't pretend.

— Marc E. Elias (@marceelias) May 17, 2017
John McCain in 1999 voted to impeach Bill Clinton, referencing him "obstructing justice". He cited his conscience requiring him to do so. pic.twitter.com/LjTdU6Fei8

— Nathan McDermott (@natemcdermott) May 17, 2017
Article continues below advertisement
In March, he called for the president to substantiate his claims that former President Barack Obama wiretapped his phones. "I think the president has one of two choices, either retract or to provide the information that the American people deserve," the veteran senator during an appearance on CNN's State of the Union.
McCain argued that Trump, who leveled his accusations without any evidence, should withdraw them because persisting would only damage confidence in government. "I do believe that…accusing a former president of the United States of doing something which is not only illegal, but just unheard of, then that requires corroboration. If true, or the allegation is left out there, it undermines the confidence the American people have in the entire way that the government does business," he said.
Article continues below advertisement
Late last year, McCain was one of four influential Democratic and GOP Senators made their case for a special investigation into foreign cyberwarfare, and an inquiry into the CIA's findings that Russia intentionally interfered in the 2016 presidential election to help Trump win.
Then silence. How much "concern" will the American people continue to hear from him?