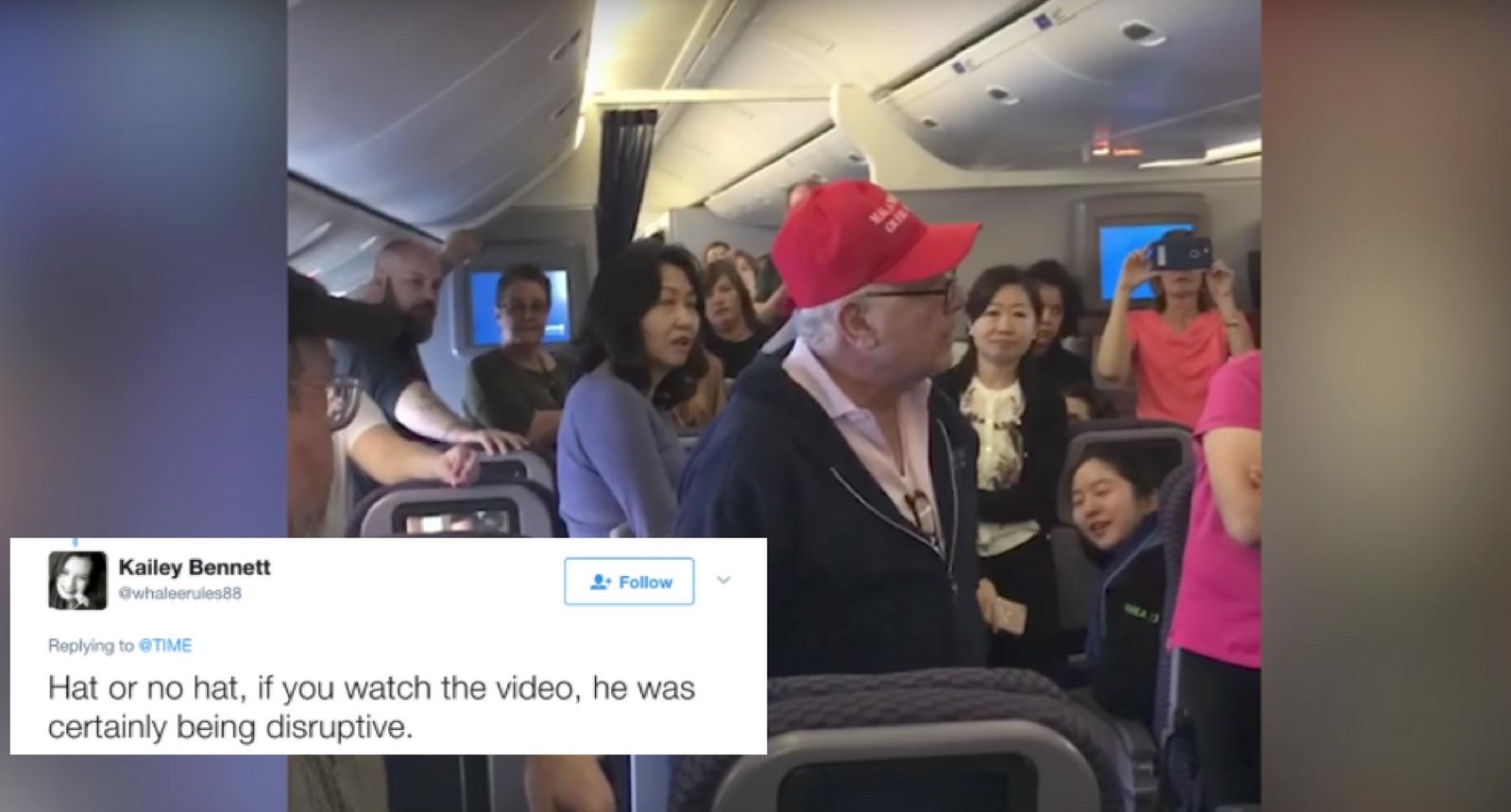 A Man In "Make America Great Again" Hat Just Lost It And Got Kicked Off A United Airlines Flight
A flight from Shanghai to Newark, New Jersey, was extensively delayed this past Sunday, May 21st, when an unnamed man in a "Make America Great Again" hat disrupted the flight, making a scene and refusing to take his seat. He reportedly dared the flight crew to "cuff him" and "drag him off the plane," referencing the infamous United Airlines incident in April, but was met with no such treatment (though many of his fellow passengers wouldn't have complained).
Article continues below advertisement
During the boarding process, the man reportedly took another passenger's seat and refused to move. As the flight crew repeatedly asked him to find his own seat, he grew disruptive, asking to be upgraded to first class because "he had points." When his request was denied, he went to the back of the plane, took another passenger's seat, and refused to let anyone else sit in the row.
All witnesses claim the United crew behaved "professionally and admirably," even when local law enforcement was called in. After officers weren't able to persuade the man to move, the other passengers were deplaned so the situation could be dealt with. All in all, the man ended up delaying the flight over three hours.
Article continues below advertisement
Here's a video of the man, taken by a fellow passenger:
Article continues below advertisement
Though the man reportedly tried to politicize his disruptiveness, shouting he knew people "didn't like his hat," and berating a female passenger by calling her "Hillary," everyone seemed to agree the man's indecency transcended politics:
Article continues below advertisement
The ordeal came to an end hours later, when police finally escorted the man out of the now-empty plane. As the man ascended an escalator, waving what appeared to be a seat cushion, he continued to jeer at the other passengers, saying:
So I succeeded in making you guys waste three-and-a-half hours.
Article continues below advertisement
Many indelicate words were then thrown at the belligerent man before the passengers found themselves unifying behind a familiar chant:
Lock him up! Lock him up!
During the long flight through San Francisco (where the plane would be further delayed so a new crew could board), passengers wondered what became of that strange man after he turned a corner, escorted by police, on his way to an unknown fate. He continued jeering in multiple languages until the very end. One thing's for certain: he probably won't be allowed back on a United Airlines flight any time soon.