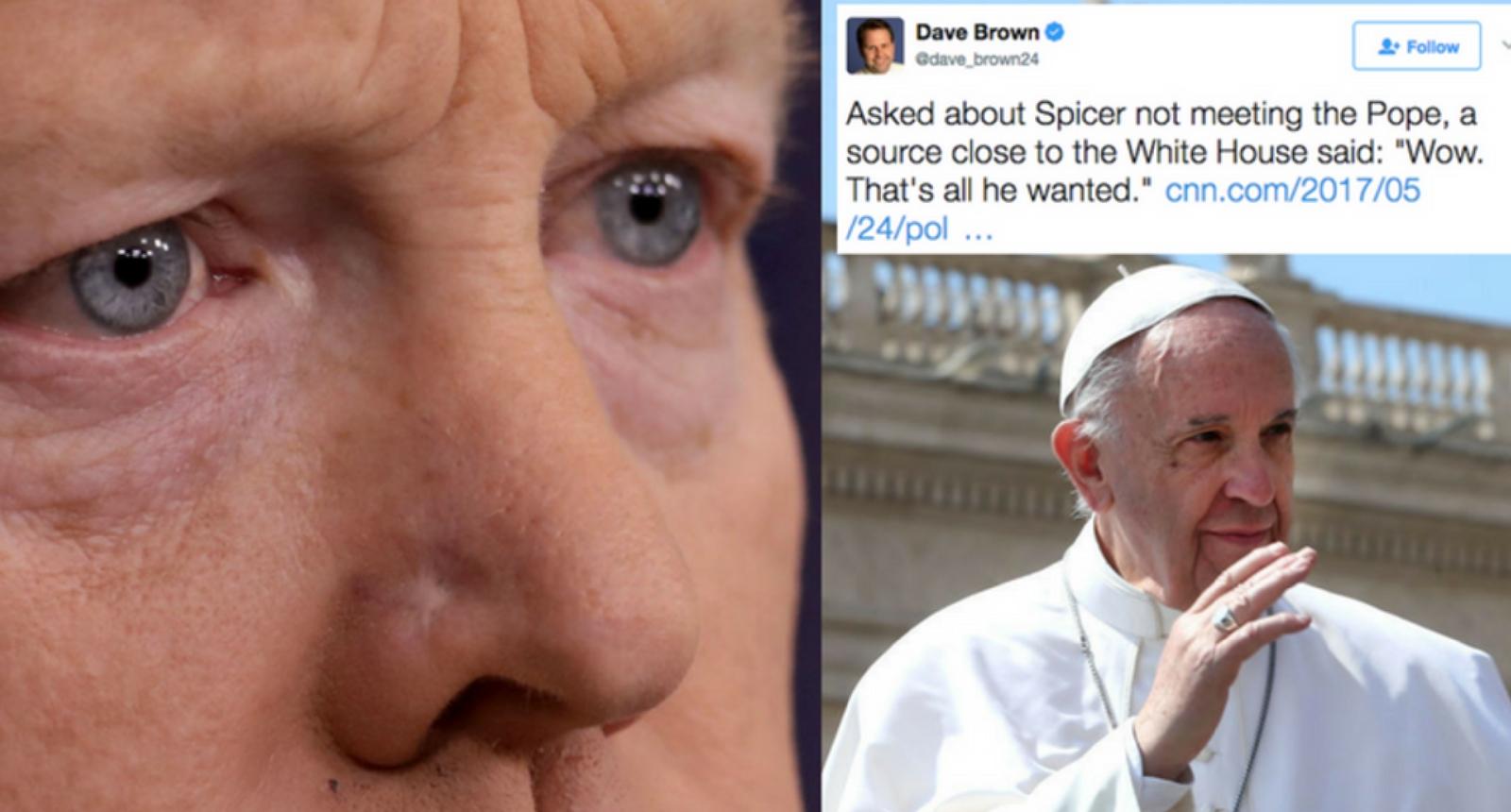 Sean Spicer Just Got Snubbed By The Trump Family In The Holy City
By Justin Luke
Sean Spicer has been a joke ever since he came out with that hilariously false statement about the number of people who attended Donald Trump's inauguration rally at the start of his presidency. It would've been more funny had it not been a direct order from the new press staff, but ever since then he has been seen as the somewhat ditzy and dismissable White House staff member who occasionally pops out to say a crazy thing or two then moseys on back to wherever it is he came from until the next press briefing or Saturday Night Live skit involving him popped up.
Sean Spicer, for those who don't know, is a devout Catholic man and when President Trump was scheduled to make the trip out to The Vatican, also known as The Holy City, along with his family and a few staffers, Spicer seemed like an obvious choice to be on his travelling entourage.
Sean Spicer was left out of the group that met the Pope on Wednesday.
The President's trip to the Vatican, instead, featured a small entourage, mostly including family members, as well as a few members of his staff.
But Spicer, a devout Catholic, was left off the list of invitees.
While the exclusion of Trump officials like Kellyanne Conway, Steve Bannon, and Reince Priebus was somewhat expected, the exclusion of Spicer drew some shock.
Spicer has been very vocal in the past about his Catholic faith, appearing on CNN with ashes on his forehead for Ash Wednesday, and even saying about his job as press secretary, "I'm going to look to God every day to give me the strength to do what's right. That's all you can ask for is to get up and say, 'Can I do this thing?' Help guide me and ask Him for strength."
Some felt bad for Spicer:
According to White House officials, both the Vatican and the Trump administration had agreed to limit the number of staffers who would be attending.
The list going in was as follows:
But a few staffers gave up their spots to Catholic staffers prior to the meeting:
Many view the decision to leave Spicer off the list as a sign that the President is scaling back Spicer's role as press secretary, among other aspects of his communications team.
Perhaps Spicer will be permanently left off the roster in coming weeks. Time will tell.