There's a lot to be said when it comes to body language, especially when concerning people of power. While old traditions and gestures seem to still be in place, even when it feels inappropriate, you can usually see how a person really feels by reading their body language. Are they trying to pull away in retreat? Are they pushing against the other to try to make them step back? Is that long, awkward embrace really an embrace or a reminder that someone can choke the other out if they ever step out of line in front of the public eye?
Political grandstanding aside, the body language of politicians is something that's dissected from 40 different angles by media outlets everywhere, especially if the two aren't exactly seeing eye to eye on world issues and may have prior words that were carelessly tossed about before their meetings that led to an overly tense atmosphere.
The video, captured by news outlets at the NATO conference on Thursday, quickly went viral.
Macron told French newspaper Le Journal du Dimanche that the handshake was "a moment of truth." A very long, intense moment of truth.
"My handshake with him, it wasn't innocent," Macron admitted. "One must show that you won't make small concessions, even symbolic ones, but also not over-publicize things, either." Even news outlets couldn't help but notice the intensity of the handshake, with The Washington Post noting:
"They shook hands for an extended period of time. Each president gripped the other's hand with considerable intensity, their knuckles turning white and their jaws clenching and faces tightening."
The New York Times had a similar observation, saying:
"When Mr. Trump greeted Emmanuel Macron, France's new president, they grabbed each other's hands, jaws clenched, in an extended grip that turned Mr. Trump's knuckles white."
Twitter users noticed as well: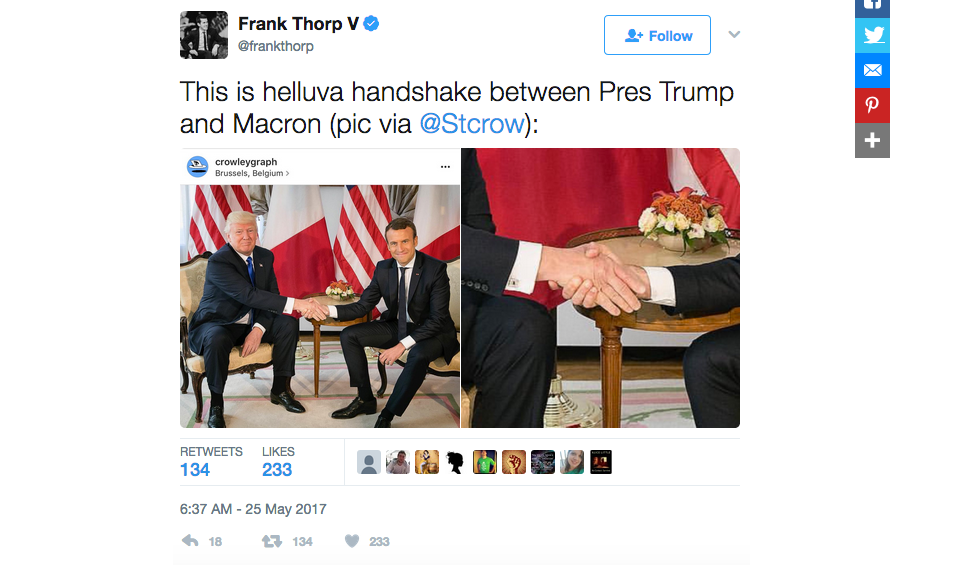 One Twitter user had an apt comparison: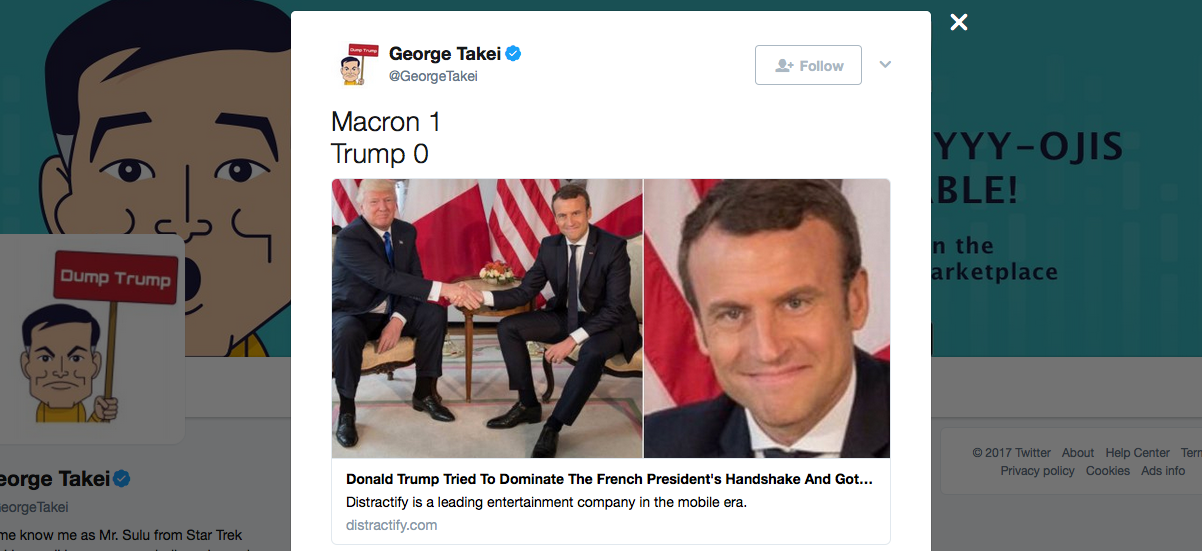 Naturally, Trump had to settle the score.
And he got his shot a short while later, giving us this even more awkward power play of a handshake:
There's a whole lot of testosterone happening in that handshake. And this time it was in front of a crowd of world leaders. Take that, Macron!
Is this the end of handshake-gate 2017? Macron's next test will come on Monday when he welcomes Russian President Vladimir Putin to Paris. I smell a round three.
H/T: Mashable, Distractify, The Telegraph