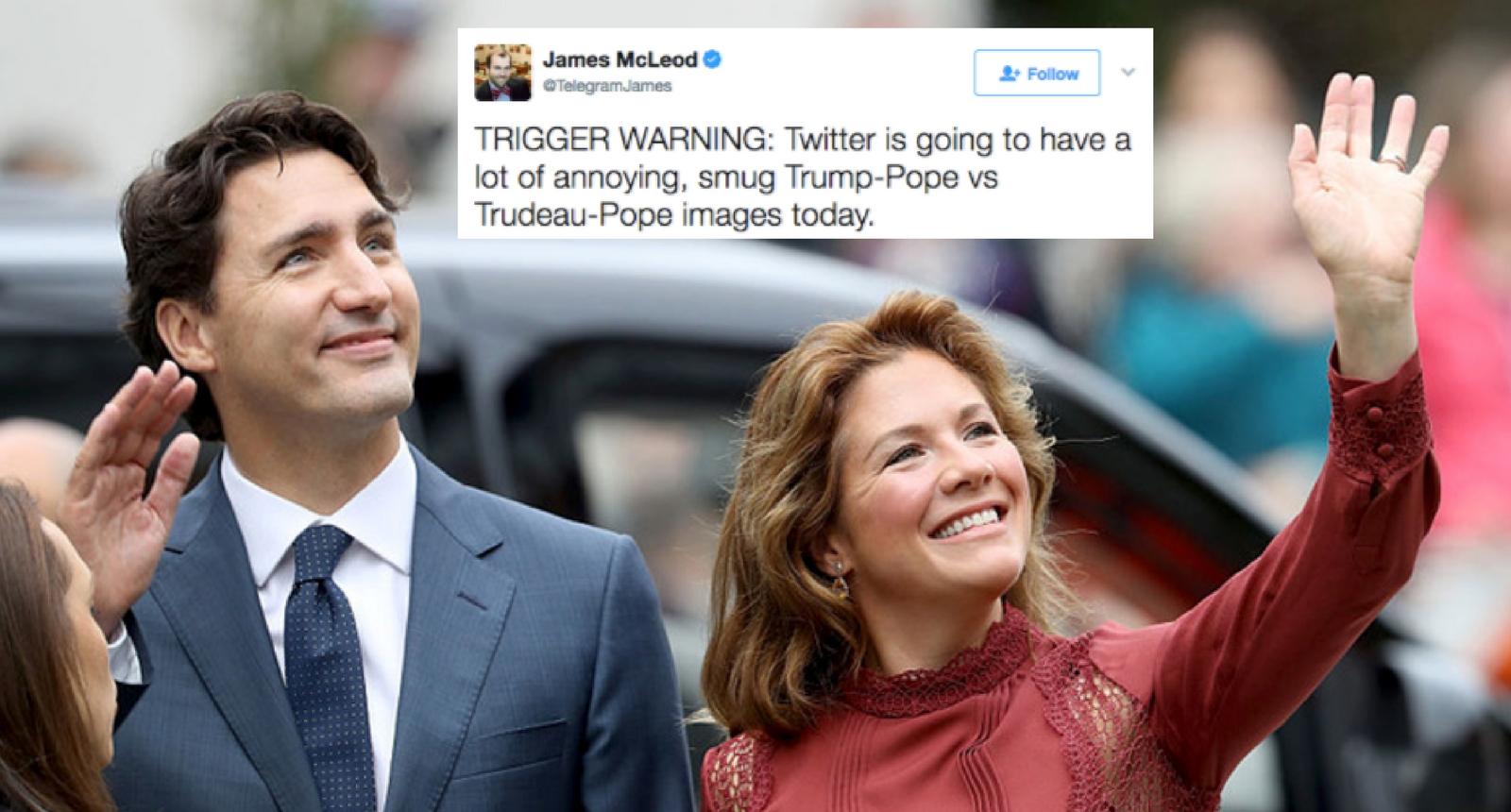 Justin Trudeau Just Got A Picture With The Pope, And Twitter Is Torn About What It Means
By Justin Luke
Justin Trudeau has had Americans lusting after a leader of his character, caliber, and looks for some time now. Nearly every headline he's featured in is positive, and almost every exchange he has had with other political figures have been comical or touching to a degree.
The same can be said for the Pope, who has taken the world by storm since his appointment and because a beacon of hope for people of all backgrounds by being a world leader that was not afraid to call out governments, politicians, or sanctioning bodies on the injustices they helped create, enforce, and continue to carry out.
The two have yet to meet, with Justin Trudeau doing his best to communicate with Canada's moose on a regular basis while trying to learn their migration patterns and the Pope kind of dealing with the fallout of being a decent human being and having all previous papal allies sweat in their boots since ethnic cleansing and other atrocities seem to be off the table right now.
There's plenty of good news when these two are separate, so imagine what having them together would mean for headlines and reactions. People online have been waiting for this meeting to occur, especially due to the recent shift in political climate worldwide that often has us tuning in to doom and gloom on a regular basis.
Well it turns out that the people did end up getting their wish for this meeting of epic proportions. It was a great meeting, the best meeting. My buddy is an expert at meetings and he said that it was the best meeting he has ever seen before.
Trudeau's recent visit with the Pope is turning some heads, but maybe not for what you'd expect.
When President Trump and his entourage visited the Vatican recently, many took to Twitter to voice their opinions about how unhappy the Pope looked to be meeting Trump.
So, many appeared shocked when this image of Justin Trudeau and his wife meeting the Pope was released:
Wait a second. That look seems awfully familiar...
Many Twitter users scrambled to find a suitable explanation:
I mean, the Pope meets a lot of people:
Maybe it just isn't his "thing":
Maybe, it's just how his face looks:
Of course, just as in Trump's case, there were plenty of other photos of the Pope smiling with his visitors.
Like this one, for instance: