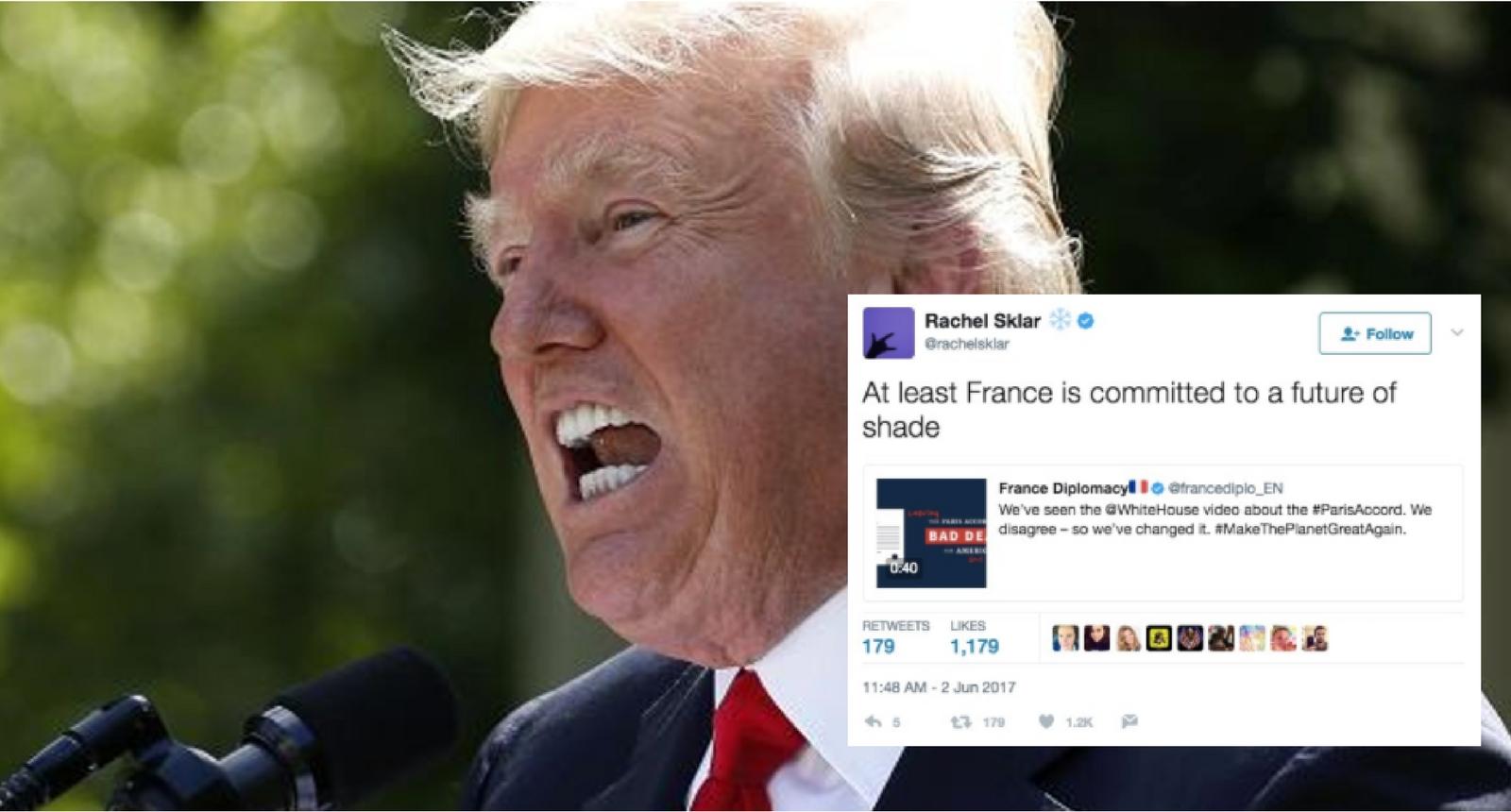 France Just Totally Burned Trump By Editing A Video His Administration Made
By Justin Luke
It's easy to be anti-Trump these days. Everybody from corporations to other countries have been piling on the no-Trump train to get their chance at a sweet marketing gimmick with a subtle roast or criticism. Maybe it's cause Trump responds to just about everyone.
France is trolling the United States over the Paris Agreement in a really big way.
In the short video below, the White House explained why the agreement, which aims to reduce greenhouse gases and stem the effects of climate change, is a "bad deal" for the U.S.
The U.S. video, among other things, claims that the climate deal "undermines US competitiveness and jobs."
The French video strikes down these assertions using new slides and text edits.
You can watch their trolling below:
Last week, French President Emmanuel Macron slammed President Donald Trump for withdrawing from the Paris Agreement.
"I do respect his decision, but I do think it is an actual mistake, both for the United States and for the planet," Macron in an English-language speech at the Élysée Palace. "I tell you firmly tonight: We will not renegotiate a less ambitious accord. There is no way… If we do nothing, our children will know a world of migrations, of wars, of shortage. A dangerous world."
In his speech and on Twitter, he appropriated Trump's signature campaign slogan, "Make America Great Again," altering it slightly to reaffirm France's commitment to the agreement.
Dem fighting words! What was your take on the not so subtle burn? Kind of funny coming from France but seems like everyone wants to get in on the Trump hate these days. We guess the budding bromance between President Trump and Emmanuel Macron will probably be coming to an end now. It was too short!