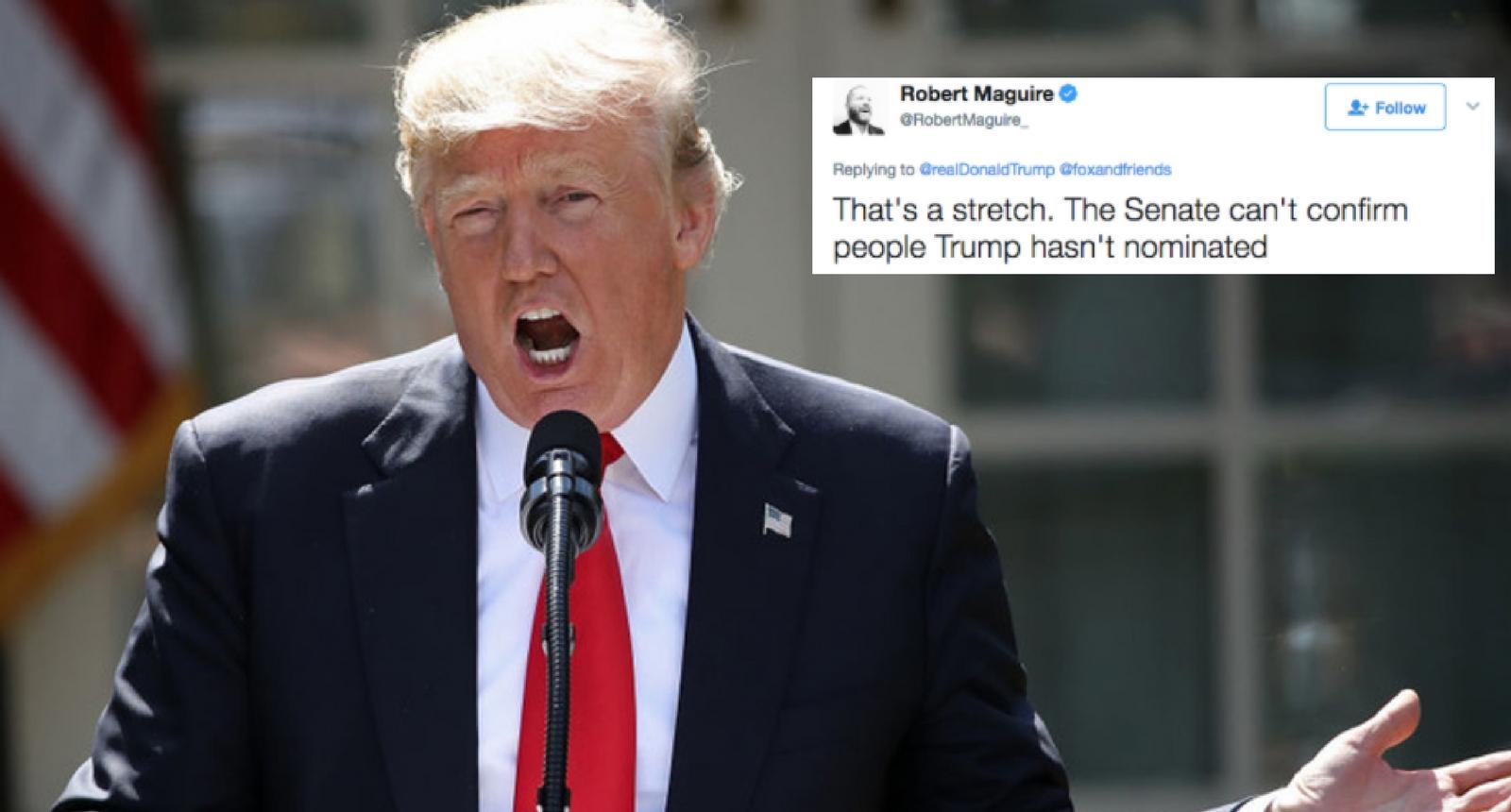 Trump Just Blamed Democrats For An Issue With His White House--And Got Caught Lying
By Justin Luke
Donald Trump lashed out at Democrats on Monday.
After watching a "Fox and Friends" segment in which Lewis Lukens, the acting U.S. ambassador to the U.K., praised London mayor Sadiq Khan after the terror attacks Saturday, Trump took to Twitter to express his displeasure:
There's only one small problem with Trump's complaint: he's only nominated a handful of ambassadors since taking office.
According to the Huffington Post, the only confirmed ambassadors include those serving in China, Israel, and the United Nations, as well as a few career foreign service officials for ambassadorships in Africa.
In addition, an ambassador to New Zealand is expected to be confirmed by the senate, while nominations for ambassadors to the Bahamas, Japan, and the Vatican all await the Senate Foreign Relations Committee.
Sean Bartlett, a spokesman for Sen. Ben Cardin, the ranking Democrat on the committee, said, "The president's statement is not accurate. The president should get off Twitter and lead his team in sending more ambassadors and other crucial nominees to the Senate."
Twitter pointed out Trump's folly as well:
What does 160 vacancies look like? Maybe this will help:
And that's just ambassadors. This tweet puts into better perspective just how few of the key positions Trump has filled:
And for some, there was something more disturbing:
Donald John Trump is the 45th and current President of the United States. Before taking office on January 20, 2017, having beat opponent Hillary Clinton in the electoral college but not the popular vote, Trump was a real estate mogul, and a former reality TV star.
Born in Queens, New York, in 1971 Trump became involved in large, profitable building projects in Manhattan, under the guidance of his father, real estate developer Fred Trump.
In 1980, Donald Trump opened the Grand Hyatt New York, making him the city's best-known developer.
In 2004, Trump began starring in The Apprentice, a hit NBC reality series, and later in a spin-off series, The Celebrity Apprentice.
In 2015, Trump announced his candidacy for president of the United States running as a Republican. Trump win a majority of the primaries and caucuses, becoming the official Republican candidate for president on July 19, 2016. That same November, Trump was elected the 45th President of the United States, after defeating Democratic candidate Hillary Clinton.