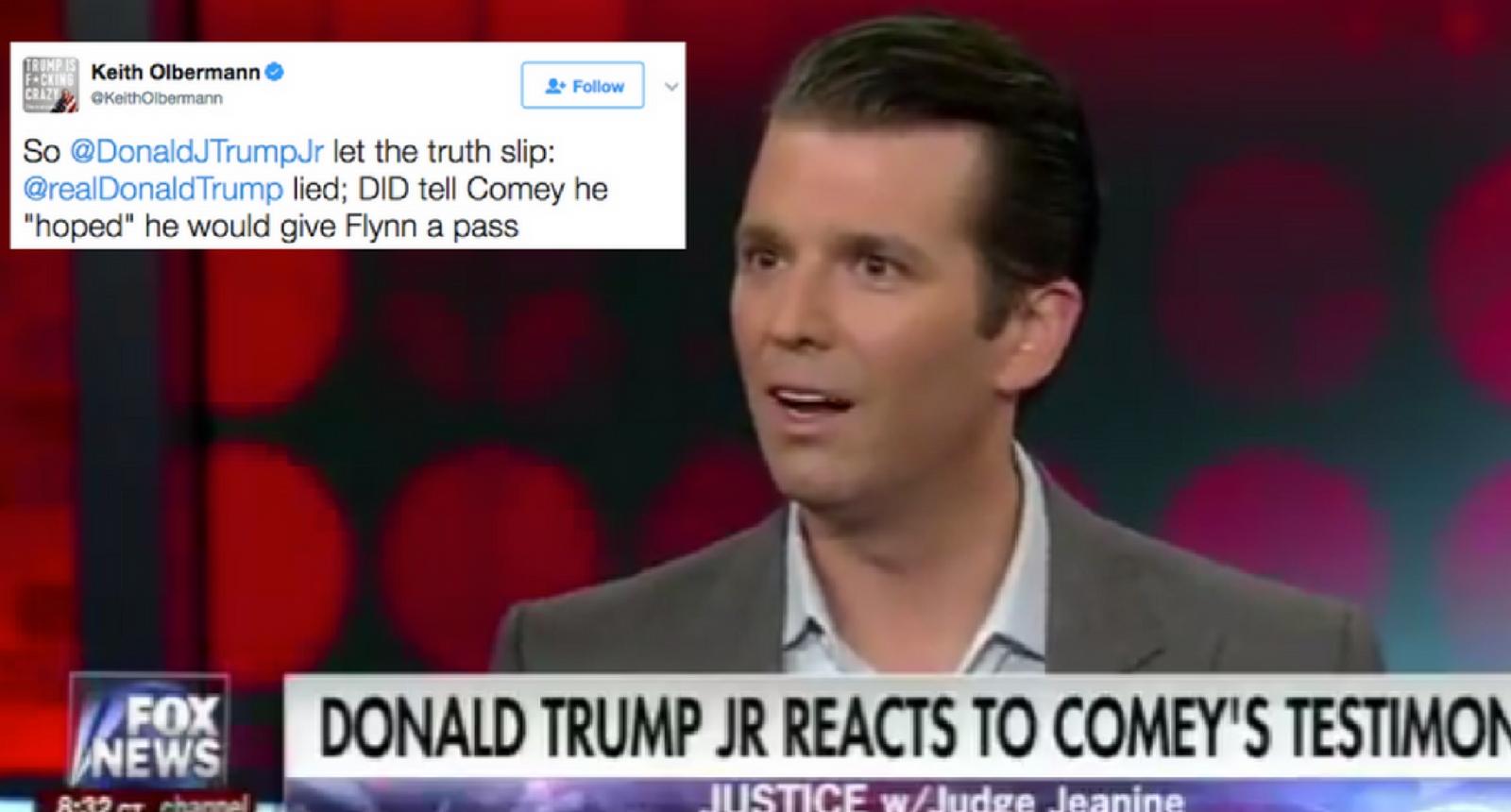 Donald Trump Jr. May Have Just Accidentally Confirmed Comey's Claims
By Justin Luke
The President might want to pull his son aside so that they can get their stories straight.
While both father and son have been very vocal about Comey's testimony last Thursday, Trump Jr. may have inadvertently confirmed one key aspect of Comey's statement.
The former FBI director alleged that on February 14, Trump pressured him to drop the investigation into ex-national security adviser Michael Flynn, saying, "I hope you can see your way clear to letting this go, to letting Flynn go. He is a good guy. I hope you can let this go." Trump has denied the allegation.
But during a Fox News interview with Judge Jeanine Pirro on Sunday, Trump Jr. told the host, "When he tells you to do something, guess what? There's no ambiguity in it, there's no, 'Hey, I'm hoping.' You and I are friends: 'Hey, I hope this happens, but you've got to do your job.' That's what he told Comey."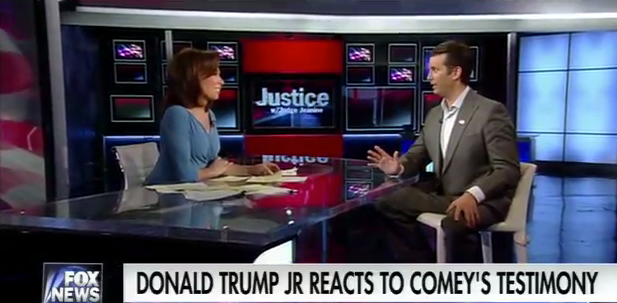 And while Trump Jr. was attempting to clarify the point that his father wouldn't have halfheartedly suggested that Comey do anything, he ended up basically confirming Comey's version of what happened.
Viewers latched on pretty quickly:
Trump Jr. might be in trouble with his father:
But Jr. seemed none-the-wiser, as he proudly tweeted after his interview:
But Twitter wouldn't let him down that easy:
To watch the full interview, see below:
Donald John Trump is the 45th and current President of the United States. Before taking office on January 20, 2017, having beat opponent Hillary Clinton in the electoral college but not the popular vote, Trump was a real estate mogul, and a former reality TV star.
Born in Queens, New York, in 1971 Trump became involved in large, profitable building projects in Manhattan, under the guidance of his father, real estate developer Fred Trump.
In 1980, Donald Trump opened the Grand Hyatt New York, making him the city's best-known developer.
In 2004, Trump began starring in The Apprentice, a hit NBC reality series, and later in a spin-off series, The Celebrity Apprentice.
In 2015, Trump announced his candidacy for president of the United States running as a Republican. Trump win a majority of the primaries and caucuses, becoming the official Republican candidate for president on July 19, 2016. That same November, Trump was elected the 45th President of the United States, after defeating Democratic candidate Hillary Clinton.