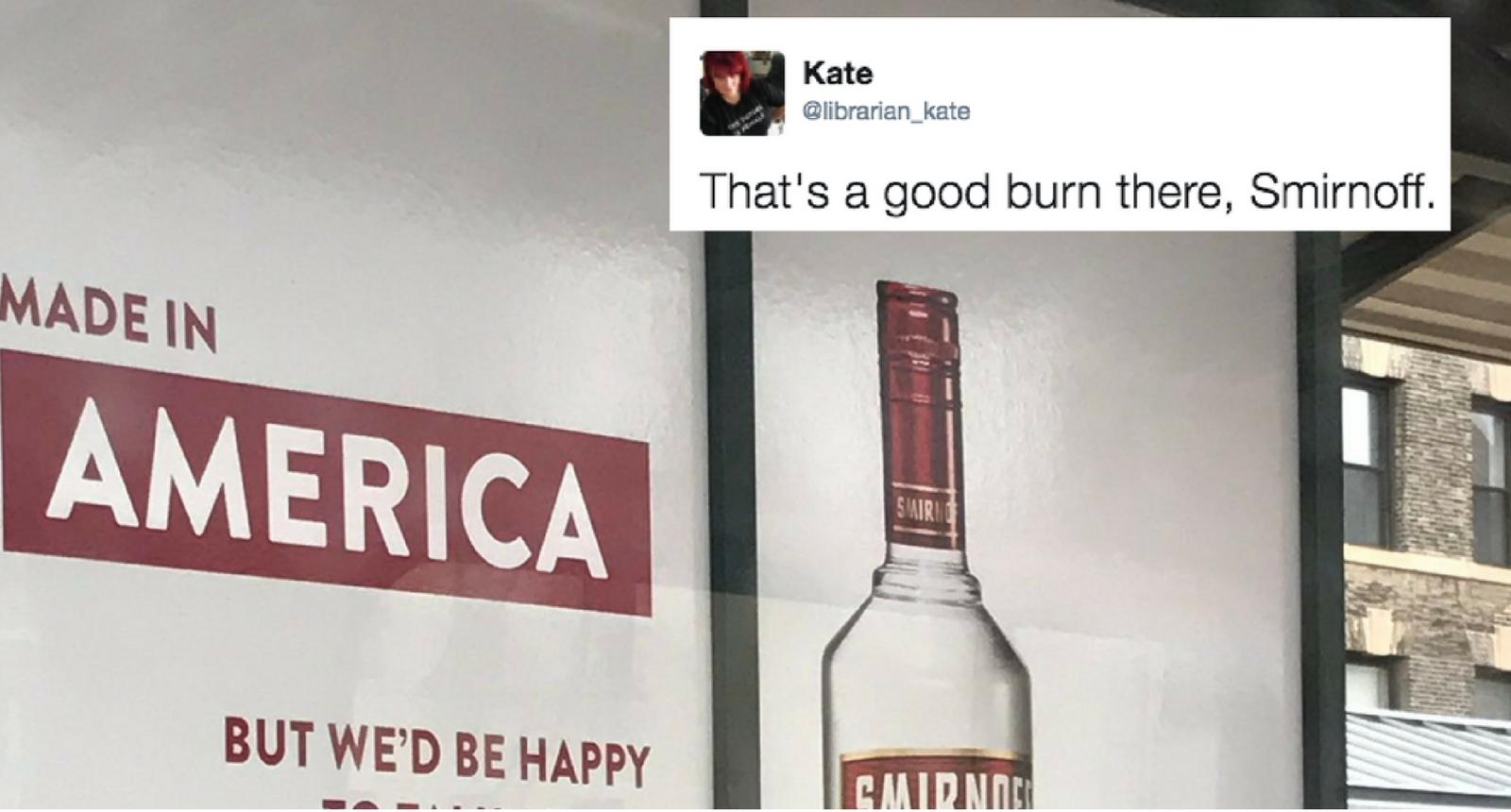 Smirnoff Vodka Just Trolled President Trump On A Billboard, And People Love It
By Justin Luke
We all know that President Trump and his administration may have a few... shady Russian ties.
Everyone's a joker when it comes to Trump's Russia problem. Be you a Twitter celebrity, a YouTuber, a late night comedian, or Sue over in accounting, you've no doubt got a joke or two up your sleeve-ski. And the President certainly makes it easy to riff on him with his constant tweeting and claims of fake news. Seriously, the man could probably help his case a lot more if he just shut up about it. But luckily for us that just means more funny jokes, and more people taking shots at him.
Well, we can now add Smirnoff brand vodka to the list of Trump's trolls.
Perhaps they're blasting Trump because he is notoriously known for not drinking alcohol? Who could say?
The Smirnoff ad features a bottle of their vodka and a tin cup that looks to be holding a delicious and refreshing Moscow Mule beverage. This, by the way, happens to be one of our favorite drinks! Give one a try.
The ad says, quite simply:
"Made In America. But we'd be happy to talk about our ties to Russia under oath."
Woof! That slight burns just about as much as a Moscow Mule with a bit too much ginger beer.
The people of Twitter, of course, were positively pleased with this discovery.
Shady? You betcha. Delightful? Absolutely.
It just burns so good. Much like these jokes.
Us, too...
It's pretty sad President Trump is now getting trolled by Vodka companies but alas it seems that's where we're at with this stuff now. He's so much of a marketable joke at this point, pretty much anybody is willing to get in on a good roast of the president.