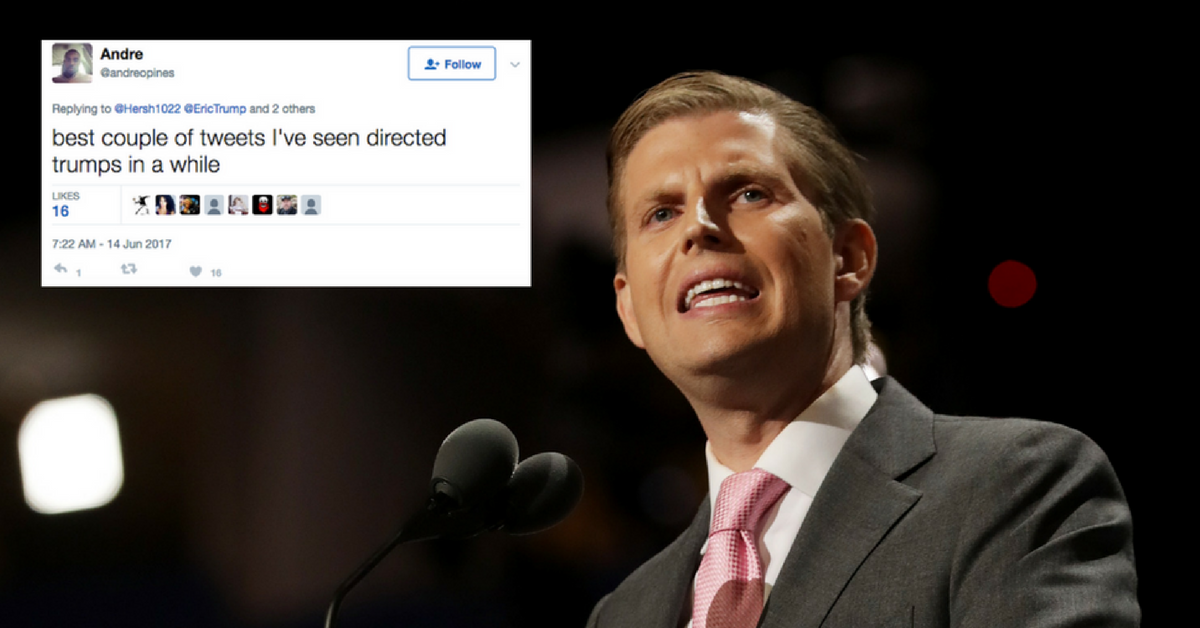 Eric Trump Shared A Tone Deaf Tweet During Mass Shooting, And Twitter Protested
By Brian Skellenger
Eric Trump was in a huffy over the mainstream media's lack of coverage about the stock market on Wednesday.
And while on any other day Trump may have had a solid argument, news coverage was busy focusing on a more pressing issue: the shootings that happened in Virginia and San Francisco. It rocked the political world and most of the media coverage has been focused on those horrendous incidents. However not everyone was happy with the coverage as some seemed to think it should be something else...
When Eric Trump took to Twitter this morning, he only had one thing on his mind (besides himself) :
Twitter quickly reminded him what was actually taking up the majority of the news cycle:
Eric later retweeted his father's tweet around the shootings, offering "thoughts and prayers" to those involved, including Republican Representative and Majority Whip Steve Scalise, who was shot in the hip and is in critical condition. Many were critical of yet another empty Tweet of words that won't change anything and just lead to more inaction. The Trump's have never been known for their words of kindness rather take a more callous and business like approach to tragedies such as this.
Still it goes to show how little thought goes into the minds of the Trumps in the wake of something people have been begging the administration to fix.
For many, the damage was done and he wouldn't here the end of if:
Eric didn't seem to take much notice. He may have been preoccupied with his father's birthday celebration. Cause that's the important things in life, right?
Do you think his Tweet was in poor taste? Hopefully this is a reminder to the Trumps the world doesn't always revolve around them like they probably think. Do better Eric.