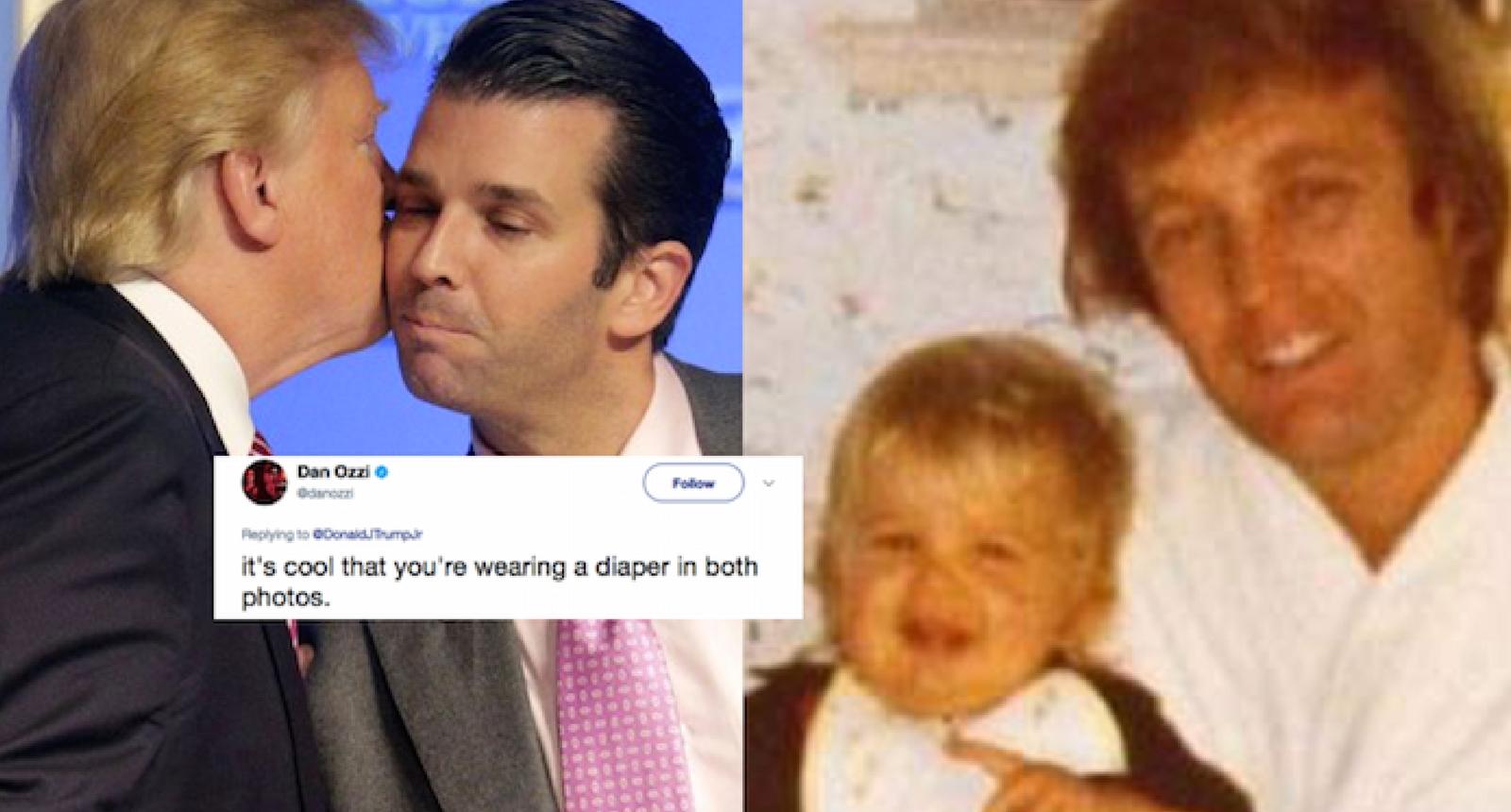 Donald Trump Jr.'s Father's Day Picture Has Sean Spicer Eating His Words
By Justin Luke
The president's son just gifted the Internet with the sweetest Father's Day photo in a way only the Trumps could and it's causing quite a stir on the Internet cause it's just too cringey.
Donald Trump Jr. shared a precious moment from his childhood for all the world to see. A picture of him as a wee lad with his pops Donald Trump, who is decked out in his finest bathrobe. For most we'd say "Awww" this is a touching moment with a dad and his young son. But this is Trump we're talking about and there's a reason people are scratching their heads. Look closely and you may pick up on it.
The bathrobe tweet is particularly amusing due to the spat the president had with the way the New York Times depicted him inside the White House, reporting, "When Mr. Trump is not watching television in his bathrobe or on his phone reaching out to old campaign hands and advisers, he will sometimes set off to explore the unfamiliar surroundings of his new home."
Even Sean Spicer refuted the report's claim. "I don't even think the president owns a bathrobe. He definitely doesn't wear one," he said according to AOL. Interesting cause one of the biggest details is he's ACTUALLY wearing a bathrobe in this photo. Guess it's Fake News?
The president, his First wife, and their son Baron arrived at Camp David on Saturday to enjoy their first outing to the retreat nestled in the mountains of Maryland.
Ivanka wished her father well, but withheld from sharing any throwback pics.
Meanwhile, Donald Trump had his own tweet to share.
Someone wasn't having Trump's tweet and decided to fact-check him.
Too bad. Donald Trump not posting a throwback of his own was a missed opportunity.