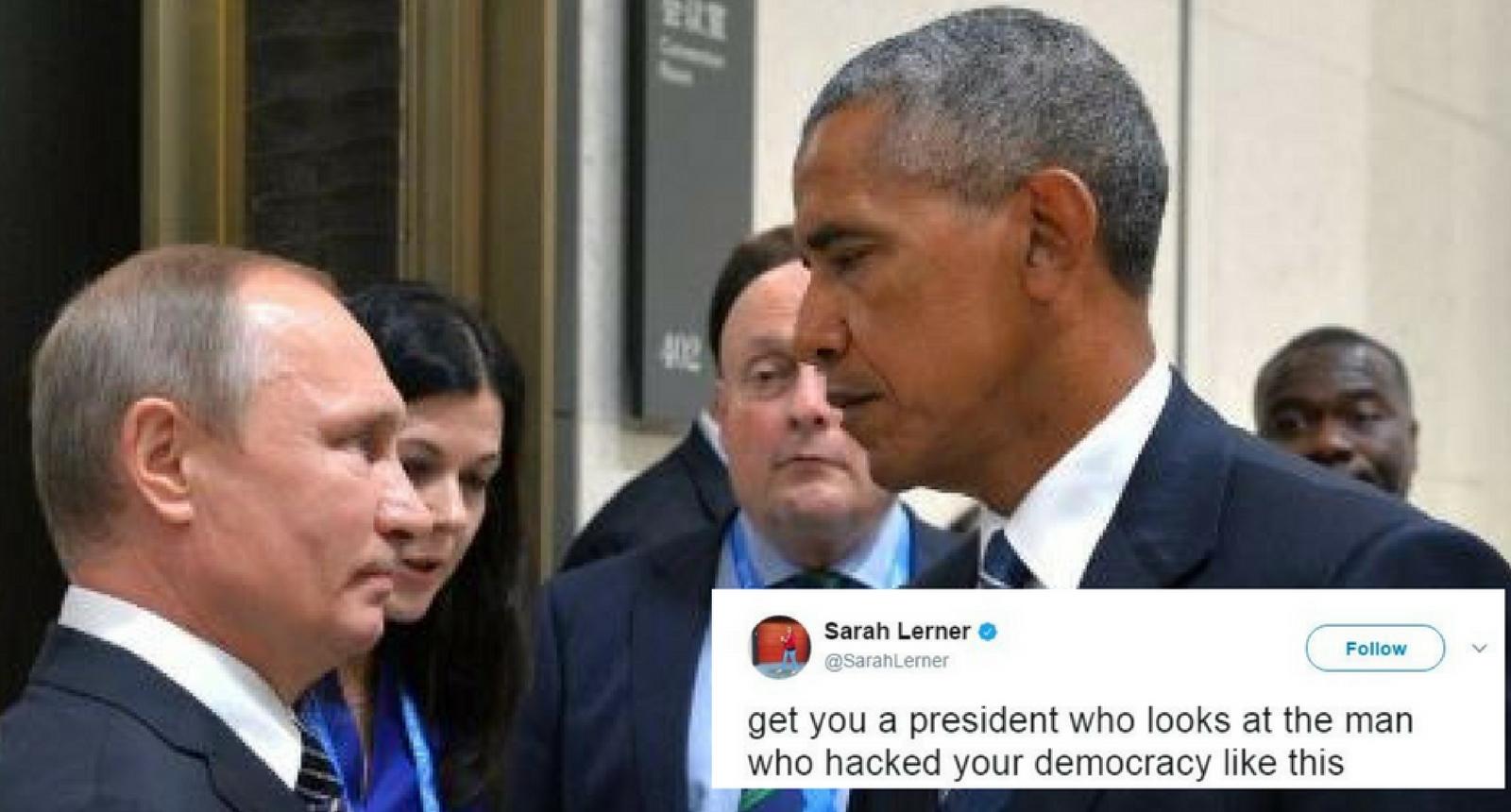 Photo of Obama and Putin Sharing Awkward Handshake Has Twitter Cheering
By Mark Joseph

Updated
You know those awkward times.  Yea you know, the times where someone could easily just yell out...Awkwaaard.   We all hate those awkward moments, whether it be something dumb was said or done or someone walks into a room and the silence is deafening.  Someone could then say something to break the ice, or say or do something to make it even worse.  As a bystander, you are always hoping for the latter for sheer entertainment value.  As the person involved, you just want to flea the scene as quickly as possible and never return.  
Sometimes these awkward moments are felt by celebrities, politicians or others in the public eye.  We pretty much call this Reality TV which is why it has become so popular recently.  In this political climate however, it has started to become a bit more commonplace.  Especially when it comes to Russia and our politicians.  Everyone knows about Trump and Russia and the millions of details we probably don't know about.  One of the things that has developed from this has definitely been some awkward tension.  And this past weekend, adding on to all of that, Putin was in with some politicians of the US and one particular awkward moment arose that left Twitter going crazy with many many reactions.  
A photo of Barack Obama and Vladimir Putin shaking hands has Twitter lit up with a lot to say! 
Many Twitter users embraced Obama's stern nature in this moment with Putin.
.Look at the fear in Putins eyes.He knows he can only succeed by enabling and aiding and abetting other weak people like him to run America

— Apex Shift (@apexxshift) July 8, 2017
I love how Putin has to look upward at him. I love this to death.

— The Kim (@garnetankh) July 8, 2017
Yessssss cause he's A BOSS!!!!!

— thinkoutsidethebox (@thinkoutsideth1) July 8, 2017
"I'm bigger. I'm smarter. And this isn't over."

— cupcakekitty (@cupcakekitty09) July 8, 2017
Other Twitter users poked fun at Obama and exposed some more vulnerable interactions with other world leaders.
Some other interesting reactions to this image flooded Twitter. 
No matter how you slice it, this image is iconic from all points of view.