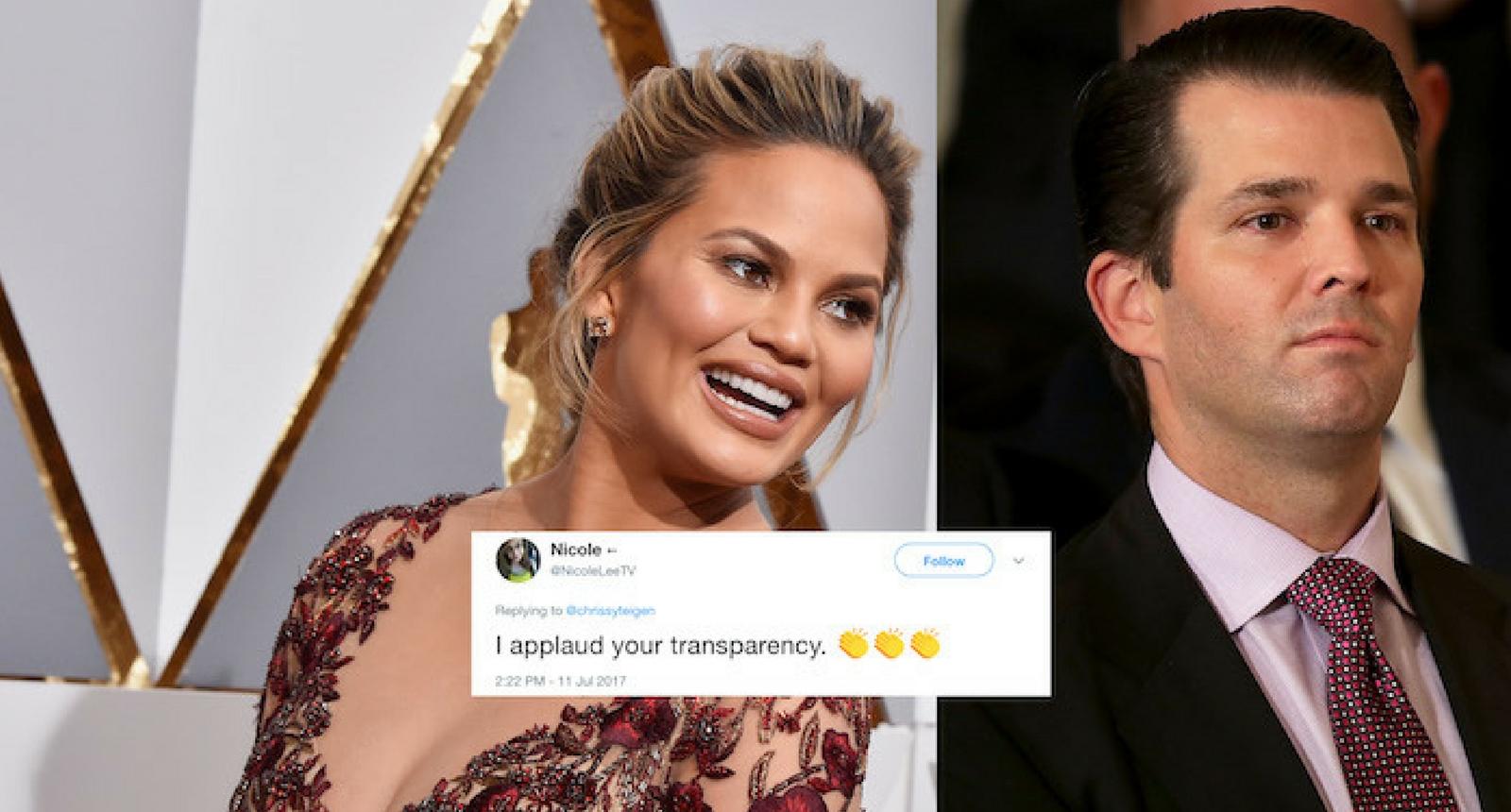 Chrissy Teigen Slams Donald Trump And Donald Trump Jr. At The Same Time On Twitter
By Koh Mochizuki
Chrissy Teigen's updated Twitter profile is just three words but it speaks volumes.
The American model has been very outspoken recently on her thoughts about the President and parts of his family. As usual, she did not hold back her feelings on social media, but this time, really only needed a few words to get out how she really felt. She decided to update her Twitter bio on Tuesday...
Her choice of words, describing herself as a "high quality person," was intended to mock Donald Trump and Donald Trump Jr.
Teigen took her cue from the recent drama involving Donald Trump Jr. releasing his email exchanges with a Russian operative in an effort to obtain damaging information on Hillary Clinton during last year's campaign.
Despite the fact that Trump Jr. possibly federal campaign finance laws and basically admitted to collusion with Russia, Donald Trump released a statement lauding his son's transparency, calling him a
Teigen's Twitter followers, as usual, loved her subtle jab. Sometimes you can say a lot with very little.
This user borrowed Trump's own words to commend Teigen. Nice work using all the buzzwords that have become commonplace in recent months.
This is not Chrissy Teigen's first time taking on the Trumps. She has been very outspoken with how she feels since Trump took office and all of the controversial things he has done. Having children of her own, it has really hit close to home for her as to what the future of this country will look like. She is using her social platform to stand up for what she believes in and has gotten a lot of her celebrity friends (and husband) to do the same. For Teigen, it seems that it has almost become routine to take on the Trumps.
Just last month, she had choice words for the president when he tweeted:
"The failing @nytimes writes false story after false story about me. They don't even call to verify the facts of a story. A Fake News Joke!". Teigen could not just let this slide and it seems she was a bit fed up with all the tweets, negativity and ignorance coming from the White House. In a way only she could, she came out very bluntly and told the President how she really felt. Sometimes, you just have to come out and just say how you really feel.