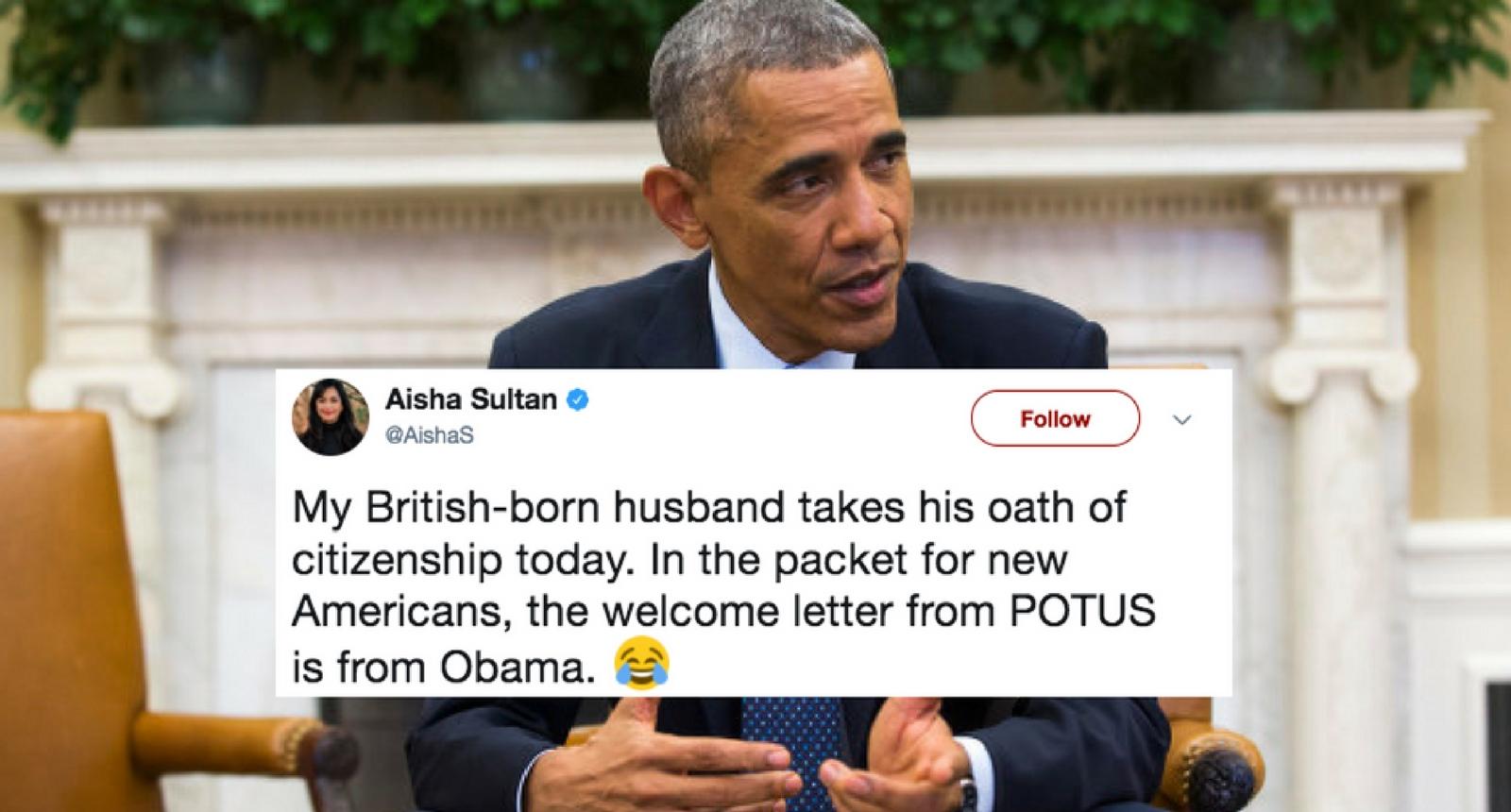 Man's New American Citizenship "Welcome Packet" Still Includes A Letter From President Obama
By Mike Walsh

Nov. 18 2019, Updated 2:26 p.m. ET
Getting American citizenship is a very big deal for a lot of people.  These days, it is probably a bigger deal than it ever has been because of what is being talked about if you are not a citizen.  A lot of people, when receiving citizenship, have a real sense of pride in their new land and it is really great to see.  Whether people relocate, escape hardship and oppression, this country has always been a safe haven for people to start a new and better life for themselves and their families.  It is something to say that a prosperous nation continues to get better with diversity and hardworking people, but of course there are bad apples that come with every bunch.  It is a touchy subject but its always one that will be a hot button topic, especially in the political landscape.  Regardless of who comes in and how they come in, when gaining citizenship, it seems that there is a welcome packet to the nation.  That is a nice thing to think about so that there is information on your new home and its something nice to receive.  
Article continues below advertisement
You'd think that the White House would have changed its own records to reflect the current President, but according to Twitter user Aisha  Sultan, that is most definitely not the case.
My British-born husband takes his oath of citizenship today. In the packet for new Americans, the welcome letter from POTUS is from Obama. 😂 pic.twitter.com/O56cMj0hhx

— Aisha Sultan (@AishaS) July 14, 2017
Article continues below advertisement
However, it brought up some really bitter feelings for Twitter.
Congrats Aisha. My UK-born husband became a citizen under Obama, and looking back, we took it for granted.

— Amanda Kolson Hurley (@amandakhurley) July 15, 2017
Article continues below advertisement
Even if you didn't see the name you could tell by the lack of typos and presence of multi-syllable words...

— David Ludwig (@DLudwigMusic) July 14, 2017
I get mine in a few weeks. Really hoping this doesn't change between now and then.

— farazter (@farazter) July 14, 2017
Article continues below advertisement
The letter itself is a standardized communication. However, it very explicitly reads "Sincerely, Barack Obama."
Article continues below advertisement
Oh gosh PLEASE let these last few months be a giant episode of Punk'd.
It's truly ominous, in an administration that has been outspoken against immigration from the campaign trail, that the letters of welcome for new citizens have not been updated.
Article continues below advertisement
No drama Obama. Those were the good old days when America Was Great.

— Lee (@Still1Lee) July 15, 2017
Article continues below advertisement
Hopefully it is not a sign of things to come.
Article continues below advertisement
At least it can be framed, unlike a Trump signature which would require a cover up

— Grant Stern (@grantstern) July 15, 2017
Article continues below advertisement
with @POTUS's letter which simply read: "Welcome. You better hope we don't find out you're a terrorist." 2/2

— SHRIMP 🦐 COSBY (@shrimpcosby) July 14, 2017