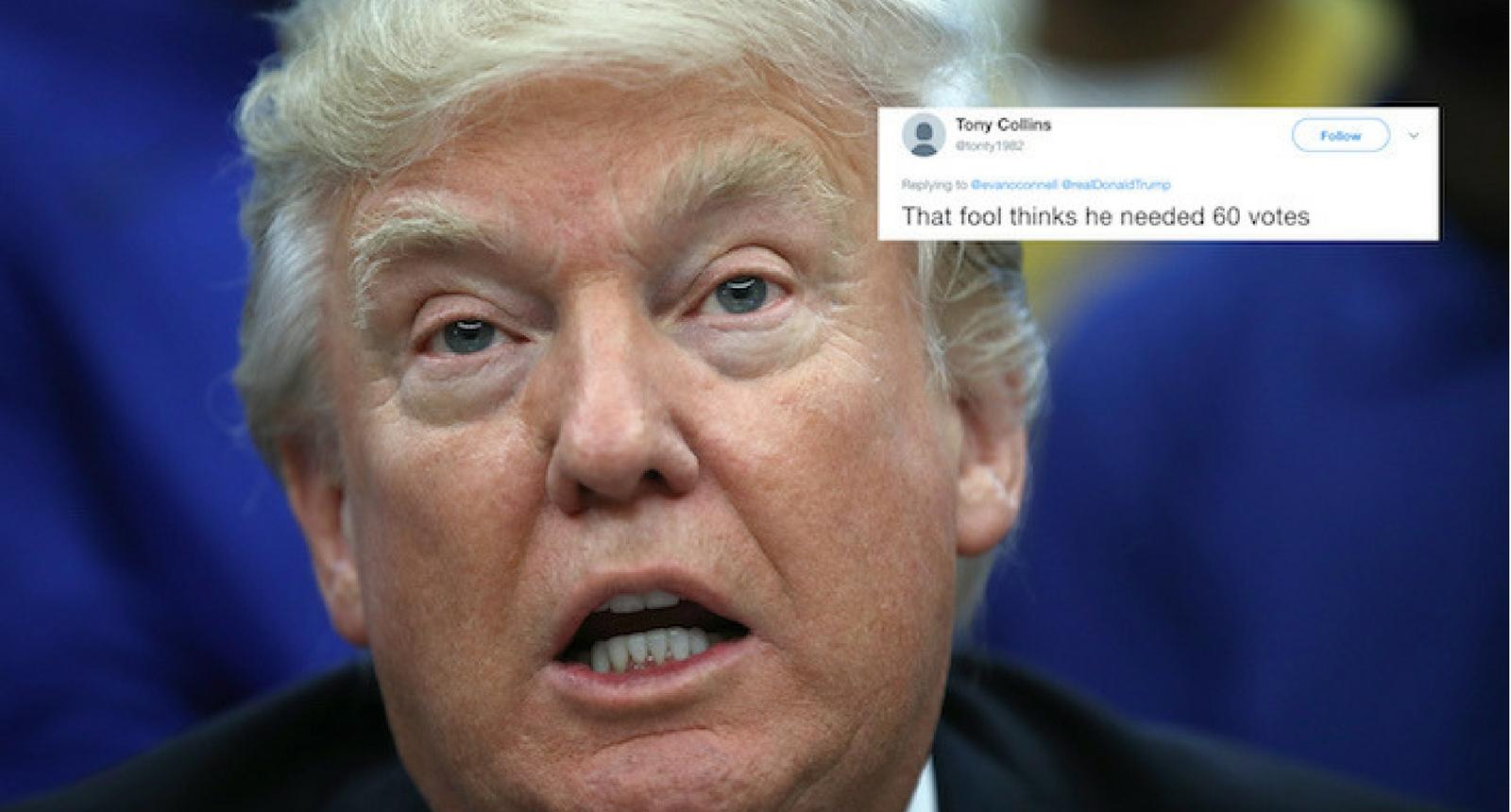 President Trump Tried To Blame Democrats For His Failed Healthcare Bill--It Didn't Go So Well
By Koh Mochizuki
The failed repeal of Obamacare continues to plague Donald Trump.
After botched efforts to replace the Affordable Care Act, on Tuesday Trump remained resolute in his determination to repeal Obamacare now and come up with a plan to replace it at a later date.
His solution is to let Obamacare fail. "We're not going to own it. I'm not going to own it. I can tell you, the Republicans are not going to own it," said Trump on Tuesday.
He expressed his disappointment and blamed "Democrats and a few Republicans" on Twitter.
He added in a separate tweet, "As I have always said, let Obamacare fail and then come together and do a great healthcare plan," and lead the charge to repeal ACA now and reconvene for a replacement bill at another time.
But what struck people as odd was Trump's last tweet that rounded out his latest tweetstorm.
Actually, 52 Republican senators control the Senate majority. And the Senate bill to repeal and replace Obamacare only needed 51 votes.
So when Trump tried explaining that 8 Democrats were preventing the 60 votes needed for the replacement bill, he failed to acknowledge how divided Congressional Republicans are, and that it's actually the members of his own party who have defected.
He couldn't even muster a 51 vote majority within his own caucus.
Twitter fired back some responses schooling Trump on how the system works.
And while on the subject...
And on an entirely different subject...
Back to the matter at hand...
If it weren't for those "8 Dems" controlling the Senate!