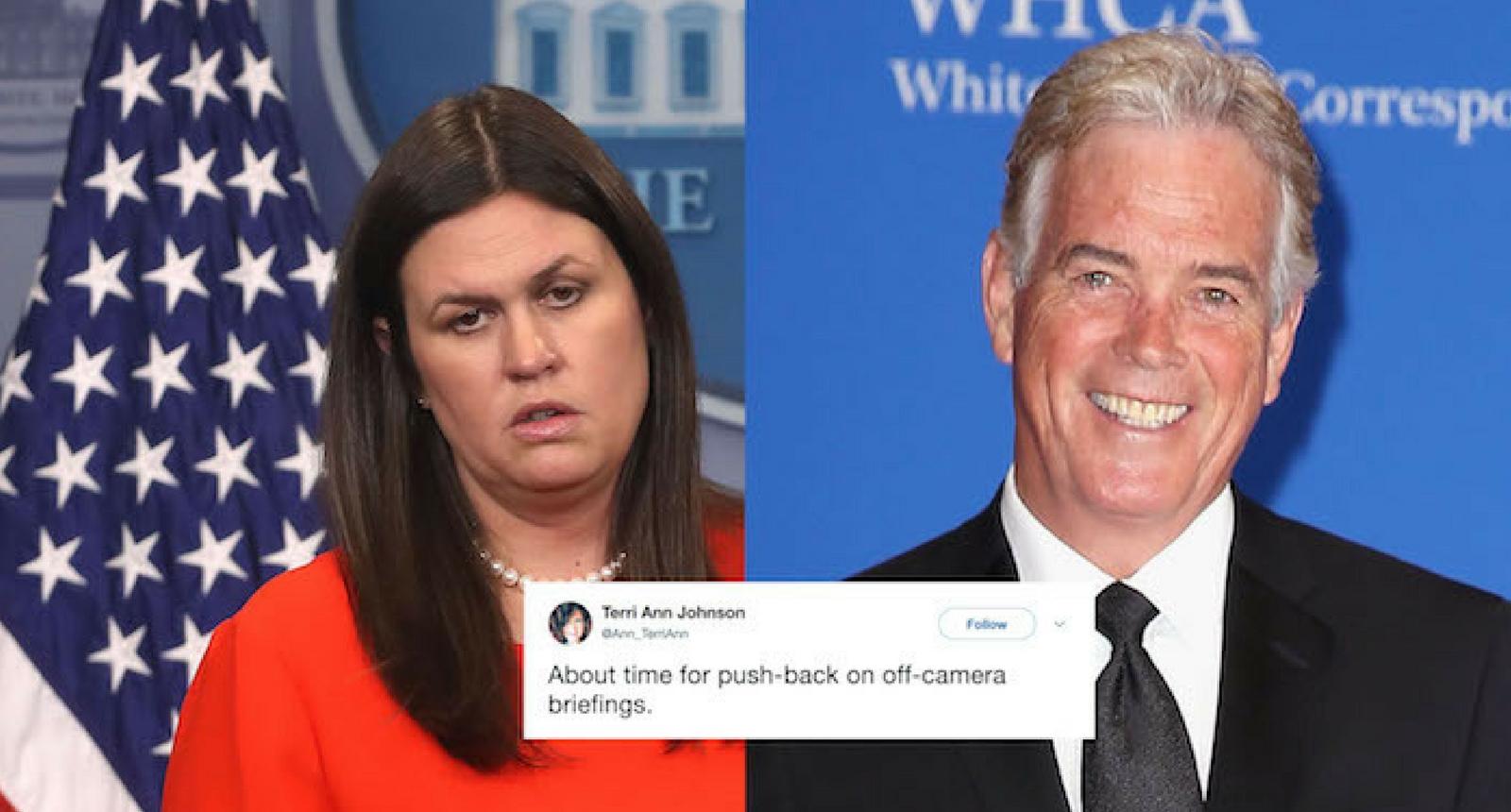 Fox News Reporter Leaves White House Briefing In Protest, And Twitter Is Cheering
By Koh Mochizuki

Updated
When Sarah Huckabee Sanders called out Fox News reporter John Roberts for walking out in the middle of an off-camera briefing, she got some shade thrown right back at her.
"John Roberts is bored today; he's stepping out," Sanders told the press as the Fox News chief White House correspondent stepped out before the briefing was done.
Without missing a beat, Roberts fired back, "If it was on camera, I might not be." The squabble elicited a collective "ooooh" from the room.
Deviating from past administrations' daily on-camera briefings, the current White House has been holding meetings off camera.
The White House claims that the unprecedented protocol of late is to bring more focus to remarks from the president, but reporters argue that the White House should be able to respond to questions on camera.
Roberts offered his reason for leaving the briefing early.
To all who are musing over me leaving the @SHSanders45 Briefing...I have a live shot. Had the brief been on camera, it would 1/2

— John Roberts (@johnrobertsFox) July 18, 2017
Would have been on TV, not me. I would have waited until it was over.

— John Roberts (@johnrobertsFox) July 18, 2017
Twitter thought the quick exit was a long time coming.
Twitter has a burning question.
Exactly what I have been asking for months. Why show up for off camera lie session?

— Joyce Mitchell (@nanatoyou) July 19, 2017
Approval came from the opposition.
When someone from 'Fox News' jumps ship, who else will follow suit?
So FOX News literally walked out on the President? Symbolism and theater matter in Washington. Something big is coming... https://t.co/5B7wkDc7YA

— Mike Settele (@MikeSettele) July 18, 2017
The White House has not held an on-camera briefing since June 29th. It's anyone's guess as to when the administration will allow press briefings in front of the cameras again, if at all.
While there is not video of the exchange between Sanders and Roberts, you can hear the audio in the clip below.