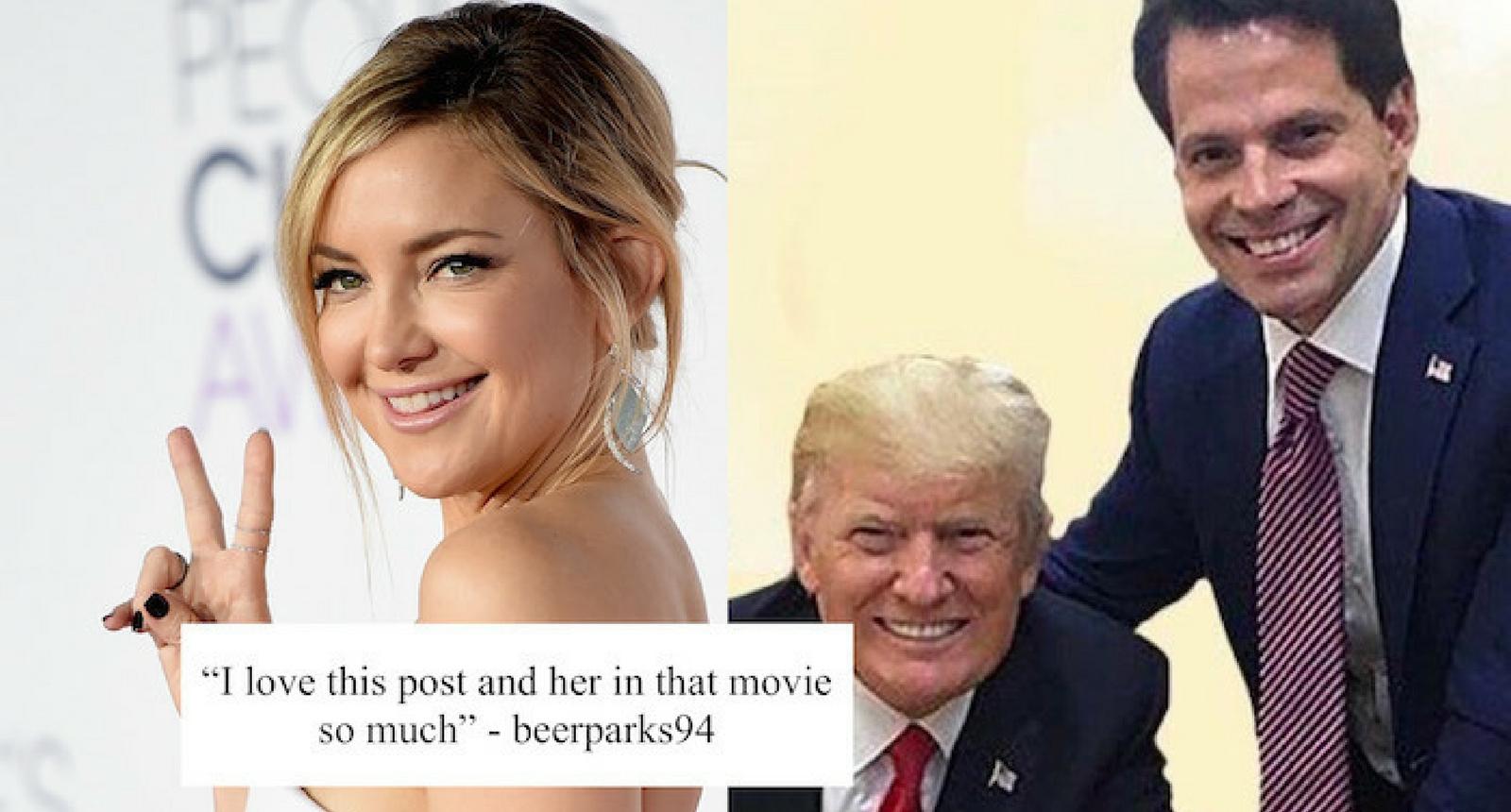 Kate Hudson Perfectly Slams Trump And Scaramucci, And The Internet Can't Handle It
By Koh Mochizuki
The Trump administration has been keeping everyone guessing since day one thanks to some of the most comical antics being pulled off in any serious political office to date. Recently, Anthony Scaramucci was appointed to the role of White House Communications Director and told the world that he would be reporting directly to the President rather than to the White House Chief Of Staff. The whole mess started off with Sean Spicer's resignation, and it only got worse from there. Spicer was vehemently opposed to bringing Scaramucci on board, some speculated due to feeling threatened, but the coming week showed us just how right Spicer was.
Scaramucci threatened to fire everyone he could if he couldn't find the source of the recent dinner leak, and used very...colorful language when discussing Priebus, Steve Bannon, and more. The crazy thing is that it was all on record. He then took a cue from Donald Trump and unleashed on Twitter, posting some pretty heavy threats there only to roll it all back and delete them hours later. Unfortunately for him, that isn't how the internet works, and he was forced to address his threats to the administration and general public, which ultimately lead to his willful dismissal from the White House in less than two weeks.
When Anthony Scaramucci was ousted from the White House on Monday, actress Kate Hudson recognized a familiar scenario.
Scaramucci's departure from the West Wing after ten days bestowed social media with another massive opportunity to roast the administration.
Kate Hudson was among the first to take to Instagram with a meme that likened the latest White House firing to one of her box-office topping rom-coms, "How To Lose A Guy In 10 Days."
Under a mock-up movie poster featuring 'The Mooch' with Trump, Hudson captioned, "Box office results are in! The #1 comedy in America!"
The Internet got a kick out of Hudson's post and took liberties to expand on the roast with different variations.

The Director of Communications position wasn't the only thing Scaramucci lost, of course. It was also revealed that his wife, who just gave birth to their first child last week, had filed for divorce because of his unrelenting drive to get close to Donald Trump.
There's still hope for a happy Hollywood ending though.
Now we can take a cue from Kate Hudson: How to ignite the Internet with one post.