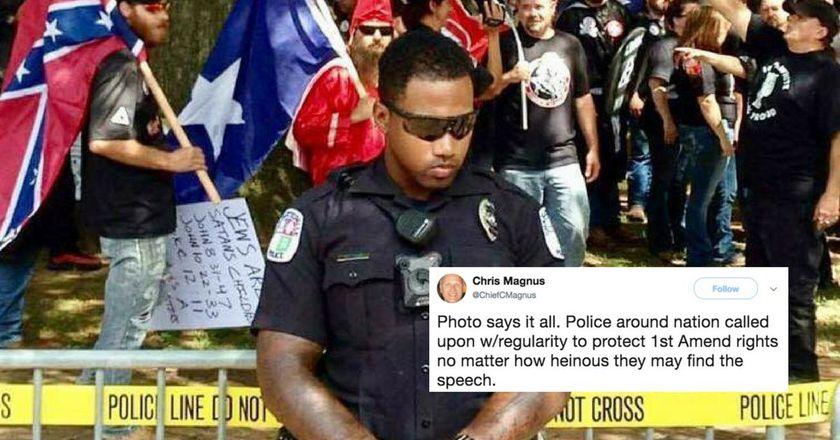 Photo Of Black Policeman Guarding Charlottesville Protesters Debunked As Fake News
By Collin Gossel
Be careful of what you read on the Internet -- it's not always trustworthy! For instance, following the protests in Charlottesville, Virginia on Saturday, a Facebook post was circulated that supposedly was taken at Saturday's protest, featuring a photo of a black police officer protecting the white supremacists attending the event.
Tweets of the photo generated thousands of favorites and retweets on Twitter before users realized it was actually taken back in July.
There was another white supremacist rally in Charlottesville on July 8, 2017, which is likely where this photo was taken. More than a thousand people were in attendance, including about 50 Ku Klux Klan members. According to USA Today, police used tear gas on the crowd, and 22 people were arrested.
There was also a white supremacist rally at the same site in May, which featured very similar torches to those which were a part of the most recent protest.
It's also true that this isn't the only picture of a black cop protecting white supremacists.
However, this photo was definitely not taken a the rally this past weekend, no matter what posters would have you believe. Many have now taken down their statuses and tweets, apologizing for the mistake.
Always be on the lookout for fake news!