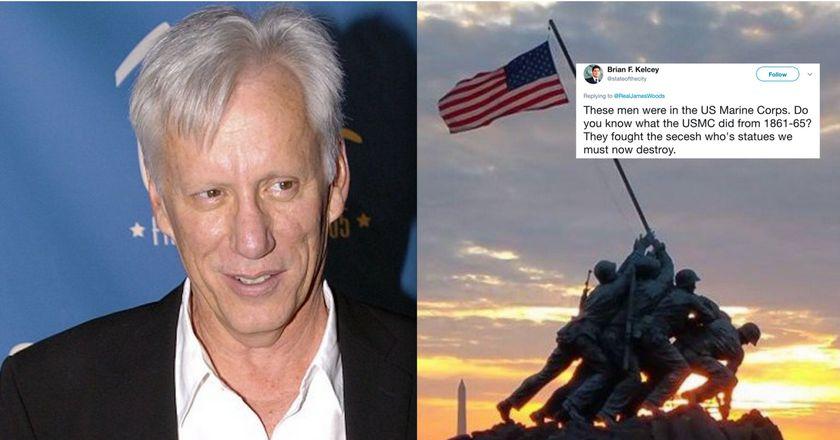 James Woods Tries To Slam Liberals For Tearing Down Racist Statues—It Didn't Go So Well
By Koh Mochizuki
The "Ghosts of Mississippi" actor attacked "#liberals" by suggesting the removal of the Iwo Jima World War II memorial.
James Woods is furious over the removal of Confederate statues around the country, which might seem surprising to anyone who hasn't seen the kind of stuff that he writes on his personal Twitter account. If you haven't, go and do that for some context and everything else in this article will, unfortunately, make perfect sense.
And to express his disgust, the actor, who is well known for his far right politics, suggested on Twitter that liberals may go after the famed Iwo Jima Memorial next. He clearly didn't think that statement, through, however.
Cue the Internet, which turned its mocking meme generation to eleven by offering up suggestions of other statues liberals might want to take down. No monument was safe, regardless of what they stood for.
Thank you, James Woods, for giving birth to the "I thought some of you might like to see it one more time..." meme.
Service with a smile? Sorry, Bob's gotta go.
Wiggling french fries are a disgrace to the food industry.
What's the point?
The Fonz should not be in bronze.
Too high to get over, too low to get under.
Users also weighed in on the idiocy of the actor's much maligned tweet.
When one user took to Twitter to defend keeping the statues, he got schooled with some facts.
Some perspective, in case you were wondering.
This Marine revealed the logical flaw at the heart of Woods's tweet. Confederates were traitors to the UNITED States of America.
But hey, we're not out of the "Woods" yet, here's one last meme for good measure.