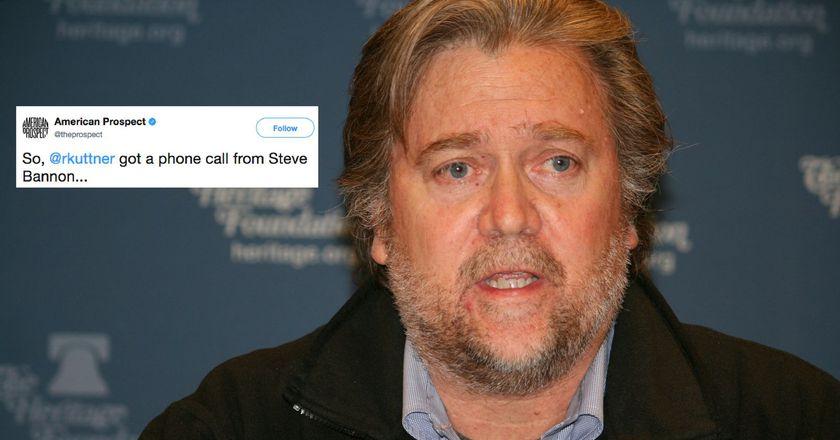 Steve Bannon Makes Controversial Statements In Interview He Thought Was 'Off The Record'
By Brian Skellenger
Donald Trump announced on Friday his decision to fire his White House chief strategist, Steve Bannon, just days after Bannon made headlines for a remarkably candid phone interview in which he shot down President Trump's "fire and fury" approach to North Korea, mused about his enemies in the administration "wetting themselves," and even called the alt-right "losers" and "clowns."
All while supposedly thinking the conversation was "off the record", well, for someone who had a history of working in media, it's kind of crazy to believe that he didn't know whether or not an interview he was currently was "off the record". Nice try, Bannon.
The interview, with liberal magazine American Prospect's Robert Kuttner, left Twitter shook.
Did Bannon really pull a Scaramucci or was it an attempt to distance himself from the President?
A move that may have ultimately cost him his job...
Some were quick to play the "ignorance" card, however.
But not everyone was buying it.
And while some declared it all part of a larger strategy by Bannon...
Considering Bannon's ultimate fate, this tweet seems to sum up the situation well:
Let's just say that he thought the interview was "off the record", if you're a loud and proud Trump-supporter or a member of the President's team that's supposed to be comprised of devotees to the former reality TV star, then it's got to grind your gears a little bit that this is what Bannon thinks of your favorite politician ever. Wasn't Bannon the man who helped get Trump elected? Wasn't he an integral voice in denouncing liberals as being the greatest threat to the fabric of America? Well, then why isn't an intrinsically stalwart proponent of Trump then? Interesting...
H/T: American Prospect, Twitter, Decider