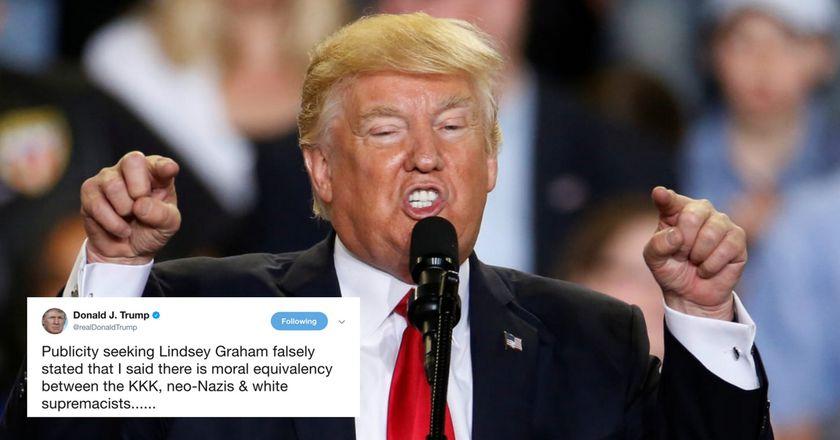 President Trump Somehow Denies Doing Exactly What He Is Doing—While He Is Doing It
By Collin Gossel
On Tuesday, Donald Trump stood before reporters and, live on video, drew a moral equivalence between white supremacists and the counter-protestors defending the rights of minorities. We know this is what he did because, as mentioned, he was on camera and we all watched him do it.
Many people took to Twitter to condemn Trump for his remarks. Prominent among them was Republican Senator Lindsey Graham:
As he does, Trump wasted no time hitting back against Graham on Twitter.
Trump, of course, denied drawing any moral equivalence between the two groups (a bald-faced lie) and claimed Graham was obsessed with the 2016 elections (projection much?)
Dude, we literally watched you say this on Live TV:
As more and more Republicans condemn Trump, it's causing Trump to add more and more Republicans to his enemies list.
Although he seems to have missed one...
If Trump doesn't want to inspire the disdain of most of the country, including many in his own party, perhaps he should think twice about melting down on live television as he did this week. Just a pro-tip for ya, Donnie!
Insanely, his incessant lying doesn't really seem to bother many of his constituents, who continue to support Trump despite all of his successful attempts at looking like a crazed lunatic and buffoon and every point and turn. It's probably because so many disenfranchised morons who don't do enough with their lives look up to somebody else who is a deluded psychopath who is incapable of taking any personal responsibility or blame for the crazy things that they do and say on a daily basis. It's completely understandable why he hasn't been forced out of office yet or resigned out of disgrace yet, and that's what so troubling: we have fallen very, very far as a country to elect this lunatic as President.