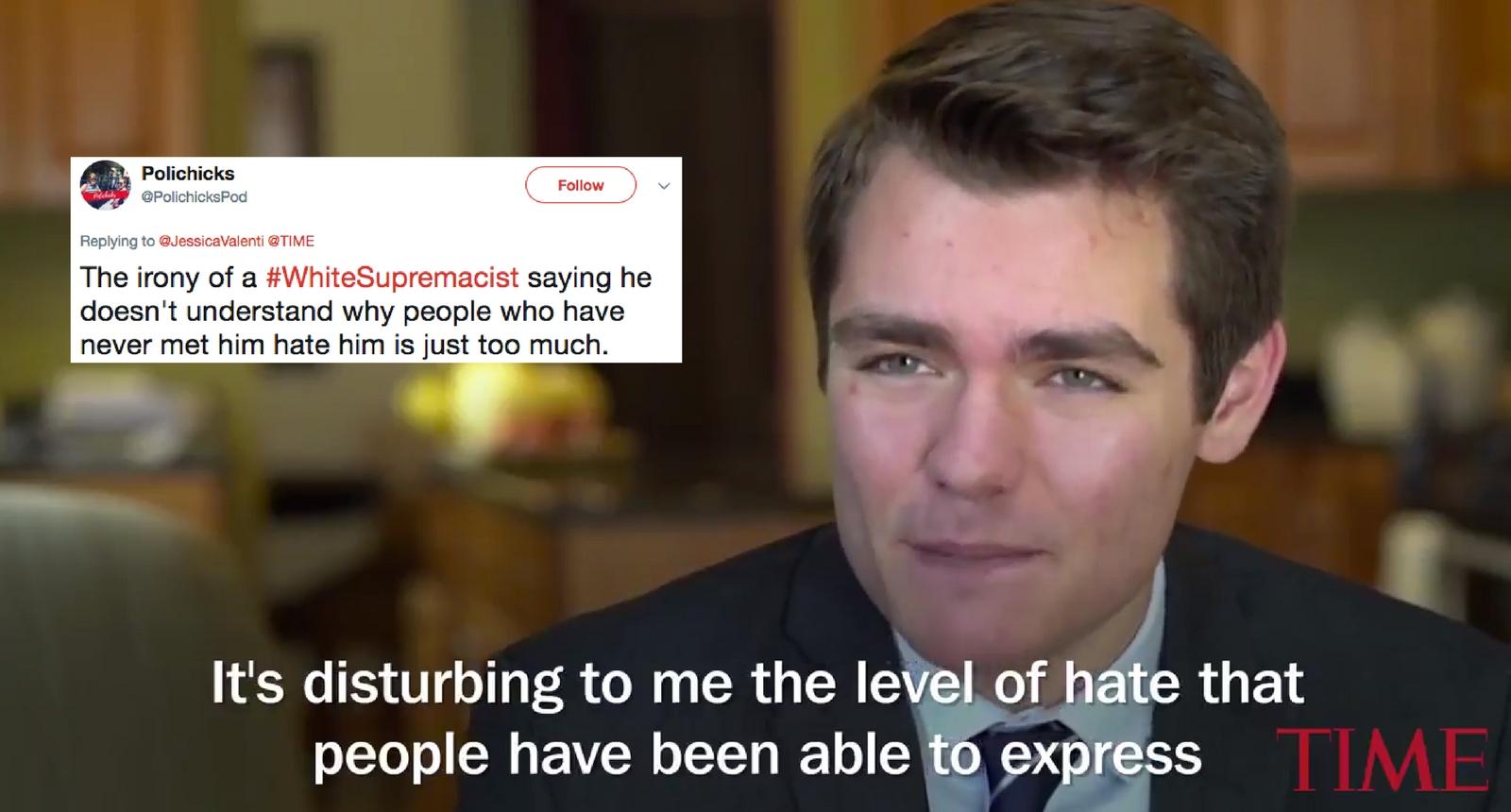 Racist Who Rallied In Charlottesville Complains About All The Hate He's Receiving
By Brian Skellenger
As white supremacists continue to face backlash after the "Unite the Right" rally in Charlottesville more than a week ago, one participant is opening up about how it's affected him.
18-year-old Nicholas Fuentes of Illinois has complained about the 15 death threats he's received since the deadly protest, ultimately causing him to drop out of Boston University, where he was supposed to be entering his sophomore year. But it turns out that being a big-time racist and supporter of hateful rhetoric gets you hated in turn by other people. Go figure!
In a video for Time, Fuentes talks about the "level of hate" he's been subjected to:
Acknowledging that Boston is "among the most left-wing" cities, Fuentes has said he's looking to enroll at Auburn University in Alabama. "I really like the architecture and some of the programs there," he said. "I think I will be happy there and I will be safe. It's solidly red territory."
Some found Fuentes's own ethnic background a bit ironic for a white supremacist. Especially because he seems to be a bit ashamed about it.
And others questioned why he was given a platform to speak at all; why give air time to people like this?
But hey, if Auburn University doesn't work out, there are other places Fuentes could look into:
Sadly, it doesn't look like there is going to be an end to the growing racial divide in this country. Donald Trump was elected by a lot of hateful individuals like Fuentes and the fact that the President doesn't outrightly condemn acts of violence like this doesn't help much either. What a despicable time in American history, especially when racists start playing the victim card the second they're discriminated against for something they deserve to be discriminated against for.
H/T: Twitter, Time, The Independent