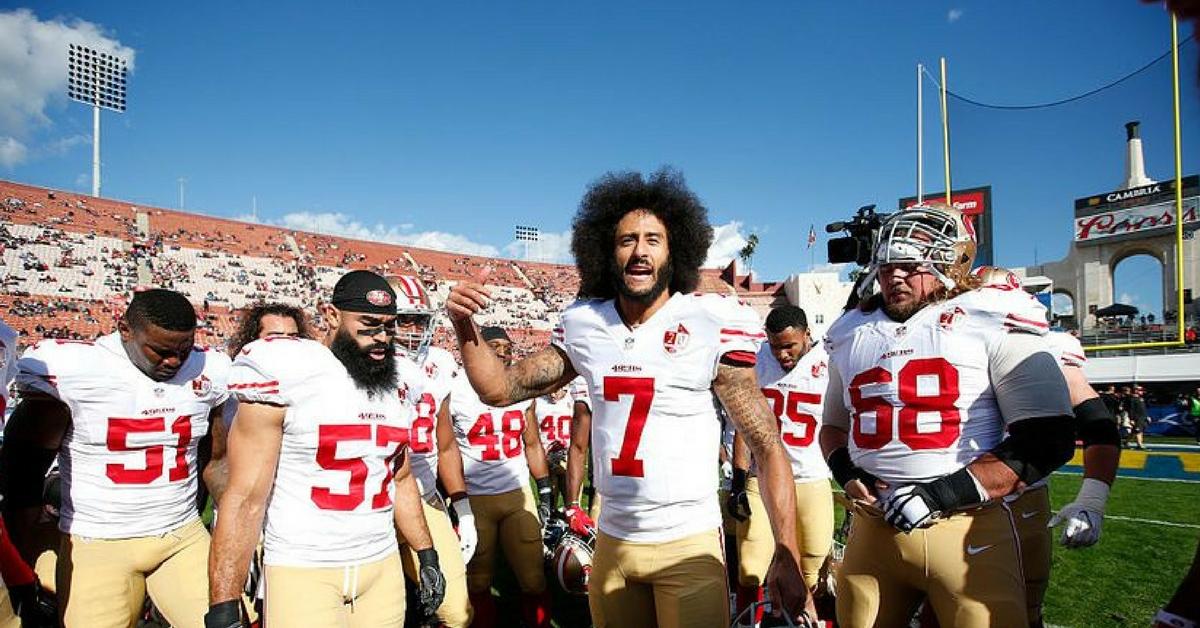 Tomi Lahren Photoshops A Picture Of Colin Kaepernick, And Twitter Isn't Having Any Of It
By Dana Levinson
Tomi Lahren is at it again. On Thursday, the lightweight political commentator, Fox news contributor, and staunch Trump supporter tweeted a doctored photo of Colin Kaepernick. In the image, Kaepernick appears to be kneeling in a WWII landing craft, watching U.S. soldiers storm the beach at Normandy on D-Day. Which is a commentary on Kaepernick's kneeling during the National Anthem during NFL games. The practice has inspired many players throughout the NFL to follow suit to the point it's become very divisive among people.
Lahren captioned the photo "Citizen of the Year" and quipped, "Food for thought":
Lahren may have been hoping to ruffle some feathers on Thanksgiving, but she missed the mark. By depicting Kaepernick kneeling before a military battle to criticize his protests, she overlooked the fact that protesting racial injustice in the U.S. is an act of patriotism. Kaepernick fans took a quick break from arguing with family over dry turkey and room temperature side dishes to have a little fun with Lahren's ignorance on what it truly meant for those men to sacrifice their lives.
Many Twitter users called out Lahren's hypocrisy:
Some tried to explain how military families' sacrifices gave us free speech, the thing that Colin Kaepernick is exercising.
Others defended Kaepernick's right to protest... again. Because Tomi just doesn't seem to get it:
But several people got to the heart of it all with their own "food for though" photos:
And someone illustrated what we were all thinking:
Do you think Tomi Lahren's Photoshop was in bad taste? Many certainly aren't having it, us included. Maybe next time she can actually put more thought into things before she tweets.
Sit ALL the way down, Ms. Lahren.
H/T: Twitter