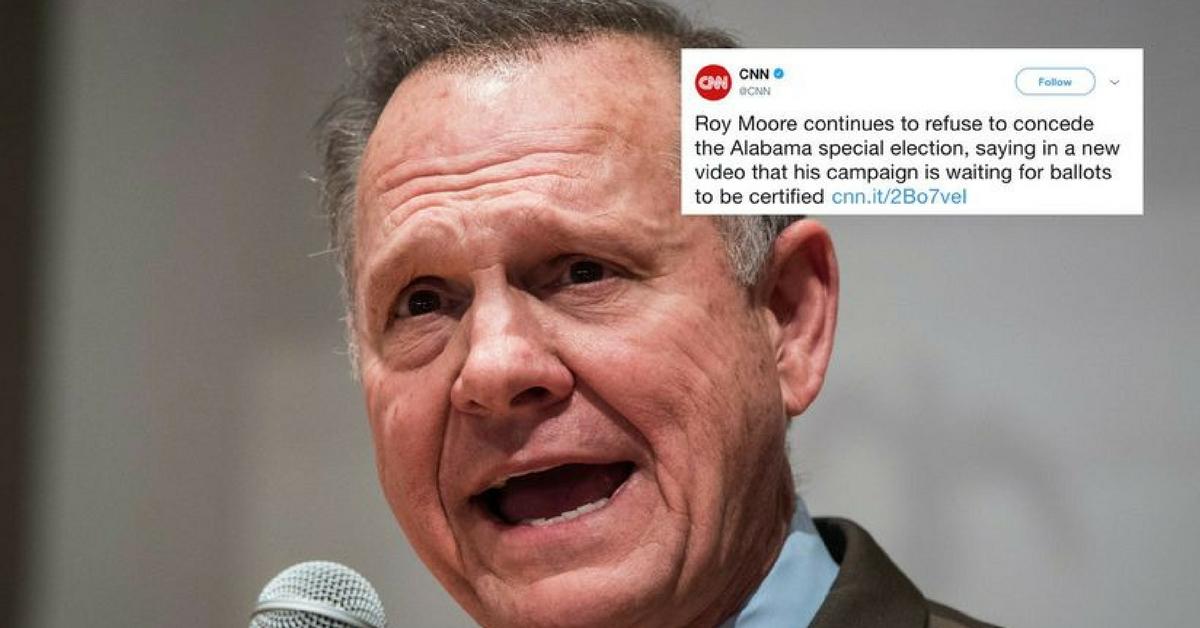 Roy Moore Just Doubled Down On Refusing To Concede, With An Even More Absurd Excuse
By Collin Gossel

Updated
On Tuesday, December 12, Republican Roy Moore lost the special election to fill Attorney General Jeff Session's vacant Senate seat. Senator-elect Doug Jones is the first Democrat Alabama has elected since the early 1990s, in part due to myriad controversies surrounding Moore. Judge Moore has been twice removed from the bench as a result of his defiance of federal rulings. Just last year, he was ousted after ordering probate judges to ignore the Supreme Court's decision on same-sex marriage and  refuse marriage licenses to same-sex couples.
In a move anyone familiar with Moore's history will find unsurprising, the former candidate is refusing to concede the election to Jones, claiming he is waiting for every ballot to be counted. 
Moore is now suggesting voter fraud may have played a role in his loss.
In a December 15 email to his supporters, Moore asked for contributions to his "Election Integrity Fund" and claimed, "this battle is NOT OVER!"  
Moore released a video in which he continues his campaign rhetoric while undercutting the results of Tuesday's election:
Some people predicted this scenario:
Even  Moore's Republican allies, including President Donald Trump (who went so far as to cut a robo-call in support of the candidate), have said Moore should concede the race.  
Sen. John Thune (R-SD) said of the loss:
So we have to deal now with another Democrat in the Senate, but Roy Moore lost that election. It's over. We'll move on and do the best that we can in the days ahead to continue to move an agenda forward that is good for the American people.
Doug Jones acknowledged on NBC's Today Show that sometimes it's difficult to move on from a bitterly fought race, but also said there was "no doubt" in his mind regarding the results of the elections, and that Moore would "do well to go ahead and let's get this behind us." The results of the election will be officially certified between December 26 and January 3. 
Alabama's secretary of state, John Merrill, believes it is "highly unlikely" Jones will not be declared the winner.