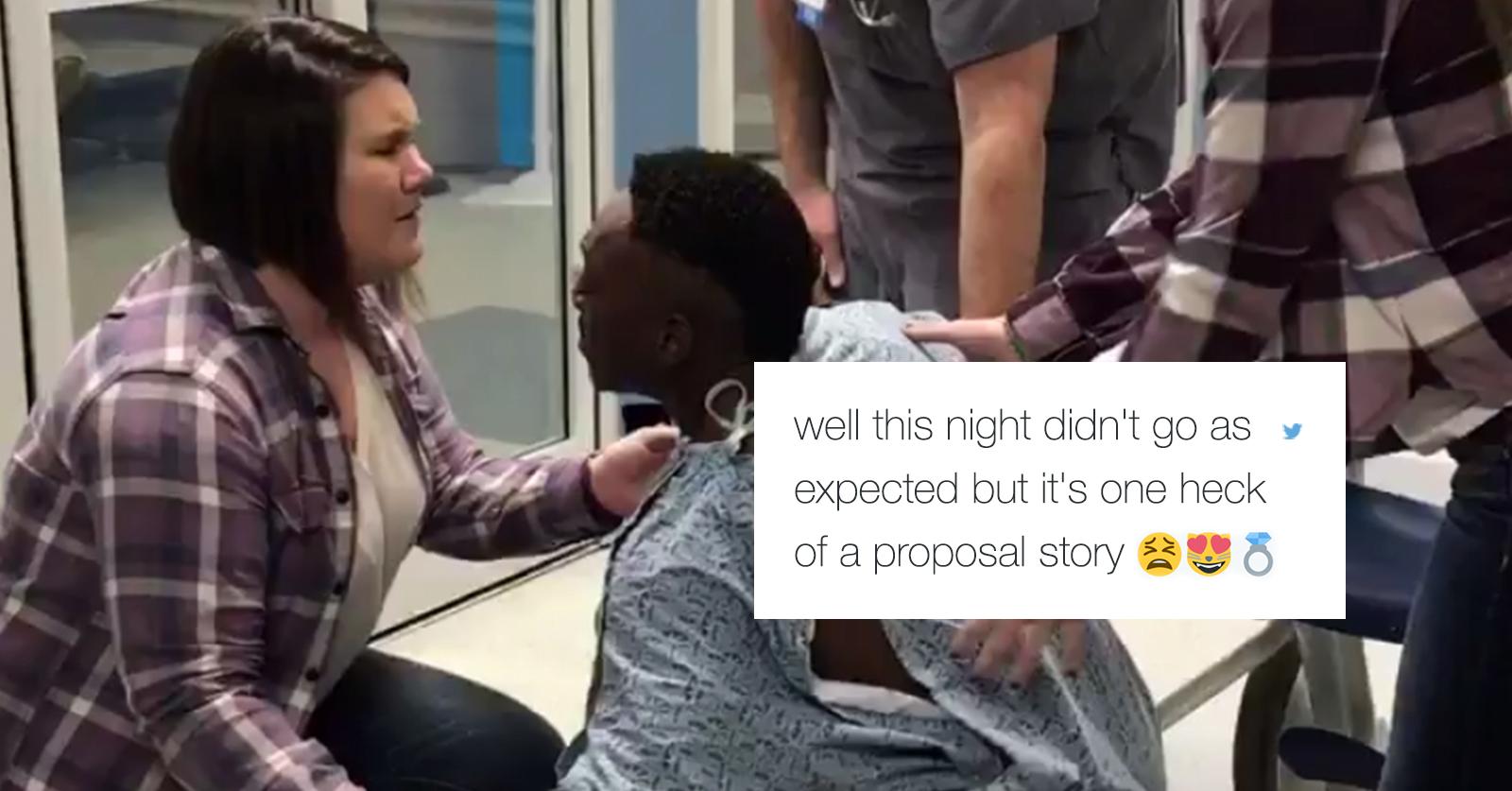 Man Survives Terrifying Car Crash On His Way To Surprise His Girlfriend, And What He Does In The ER Will Renew Your Faith In Love
By Omar Rimawi

Updated
I've never actually proposed to anyone before, but I've been stressed out during imaginary proposals whenever they came up while I was shotgunning episodes of Parks and Recreation or The Office on Netflix. I imagine the feeling is probably exactly the same for those who try popping the question in real life, albeit less sad and depressing.
Just like the shows, the occasional obstacle does pop up with the potential to ruin a perfectly planned proposal. Jamacio Kimble was getting ready to pop the question on the eve of his and Kayla King's anniversary out in Greenback, Tennessee. He had it all planned out.
"The original plan was that night at church we were going to have our youth and college career class get together and have roses and music and the lights off, and I would be in the middle of the room," Kimble told KHOU.
But things went dangerously awry.
On his way to pick up the flowers, Kimble lost control of his car thanks to a rainstorm making the roads slick. He crashed into a utility pole. He had just gotten out of baseball practice, and a few of his teammates were right behind him when the accident happened. They called 911 immediately and an ambulance took him to the hospital, where his girlfriend and those closest to them also went once they heard what happened.
After realizing that he could've lost his life without his girlfriend knowing just how much he loved her, Kimble decided to scrap any plans of rescheduling the proposal and got down on one knee, hospital gown and all.
The story made many cognizant of our ephemeral presence on this Earth.
Everyone was moved by their story.
I hear myself bawling in the background. So glad I got to see this happen. I'm so happy for these two sweet souls. ❤️️ https://t.co/T3FHkIa7kM

— Kendra Hunt (@kendrarheaaa) March 2, 2017
@sidneyking07 @MichiahF I forreal can't stop watching this. He forced himself on one knee after a crash? Real gentleman. Salute to that man.

— JFRANK! (@J_frank30) March 2, 2017
Happy that you finally did it and in the most special way possible. Tomorrow isn't guaranteed. Always keep her close! Happy for you both😭❤️ https://t.co/4Zsu3kXCB2

— Kenzie (@mckenziebedwell) March 2, 2017
@ABC - a great story! Thanks for sharing! Refreshing change to all the horrors of the daily news! ❤

— Rachelle Leablanc (@RLeablanc) March 7, 2017
Kimble left a really good impression on people. Some more than others.
The two plan to enjoy their engagement and officially tie the knot once they graduate from college.