A Bully Tried To Pick On A Smaller Kid Who Does MMA And It Didn't Go Well
This bully got creamed after he tried to pick on a smaller kid who happens to do MMA.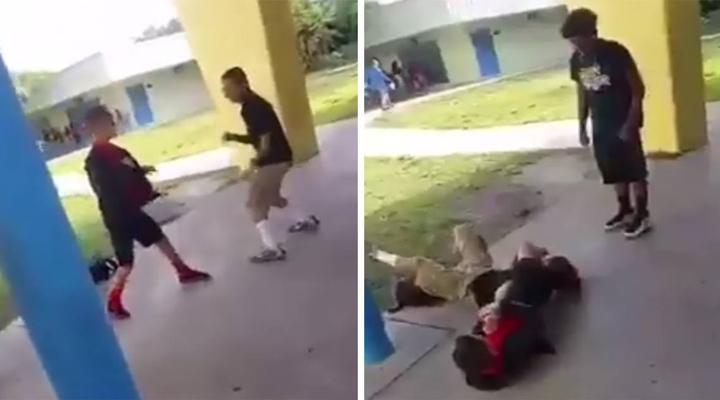 Bullies getting the hell beat out of them is always fun to watch. Yesterday, Facebook page We Love Brazilian Jiu-Jitsu posted a video of one such incident. It starts out looking like a typical school fight, of a bully picking on a smaller kid. The small kid doesn't seem like he wants to get involved, but when he does it's glorious...

Article continues below advertisement
After getting his ass handed to him, the bully begs a friend to get the boy off him because he is going "to break my arm."
Facebook commenters were pretty impressed with the skills on display.
"I can't believe there is a ten year old out there that can literally beat my ass," one writes. While another said: "That kid showed it all ! He throws a right cross (boxing ) then a left kick (Muay Thai), goes for the take down a little (grappling) then to top it off some mother f**king (jiu jitsu)!"
A third commenter noted, "He just waited till girls were around. Smart smart boy."
Article continues below advertisement
The video has acquired some 8 million views, though there's no information on where the video took place. Which is a shame, because this kid is probably owed a few belts.
One account that reposted the video described it as, "A BULLYPROOF kid is someone who avoids the fight at all costs, but when physically attacked, defends themselves using jiu-jitsu! In this video, a young jiu-jitsu practitioner is literally pushed beyond reasonable limits and has no choice but to defeat the aggressor with the most beautiful armbar ever applied on a school campus!"

More from Distractify