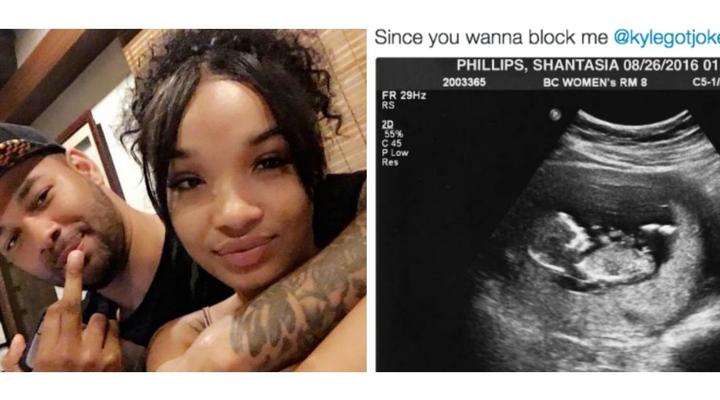 This Woman Got Revenge On Her Cheating Boyfriend With A Pregnancy Hoax That Went Viral On Twitter
By Mark Pygas
Twitter was all up in arms this past Tuesday when everyone was royally fooled by this insane baby mama drama story.
It began with 18-year-old Shantasia Phillips tweeting a photo of this ultrasound to 25-year-old Kyle Harris and saying he blocked her number.
Harris said that there was no way the baby was his because he used a jimmy. Phillips averred he raw-dogged it.
That's when Harris started tweeting out screenshotted texts that suggested Phillips got knocked up by his friend.
What's even crazier? Kyle had a girlfriend...that wasn't Shantasia. Yikesaroni.
Then, because apparently that's how these things go, Kyle said he was gonna get his girlfriend to kick Shantasia's ass.
Which quickly proved to be a stupid, stupid move on his part.
Like, seriously, what the hell were you thinking, Kyle?
Harris then went on Twitter to report that his girl dumped him and blocked his number. Sucks for you dude.
Twitter was freaking out at this point with everyone fiending to find out what was going to happen next.
But someone reverse-google searched the ultrasound photo and found a strikingly similar one online from 2011.
And if you look for an "ultrasound app" on the iPhone App Store, well, that same image pops up. And it's a friggin' spoof app.
When BuzzFeed reached out to Phillips to ask if she was really pregnant, she eventually confessed that she wasn't - she was just trying to end his relationships with his current girlfriend.
Phillips didn't seem too broken up about putting Harris on blast like that. After all, he was fooling around.
"Boys lie all the time. He shouldn't have crossed me."
How anyone thinks they can cheat in this day and age and get away with it is freaking crazy to me.