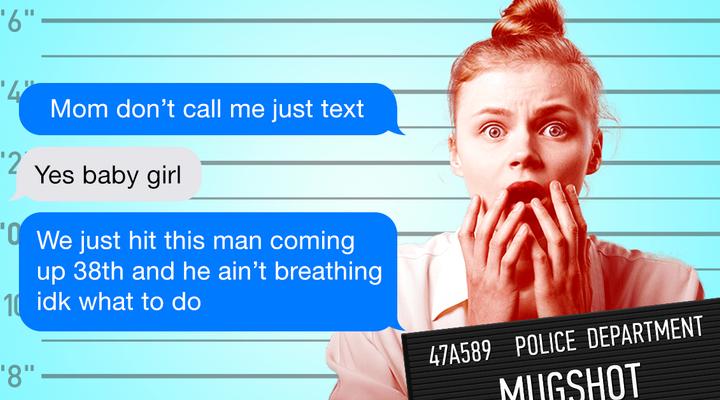 Girl Pranks Mom By Saying She Hit Someone And Gets Unexpected Response
By Mark Pygas
Twitter user IamVinnieF's sister recently decided to try and prank her mom by texting her to say she'd hit a man with her car and needed to know what to do. Let's just say that this mother has gotten away with a few murders in her time...
The girl wrote, "We just hit this man coming up 38th and he ain't breathing idk [I don't know] what to do," to which her mom responded, "Put his a-- in the trunk. Where are you on 38th?"
The daughter then writes, "We are by the pizza shop on Sherman mama hurry up I'm freaking out I don't want to go to jail." Her mother rather shockingly replies, "You're not I'm omw [on my way] we can switch cars and I'll get rid of the body.. I'll take the case if they find out."
Other people wanted to see how their parents would react, so they tried the same thing. One person's dad was convinced their phone had been stolen.
As it turns out, your parents have to really love you if you want them to help hide a body.
This one girl almost gave her mom AND grandmother a heart attack by writing, "I just hit a man coming down quacco and he isn't breathing! ma!!!! I'm scared I don't wanna to go to jail. my friend helped me put them in the trunk!! just text me."
Her mom franticly replied, "What, call me now. I just called yo granny."
Once she found out her grandmother was getting involved, the prankster came clean. "It's just a joke. dang why would you wanna give my grandma a heart attack," to which her mother responded, "How why u wanna give me one. Hoe."
Yikes. It's going to be awhile before mom forgives her.