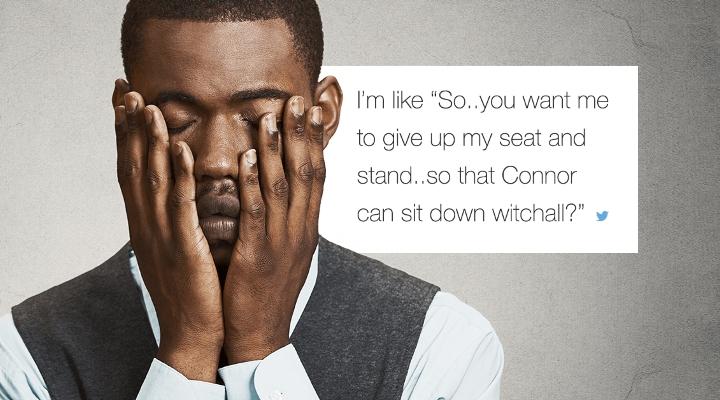 Student Fires Back After Repeatedly Being Asked To Give Up His Seat For Classmate Who Came Late
By Omar Rimawi
Colleges overbook classes all the time. Recruiters are nothing more than salesman after all, and schools have to make sure everyone can stay on track and avoid being sued by students for locking them out of a required class until it's offered again the following year, so they'll make a student jump through a few hoops and the registration schedule shows the occupancy go from 30/30 to 36/30 or so on the first day of class.
Just because the classes are overbooked doesn't necessarily mean the college is going to do anything about the already cramped seating arrangements. I specifically remember my Chemistry lecture class at NJIT having about 120 seats available, with anyone coming late being forced to sit on the stairs. Sometimes there were a dozen or more students using the stairs as seats, something the fire marshall wasn't really happy with.
Twitter user @yalljust_myfans, a man known as Drew in the regular world, registered for such a class. He arrived early, as usual, claimed a seat, and was waiting for the class to start when a group of delirious students repeatedly requested that he give up his seat for a friend of theirs that came in late and would've had to either stand or sit on the floor.
I could tell you the rest of the story, but Drew does a much better job.
(Article Updated At 4:00PM EST)
And here's where it goes from reasonable to unreasonable
Excellent strategy when dealing with a hostile group
And here's where it turns grimy
No special snowflakes here.
People are now sitting at the edge of their seats, waiting for Drew to update them on Thursday after his story went viral.
Some users claimed that Drew was a racist for bringing up the fact that he is black and would be giving up his seat to a white kid who didn't have one
But the general response from the masses to those people looked like this, and rightfully so
The update is coming soon