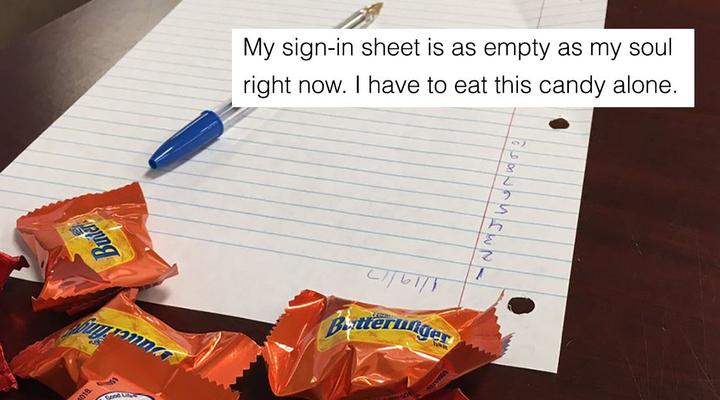 This Teacher Live Tweeted A Class No One Showed Up For And It Was Hilarious
By Mark Pygas
Adam Heath Avitable is a comedian from Florida and often teaches classes at universities. Yesterday, he was due to give one of these classes. Except no one turned up. So he decided to live tweet the awkwardness that ensued as he desperately waited for someone to walk through the door.
At one point, he thought he heard someone coming, but he was bitterly disappointed to find out that it was just an administrator ... who proceeded to laugh at him.
Avitable began to question whether the world had ended while he was preparing for class. But despite his paranoia, he vows to stick it out until the one-hour mark.
And he quickly started to turn slightly insane. He's talking to birds, picturing car accidents, and beginning to wonder if he's actually dead. The candy he brought to class sits untouched on a table. He admits that if someone is pulling a prank on him, he might break down and cry.
And then, just as he'd given up hope... two students walk in. Ninety-five minutes late. Needless to say, our teacher friend is none too pleased. Plus, their laissez-faire attitude about the tardiness only makes things worse.
Poor guy, but at least it led to a hilarious series of tweets that we can all enjoy today. And it ended on a better note than most live tweets do.
After this story, we think it's only right to give a major shout-out to teachers everywhere for doing one of the hardest jobs on the planet. You never get enough credit.