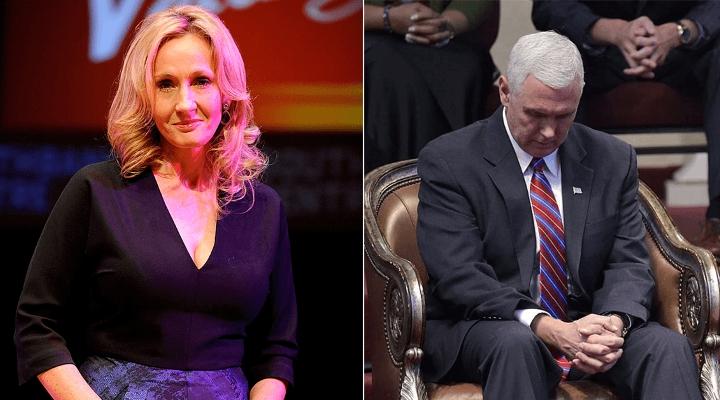 J.K. Rowling Obliterated Mike Pence On Twitter, Quoting His Own Christian Values
By Margot Harris
Chaos erupted over the weekend after President Donald Trump signed an executive order banning refugees, migrants and foreign nationals from seven majority-Muslim countries from entering the United States.
Politicians, celebrities, and concerned citizens alike gathered at city halls, airports, and monuments to protest the new policy— and public figures are using their platforms to call attention to the dangerous precedent set by this new ban.
As Twitter users were quick to remind the world, Vice President Mike Pence once sang an entirely different tune about a 'Muslim ban.'
J.K. Rowling, author and Twitter warrior, felt that the new VP should be reminded of his past tweets as well — and perhaps receive a dose of his self-proclaimed Christian values.
Her supporters, while in agreement with her politics, couldn't help but notice one flaw in her logic.
As more people shared the harsh realities of the immigration ban, Rowling continued to express her sympathy and concern.
This kind of political statement, however, prompted some intensely hateful responses — which she was, of course, prepared to refute.
Besides, no amount of online hate can rival the protection of 'Harry Potter' fanatics.
Some advice for the Rowling haters out there: before you hurl insults, at least be intimately familiar with the HP series.... Or else the entire Internet will find the holes in your argument and destroy you.