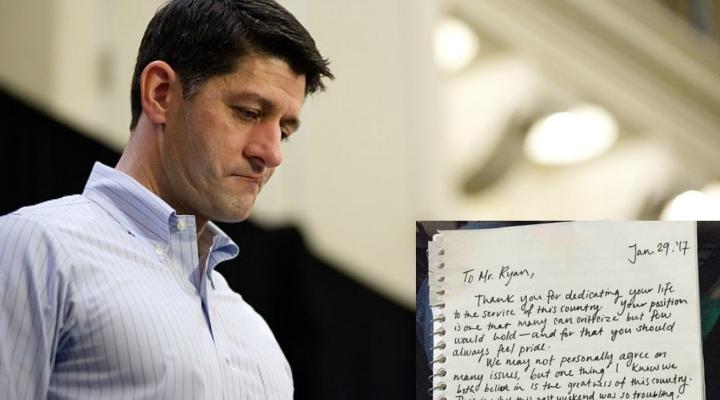 Anonymous Letter Handed To Paul Ryan On Airplane Urging Him To Be A 'Good Christian'
By Mustafa Gatollari
You may have heard Paul Ryan's name in the news a lot lately. Sure, he was in the media cycle for a while after taking some muscle-glamour photos.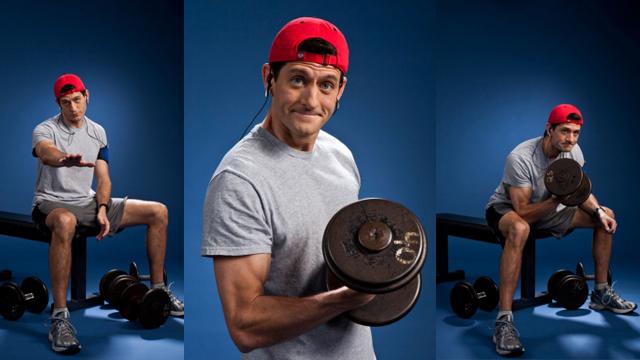 Not that there's anything wrong with that. Being into fitness is a good thing, and I think more people should be as concerned with their health as Ryan is, my fat butt included.
Americans aren't just concerned with Ryan's body fat percentage, however, but his politics as well. His proposal to dismantle the Affordable Care Act, for example, has made lot of his Republican constituents worried, like this one gentleman who told Ryan without ACA that he would be dead.
Yet another concern people have for Speaker of the House Paul Ryan is the temporary ban on Muslim refugees from certain countries being denied entry into America.


So when this woman noticed she was on the same flight as Ryan, she handed him a heartfelt note with her thoughts on the refugee ban.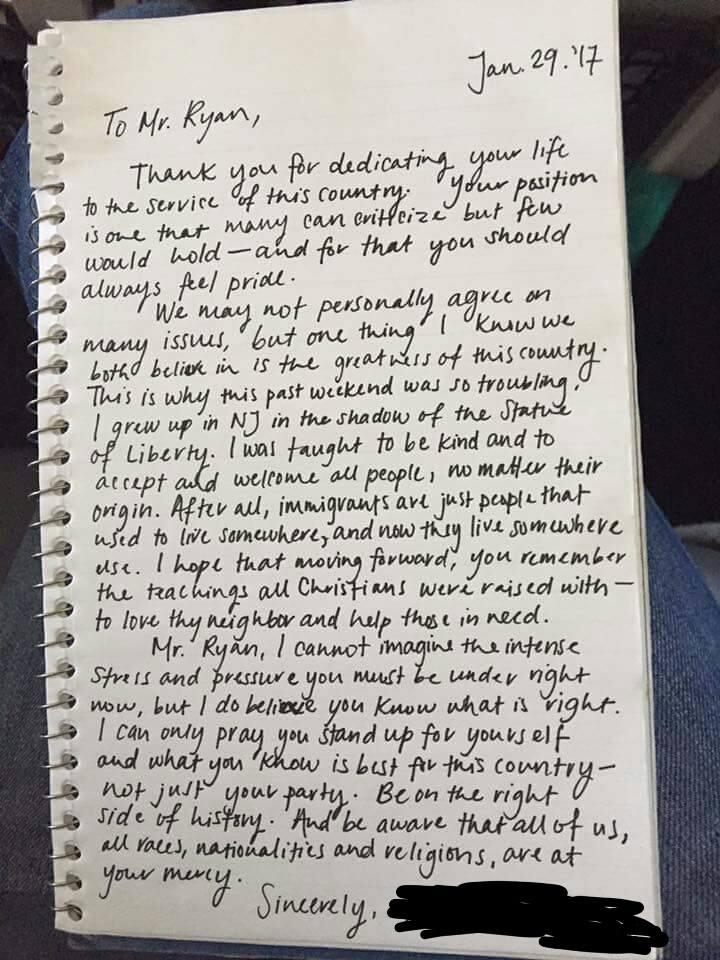 Here's what she wrote:
"To Mr. Ryan,
Thank you for dedicating your life to the service of this country. Your position is one that many can criticize but few would hold - and for that you should always feel pride.
We may not personally agree on many issues, but one thing I know both believe in is the greatness of his country. This is why this past weekend was so troubling. I grew up in NJ in the shadow of the Statue of Liberty. I was taught to be kind and to accept and welcome all people, no matter their origin. After all, immigrants are just people that used to live somewhere, and now they live somewhere else. I hope that moving forward, you remember the teachings all Christians were raised with - to love thy neighbor and help those in need.
Mr. Ryan, I cannot imagine the intense stress and pressure you must be under right now, but I do believe you know what is right. I can only pray you stand up for yourself and what you know is best for this country - not just your party. Be on the right side of history. And be aware that all of us, all races, nationalities and religions, are at your mercy.
Sincerely,
------"