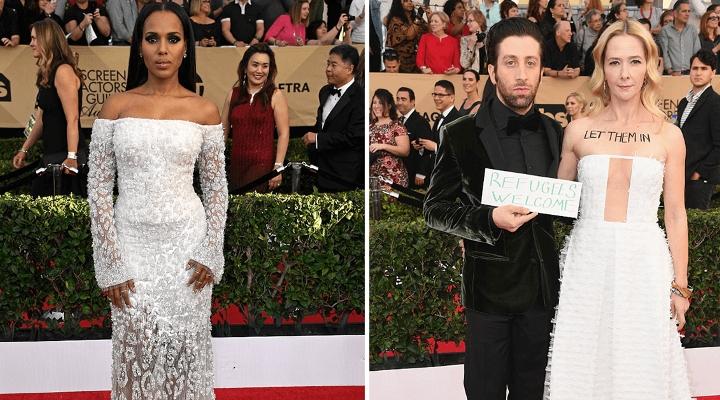 Here Are The Celebrities Who Spoke Out Against Trump's Immigration Ban At The SAG Awards
By Margot Harris
As audiences tuned in for Sunday night's Screen Actors Guild Awards, they expected the usual, glitzy event where actors decide amongst themselves who deserves recognition for their work over the past year.
However, this year's award show was quite different — as the festivities took place in the wake of Donald Trump's recent executive orders banning immigrants and refugees from several Muslim-majority countries.
Actors used their platforms to speak out against the new discriminatory policies and beg for unity and tolerance.
The Cast Of 'Orange Is The New Black'
Ashton Kutcher
The actor opened the show by greeting "everyone in airports that belong in my America." He went on to say that "you are a part of the fabric of who we are, and we love you, and we welcome you."
Kerry Washington
Washington decided to address the common critique that Hollywood should stay out of politics.
"A lot of people are saying right now that actors shouldn't express their opinions when it comes to politics," she said. "But the truth is, actors are activists, no matter what, because we embody the worth and humanity of all people."
She also showed her solidarity by wearing a safety pin to the event.
Emma Stone
After winning best Female Actor in a Leading Role for La La Land, Stone expressed gratitude towards her peers in Hollywood who refused to remain silent on the current political crises.
"We're in a really tricky time in the world and our country and things are very inexcusable and scary and need action, and I'm so grateful to be part of a group of people that cares and that wants to reflect things back to society," she said.
The Cast Of 'Hidden Figures'
Taraji P. Henson used her acceptance speech to remind the audience of the power of unity.
"This story is of unity, this story is about what happens when we put our differences aside, and we come together as a human race," she said. "We win. Love wins — every time."
Mahershala Ali
Ali, who took home the award for Best Male Actor in a Supporting Role for Moonlight, spoke about his experience working on the film — and how it could shed light on our current situation.
"What I've learned from working on Moonlight is we see what happens when we persecute people," he said. "They fold into themselves, and what I was so grateful about in having the opportunity to play Juan, was playing a gentleman who saw a young man folding into himself as a result of the persecution of his community, and taking that opportunity to uplift him and tell him that he mattered and that he was okay, and accept him. And I hope that we do a better job of that."
Riz Ahmed
"I think, personally, that this isn't a time for escapism," the actor, who was up for his first SAG nominated for his performance in The Night Of, told People. "If people care about the future of their country and their world, now is the time to make your voice heard."
In order to make a difference in his own way, Ahmed started a campaign fundraiser for Syrian refugees.
Simon Helberg and Jocelyn Towne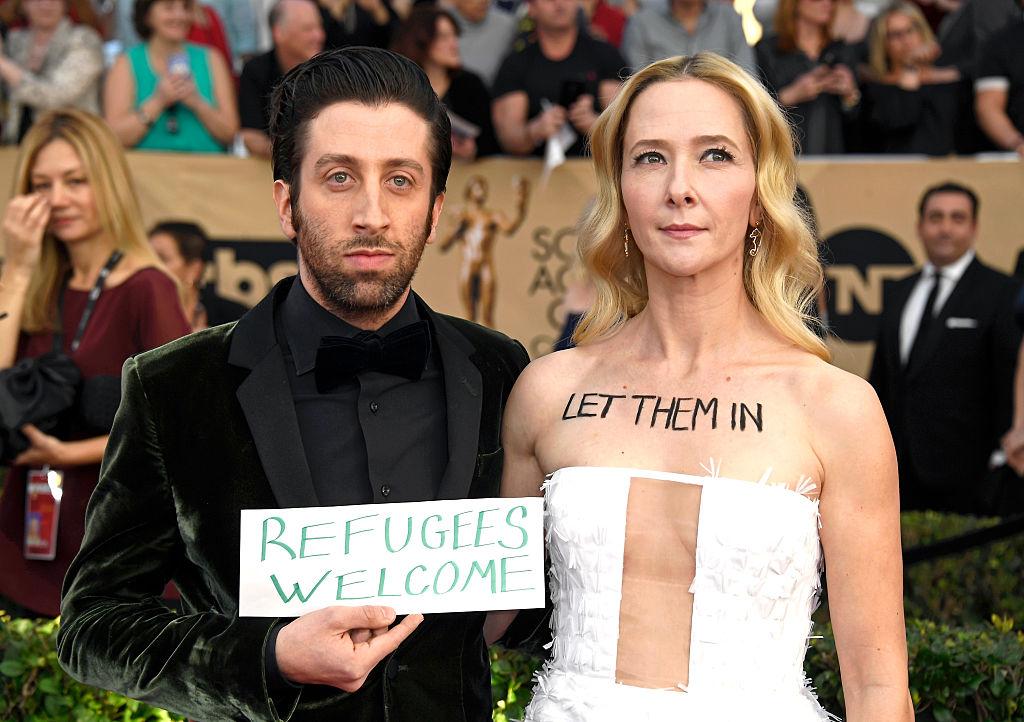 Big Bang Theory star Simon Helberg and his wife Jocelyn Towne decided to make quite the red carpet entrance — by becoming human posters for their cause.
The Cast Of 'Stranger Things'
Actor David Harbour used his acceptance speech to accept responsibility for bettering the world, calling the award "a call to arms from our fellow craftsmen and – women to go deeper and through our art, to battle against fear, self-centeredness, and the exclusivity of a predominantly narcissistic culture and through our craft to cultivate a more empathetic and understanding society by revealing intimate truths that serve as a forceful reminder to folks that when they feel broken and afraid and tired, they are not alone."
Alia Shawkat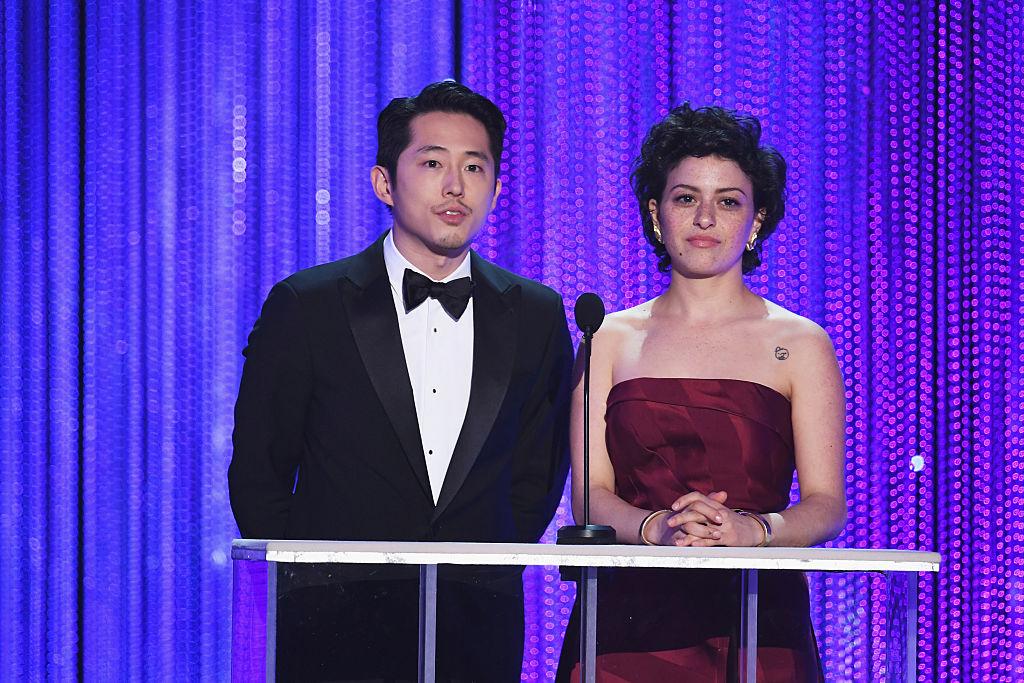 While presenting, Shawkat took a stab at Kellyanne Conway's new culture of "alternative facts," reminding the audience that "like many of our nominees here tonight, we represent people who have come from other cultures, and that's a real fact."
Dev Patel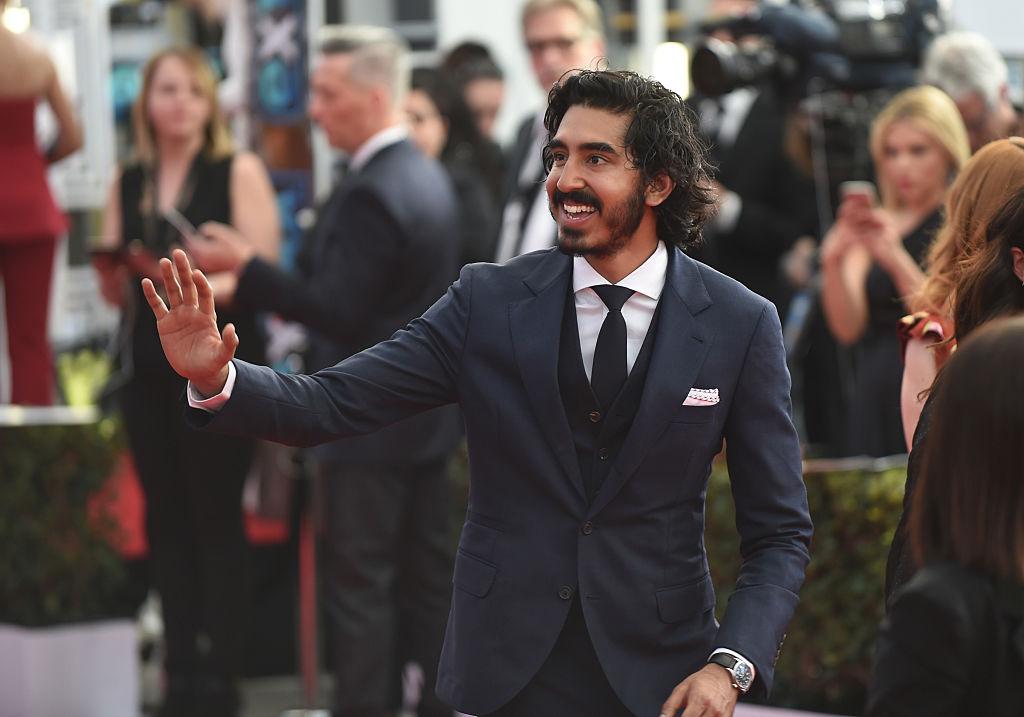 During a red carpet interview with People, Patel contrasted the message of his film Lion — which "is about unification and bringing people together" — and the immigration ban.
"I just flew in from India a day ago. When I heard the news, it was utterly devastating," he said.
Lily Tomlin
While accepting her Lifetime Achievement Award, Tomlin vowed to stay fired up about all the pressing causes of the day.
"I feel like I'm just getting started," she said. "What sign should I make for the next march? So much to do: Global warming, Standing Rock, LGBT issues, Chinese missiles, immigration … There's lots to do …"
Sarah Paulson
Paulson, who took home an award for Best Female Actor in a Television Movie or Limited Series for The People v O.J. Simpson, praised the work of the ACLU.
"I would like to make a plea for everyone if they can, any money they have to spare, please donate to the ACLU to protect the rights and liberties of people across this country," she said. "It's a vital, vital organization that relies entirely on our support. So, please if you can."