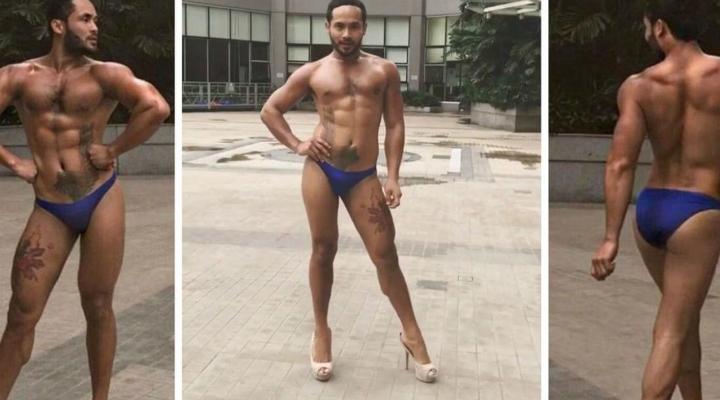 This Jacked Filipino Bodybuilder Working Out In High Heels Has Instagram Mesmerized
By Mustafa Gatollari
When you think of jacked gym rats lifting weights, clanging and banging, pumping iron, deadlifting, squatting, bicep curling, and extending, decline bench-pressing and doing all sorts of other painful joint-destroying exercises, what clothes come to mind?
Probably gym shorts. Cut-off sleeve shirts, low-cut muscle tank tops. Maybe that one dude decked out in sweats with a beanie who's trying to sweat some weight out for his upcoming show.
The last thing that probably comes to mind are very high heels.
But Sinon Loresca, a certifiable jacked dude, strutted his stuff in some six-inch heels and Instagram can't get enough.
He posted the videos in support of Maxine Medina, a Miss Universe contestant who was repping the Philippines. Although she didn't win the crown at the most recent pageant, Loresca's been getting tons of love for his enthusiastic vids.


I mean, just look at how flawless he is even when he's pretending to have won the crown himself.
Oh and in case you had any doubt as to how proficient this dude's heel-game is, just look at him treadmilling it in stilettos.
Would much rather hit pads for an hour than go through that torture. What a bad ass.
Loresca currently boasts over 461,000 followers on Instagram and calls himself "The King of the Catwalk." According to his bio, he's an actor, model, endorser, and social media influencer.
In an interview with GQ, the chiseled hunk explained where his love for the catwalk comes from. "Growing up, I was a big fan of Victoria's Secret models and the Miss Universe pageant... In my country, it's a really big deal," he shared. "I always dreamt about being a catwalker and becoming good in high heels. I started training like two years ago in two-inch heels and then changed to four, and this year I thought I was ready to do a perfect catwalk in high heels."
SLAY!