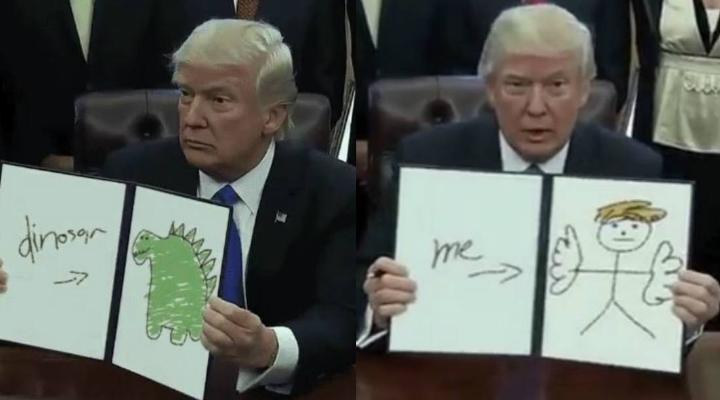 Donald Trump Drawing Like A Child Is The Internet's New Obsession And It's Hilarious
By Mustafa Gatollari
There are some people out in the world with some serious editing and photoshop skills, especially when it comes to video. And this has been going on for a long time in Hollywood, remember how real the dinosaurs looked the first time you watched Jurassic Park or the fact that the visual effects team behind Waterworld had allegedly used their wizardry to convince audiences that Kevin Costner actually had hair?
But now with greater and easier access to amazing technology, everyday chaps like you and me are able to come up with some convincing photoshop jobs in a matter of an hour or so as long as we have the right tools.
Now people are using this technology for the greatest calling of them all: Donald Trump memes.
All right, that's definitely a huge stretch, but come on and tell me these aren't hilarious.
The parody account has only 6 tweets and it's already garnered a massive 144,000 followers.
The premise is simple: Donald Trump has created a separate twitter account where he shows off his drawings.
Look at how proud he is of this turd-horse.
Here he is showing off his house, he's so proud.
Those are all the posts for now but hopefully whoever's doing these will put up a new drawing for whatever executive order is signed.
Unless...this is actually Donald Trump's account and he's doing a double-parody thing out there to see if people actually like his art. I guess we'll never know.
I can't wait for more Trumpsterpieces.