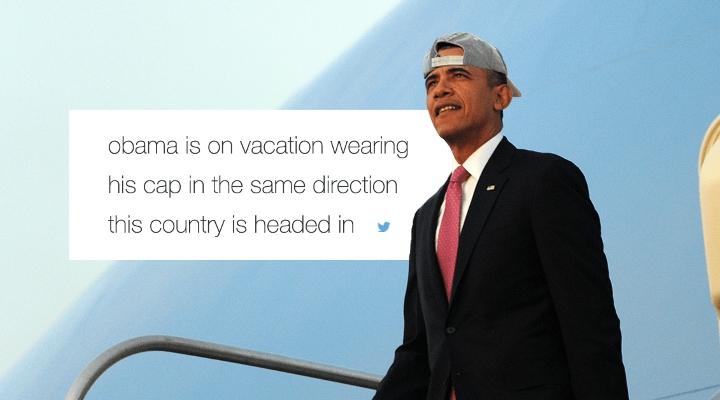 Obama Is Back To His Backwards Hat And Twitter Can't Stop With The Memes
By Margot Harris
After eight sleepless years serving the country in one of the most thankless jobs, Barack Obama is taking a much-needed vacation. However, we wouldn't be content just knowing that he's chilling at the beach — we require photo evidence. Thankfully, TMZ released photos of everyone's favorite former first couple relaxing in the British Virgin Islands.
The photos feature Michelle Obama rocking pigtails and the 44th president of the United States wearing.... wait for it.... a backwards baseball cap. Naturally, the Internet was overjoyed to see this fashion statement make a comeback, and the memes were abundant.
Here are Twitter's best reactions:
When asked about his post-presidency life, Obama said that leaving the White House "gives you the ability to reflect and study in a way that sometimes as president you couldn't do the way you wanted because you had to move very, very quickly. My life had been so accelerated. Everything felt and still feels to some degree as if it is moving in slow motion — not necessarily in a bad way."
He added, "There's just a lower intensity level. Sometimes it means you don't have the same adrenaline rush. But it also means you can be more reflective and deliberate about the kinds of things you want to get done... I'm really obsessed now with training the next generation of leaders to be able to make their mark on the world. One way I've described it is that I think when you're in politics directly, then you're a player on the field... And now I'm making that transition to some degree as a coach."
We sure hope this backwards hat-wearing Obama is here to stay.