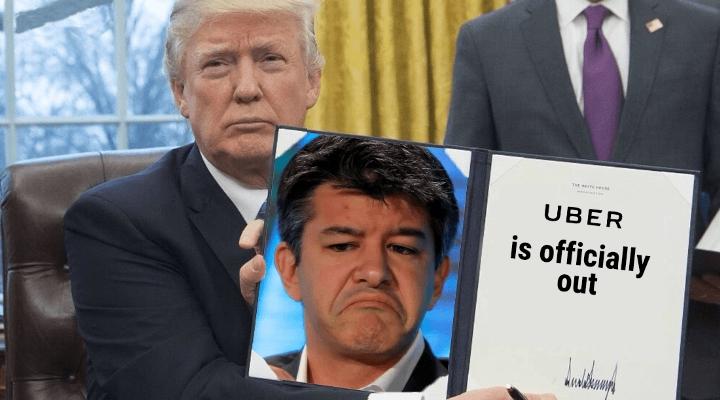 Uber's CEO Is Leaving Trump's Advisory Council After Facing Backlash From Customers
By Omar Rimawi
The #DeleteUber campaign that surfaced over the weekend after the company was accused of trying to capitalize on New York City's taxi union strike At JFK Airport while nationwide protests against Trump's executive order that banned all travel from 7 Muslim-majority countries has shaken the company to its core.
People saw the tweet as Uber trying to turn a profit while concerned citizens and workers stood out in the cold in solidarity with those who were told they weren't welcome into the country they were cleared to travel to once they landed. In an attempt to clarify their stance, Uber later released this statement:
"We're sorry for any confusion about our earlier tweet—it was not meant to break up any strike. We wanted people to know they could use Uber to get to and from JFK at normal prices, especially last night.
It was too little, too late for the people of New York City. Both drivers and passengers began canceling their accounts with Uber and deleting the app, sparking the hashtag #DeleteUber that continued to trend the days following the protest as the company scrambled to do damage control.
The fact that CEO Travis Kalanick was on Trump's economic advisory committee didn't help their image.
Uber publicly stated that they were against Trump's immigration ban, but because the statement came after the backlash had already begun, people doubted the company's sincerity on the matter.
On Thursday, Kalanick spoke with Trump and told him that he was leaving his advisory board. The following is a letter he sent to employees regarding the matter:
Dear Team,
Earlier today I spoke briefly with the President about the immigration executive order and its issues for our community. I also let him know that I would not be able to participate on his economic council. Joining the group was not meant to be an endorsement of the President or his agenda but unfortunately it has been misinterpreted to be exactly that.
I spent a lot of time thinking about this and mapping it to our values. There are a couple that are particularly relevant:
Inside Out - The implicit assumption that Uber (or I) was somehow endorsing the Administration's agenda has created a perception-reality gap between who people think we are, and who we actually are.
Just Change - We must believe that the actions we take ultimately move the ball forward. There are many ways we will continue to advocate for just change on immigration but staying on the council was going to get in the way of that. The executive order is hurting many people in communities all across America. Families are being separated, people are stranded overseas and there's a growing fear the U.S. is no longer a place that welcomes immigrants.
Immigration and openness to refugees is an important part of our country's success and quite honestly to Uber's. I am incredibly proud to work directly with people like Thuan and Emil, both of whom were refugees who came here to build a better life for themselves. I know it has been a tough week for many of you and your families, as well as many thousands of drivers whose stories are heartfelt and heart-wrenching.
Please know, your questions and stories on Tuesday, along with what I heard from drivers, have kept me resilient and reminded me of one of our most essential cultural values, Be Yourself. We will fight for the rights of immigrants in our communities so that each of us can be who we are with optimism and hope for the future.
Kalanick's relationship with Trump has strained the company's relationship with employees, contractors, and customers.
Do you think the people one and the #DeleteUber campaign was successful or that it was a mistake to pressure the head of one of the largest tech companies in the world to leave a panel that would ultimately be responsible for guiding Trump to make certain decisions that would impact the economy while he's president? Let us know in the comments.