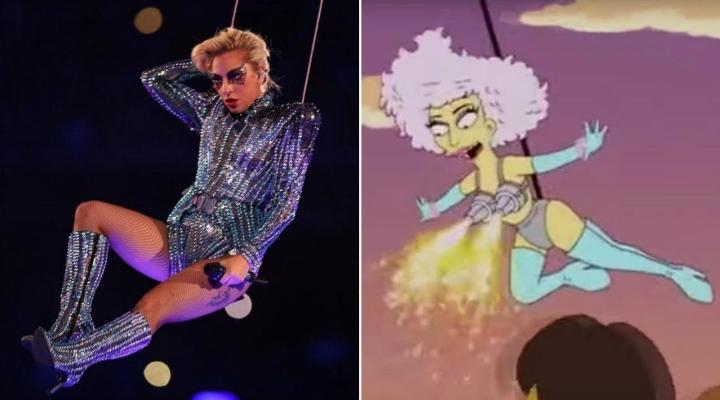 The Simpsons Predicted Lady Gaga's Halftime Show Over Four Years Ago
By Mustafa Gatollari
When it comes to predicting the future, The Simpsons has a scary track record. From calling Donald Trump's Presidency, to growing tomacco, to a three-eyed fish being found near a nuclear power plant, the long-running show has basically influencing life since its inception.
And in case you needed any more proof that the show's writers are a bunch of regular Nostradamuses, then look no further than Lady Gaga's Super Bowl halftime show.
She came flying in on stunt-wires and was hooked up to them for a great part of her performance that featured a medley of her most popular songs. And although tons of people focused on the singer's "belly" and not the fact that she was flying above their heads, it doesn't change the fact that Gaga lived out another Simpsons prediction.
Look at this mashup of the two videos and try saying they're basically not the same exact thing.
Well, you know, except for the Russian subtitles. Unless you were watching the Super Bowl with Russian closed captions, then, yeah, it was exactly the same.
And Twitter agrees: The Simpsons straight up called it.
When are they going to have a lottery numbers episode?
Of her legendary halftime performance, Lady Gaga said, "I'm really happy and had such an amazing time performing... [I] wish I could relive it all over again. I really had a real sense of being in the zone for this performance, worked on it for a really long time, took months, trained hard. Every second I wanted to give the world and the fans what they deserve, a great show."
She added of her spectacular wire routine, "I think that I knew I gave it everything I had in me. I knew I had prepared and on top of doing what I rehearsed I added that extra bit of heart to the performance."