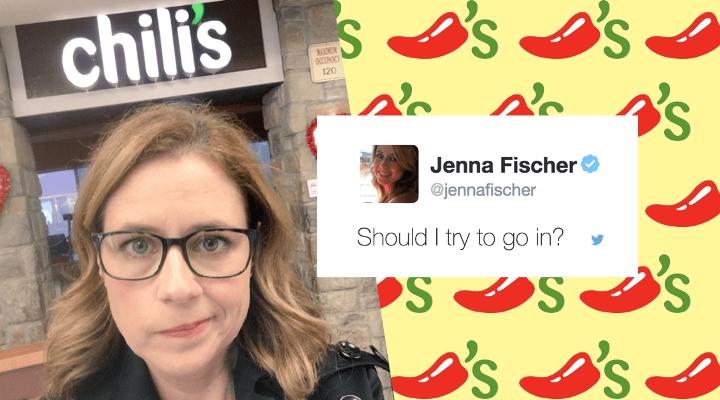 Chili's Finally Lifted Pam Beesly's Lifetime Ban And 'Office' Fans Are Going Wild
By Margot Harris
Sure, 'The Office' was one of the most beloved comedies of all time, but it had its tragic moments. We'll never forget that devastating moment in 2005 when Pam Beesly Halpert received a lifetime ban from Chili's after drinking too much at The Dundies award presentation.
You remember the episode. Pam becomes increasingly intoxicated (by stealing drinks off of her co-workers' tables) as she waits to once again be awarded the Dundie for Longest Engagement. She even kisses future hubby Jim Halpert (who was not her fiancé at the time) in her drunken state.
But despite the ban, it seems like she just couldn't stay away.
On Monday, Jenna Fischer (who will always be Pam in our hearts) tweeted a selfie outside her old stomping grounds, wondering if she should go in and challenge the lifetime ban.
Fans of 'The Office,' overjoyed by this throwback, were immediately transported back to Pam's drunk antics in which she proclaimed that she "felt God in this Chili's tonight." And some even offered advice.
The restaurant chain even got involved, trying to make nice after eleven years.
A lifetime ban is so harsh.
Chili's even released a statement OFFICIALLY lifting Pam's lifetime ban.
Like, on their website and everything.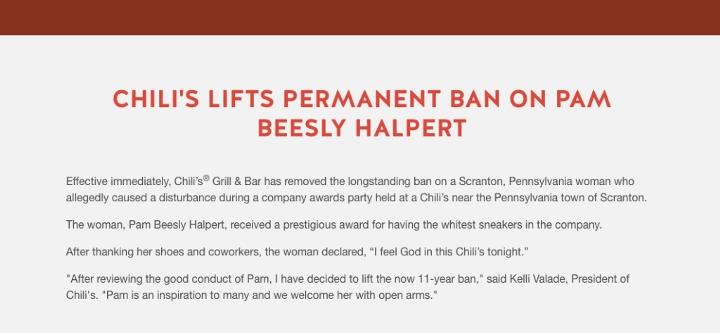 President of the restaurant chain decided to lift the ban after reviewing Pam's "good conduct," stating that Chili's would "welcome her with open arms."
Fischer, overjoyed by the news, began planning her impending escapades.
TBH, we're not sure how long she'll make it before the ban is reinstated.
Twitter was overcome with emotion upon hearing the news — this gesture ushered in a new era of hope when so many were feeling lost.
We're so glad Pam (and God) have returned to Chili's. It's never to late to set things right.