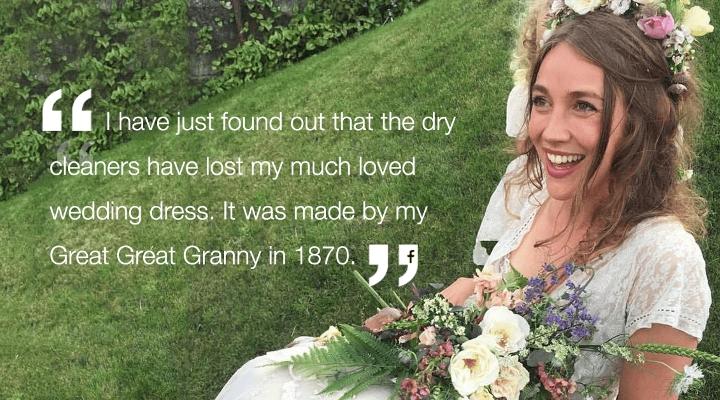 Internet Bands Together To Find Woman's 147-Year-Old Wedding Dress
By Mark Pygas
Tess Newall, a bride from Edinburgh, Scotland, got married in June wearing the same gown every woman in her family has worn since her great-great-grandmother. Even cooler? Her great-great-grandmother made it herself way back in 1870.
Some time later, the newlywed took the 147-year-old dress to Kleen Cleaners for a specialty dry clean. But soon after, the store fell into liquidation and Newall was told by administrators Wylie & Bisset that her dress had been lost in the process.
Distressed, Newall took to Facebook in the hopes that someone might recognize the family heirloom. Her post quickly acquired more than 300,000 shares and 43,000 comments.
She wrote in full:
I have just found out that the dry cleaners have lost my much loved wedding dress. It was made by my Great Great Granny in 1870 (I altered the top) and I wore it in June 2016. Kleen Cleaners in Edinburgh used to be the best but recently fell into crooked hands and have gone into liquidation. It seems that the dress was taken to be sold so it could be winging its way anywhere. Please share this far and wide in case anyone stumbles across it! I realise there are far greater issues in the world but it means the world to us. More family memories need to be woven into its threads.
Thank you so so much.
Love Tess x
Somehow, the post made its way onto the Facebook feed of the person who now owns the building. He checked what was behind by the previous administrators and found "a crumpled heap of antique lace on the floor."
The owner let Newall's parents into the shop, where they found that it was the dress they'd been looking for. Newall updated her post to thank everyone for sharing the post.
Despite this letter received today saying..
"it appears that your dress was NOT located with the wedding dresses within the store and as such was DISPOSED OF when the premises were cleared"
..We received a phone call from the very kind landlord of the shop property who had read about it through this amazing response. He checked what was left by the administrators Wylie & Bisset and found a crumpled heap of antique lace on the floor. My mum and dad have just been let into the shop and to their amazement and joy it is our dress! (Still with our ticket attached, but not even cleaned)
But they still have one hurdle left: Actually retrieving the dress and taking it home.
Frustratingly - a representative of Wylie & Bisset who showed up after weeks of ignoring our pleas to let us in insisted that for "procedural reasons" he must take it back to his office in Glasgow, but assure us it will be delivered safely back to us on Monday.
My family can't thank you all enough for creating this frenzy which allowed us into the shop before it was too late, and are over the moon to be *almost* reunited with Dora's dress
Still, Facebook commenters were ecstatic at the news. "So very pleased for you," one user wrote. "Nice to have a happy ending for a change." The power of the Internet never ceases to amaze.