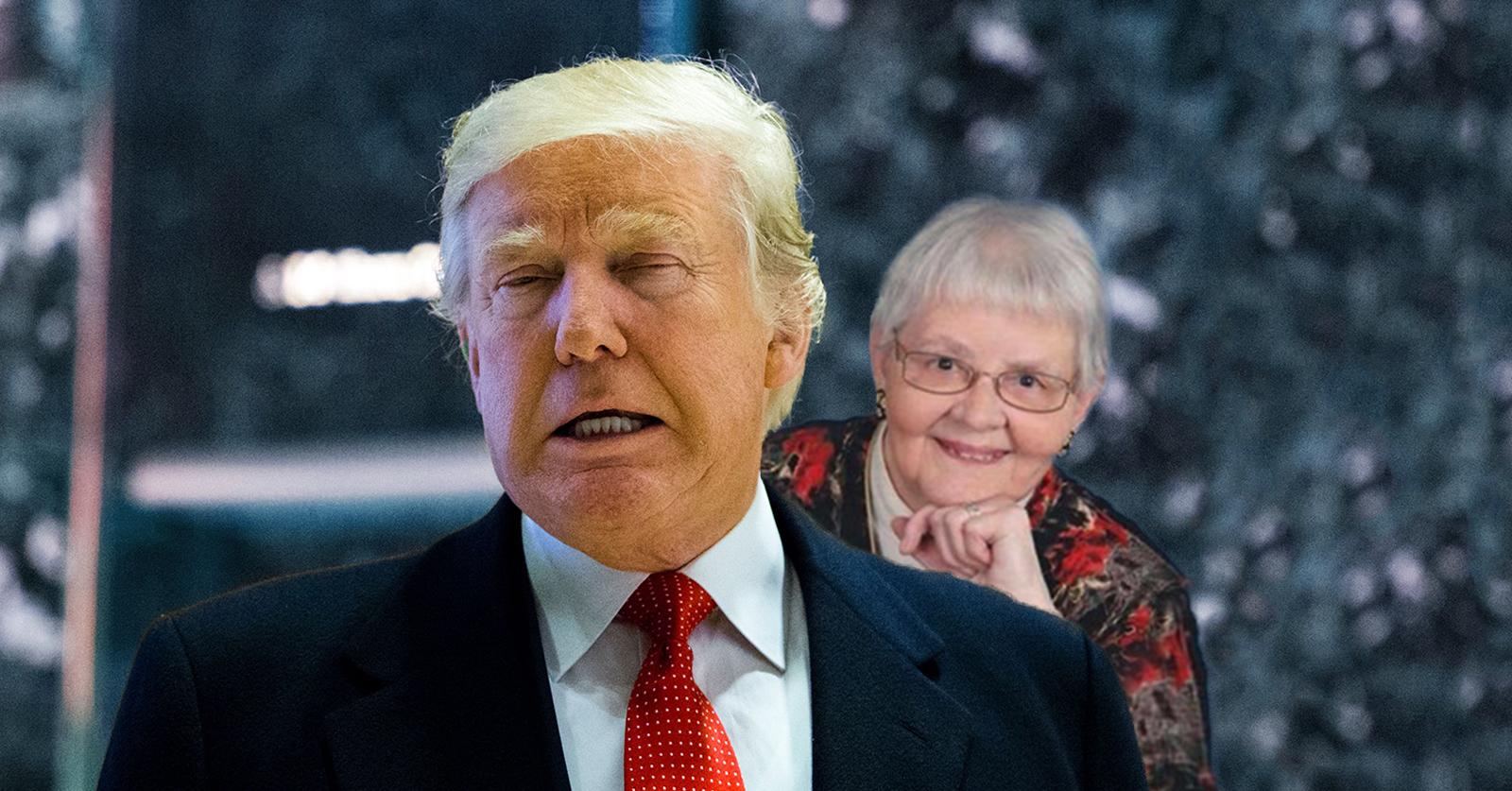 Woman's Obituary Trolls Donald Trump From Beyond The Grave
By Mark Pygas
Obituary writing can be a sad and draining process. It can be an opportunity to make your mark on the world one last time. Many obituaries have gone viral in the past, whether it's this one we should all aim for, or the hilarious last words written by this firefighter.
And now, an 87-year-old woman from Norwalk, Ohio, has used hers to express how happy she is that she won't have to live in a Trump presidency.
Elizabeth Smith's obituary starts like any other, detailing the achievements in her life:
"She was a switchboard operator for many years. She was a lifetime member of Girl Scouts USA and was a 45 year volunteer for Erie Shores Girl Scout Council, and for 25 years she was a driving force behind Norwalk's Girl Scout Day Camp. She was a recipient of the Thanks Badge, which is the highest award in Girl Scouting. She volunteered for the United Fund, Salvation Army soup kitchen, participated in crop walk, visited shut-ins at nursing homes, was an MDA Volunteer and a member of Huron County Democratic Party and a poll worker."
But then the lifelong Democrat goes in for one last jab:
"Liz is smiling now, not to be living during the Trump Presidency."
Smith's daughter, Deborah Lucal, told the Sandusky Register that her mother had seen something similar in another obituary and was amused by it.
"She had seen that in somebody else's obituary and kind of made a note of that. She doesn't like the man, she never has, thought he was a pompous ass."
The obituary was posted online, where it has been met with praise and condemnation. One now deleted comment read: "May you rot in hell with your fellow snowflakes."
Others praised her decision:
"I didn't know your mother, but I found her obituary delightful and inspiring," one commenter wrote. "What a generous, adventurous spirit! Snowflake? Ha! She sounds like a wonderful mom, grandma and friend. Sending warm thoughts."
Another added: " Dear family and loved ones: I have never met Ms. Smith, but she sounds like a wonderful woman. Her life was filled with service to others, adventure, family and love. My thoughts are with each of you that love her. Hugs to you all. "
Frankly, we appreciate the attempt at humor in a bad situation.